Private freestyle lessons will allow you to discover this practice both on skis and snowboard with passionate instructors.
Do you want to improve your skiing or snowboarding skills by learning freestyle, with a personalized lesson? You have come to the right place, our Prosneige ski and snowboard school in Les Menuires is ready to give you the best possible freestyle experience. 
Prosneige is a ski school that has been present in the Trois Vallées, right at the heart of Savoie, for over 25 years. This ski area, which is the largest in the world, is made up of 8 ski resorts : Les Menuires, Val Thorens, Saint Martin de Belleville, Orelle, Méribel, Brides Les Bains, La Tania and Courchevel. Prosneige is implemented in 4 of these 8 ski resorts : Les Menuires, Val Thorens, Méribel and Courchevel. 
Les Menuires is a family ski resort located in Savoie, in the Tarentaise Valley. It is a resort known for the variety of its terrain and its good snow conditions. It is ideal for beginners, for skiing with the family but also for experienced skiers or those who want to experiment new type of sensation on slopes. 
Prosneige Les Menuires is located at the center of the resort in the Croisette district. Our premises are very easily noticeable thanks to our large green flying banner. We are ideally located within the resort as we are directly on the snow front ! At Prosneige school you will find the reception where we welcome you. It is also where ski deposit are, to drop off your equipment if you do not want to carry it every day. Our 25 ski instructors spend a lot of time at the school and enjoy our sunny terrace before starting their lessons. They are available for you if you have any questions, so do not hesitate to talk to them if you wish : that is what the Prosneige service is all about ! Below our ski school is the Prosneige shop where you can get advice from our team of experts in rental, sales and bootfitting. There you will find all the equipment you need for your winter sports holiday to be perfect(clothing, accessories, equipment, sledges, etc.). We have plenty of choices that can correspond to every customer profile !
Our ski school offers both group lessons and private lessons, in plenty of different disciplines (skiing, snowboarding, handiskiing, telemark, ski touring, etc). Our lessons can be given in French, English, Dutch, Russian, Portuguese, Italian, Czech, German, and many other languages. Please ask us if we have an instructor who speaks your language, as we surely can meet your expectation. Our team is international, and 17 languages are mastered ! Here we will talk about private freestyle ski lessons. 
WHAT IS A PRIVATE FREESTYLE LESSON?
A private freestyle lesson is a lesson during which you privatize the instructor for yourself, your family, or your friends and which is tailored to your wishes! You choose the duration of the lesson, the number of sessions over the week and the discipline you wish to learn. The instructor then takes care of the content of the lesson to help you reach your goals. As a result, you may want your instructor to have certain qualities, including the ability to teach freestyle skiing in your native language. At Prosneige Les Menuires, mastering languages is an essential skill to be able to join our team of instructors. We take at heart having an international team, which corresponds to the ski resort's customer. A total of 17 languages are spoken by all our ski instructors. Each of them must, of course, be fluent in French and English, but also at least a third language. Our instructors are therefore able to teach skiing in French, English, Dutch, Italian, German, Portuguese, Hebrew, Russian, etc. Do not forget to ask us, we are sure we have instructors who speak your language !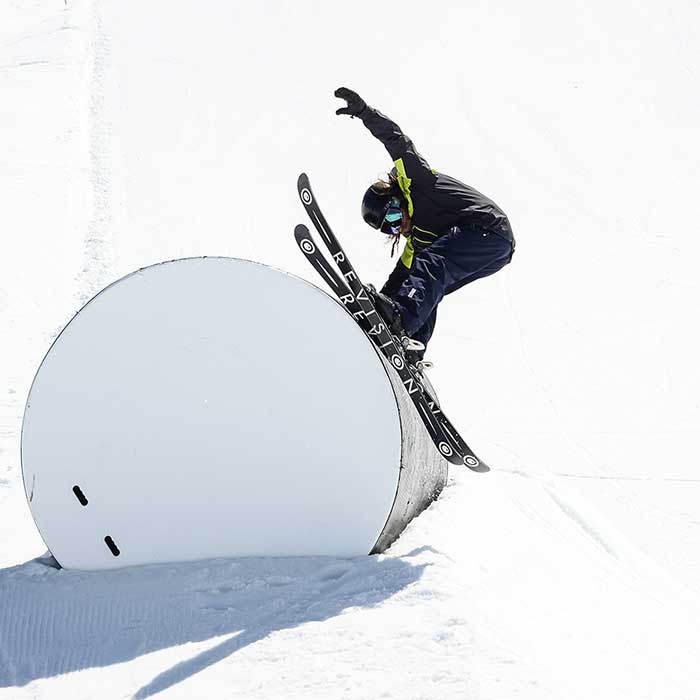 THE ADVANTAGES OF PRIVATE LESSONS
You may require certain qualities from your instructor that you feel are essential to ease the students' learning. A female instructor for young children, an instructor of more or less the same age as you are, someone fun and dynamic for teenagers or very gentle if you need to regain confidence after a fall or an accident. Even if all our instructors know how to adapt their pedagogy to our students, some profiles are more likely to fit your personality. So do not hesitate to let us know what your needs are. You take lessons with us to learn freestyle skiing or snowboarding but also to have fun and progress at your own pace. To ensure that this happens as well as possible, be demanding in the choice of your instructor. A good understanding with the instructor is essential, because you need to create a relationship of trust with your instructor. The more pleasant the relationship, the better your lessons will be ! You should know that if you have found the instructor of your dreams at Prosneige, you will be able to continue taking lessons with him/her from one year to the next. Indeed, our instructors are always delighted to see your progress year after year and to follow up with you over several seasons. 
Private lessons at Prosneige Les Menuires also have the advantage of great flexibility. This allows you to adjust your holiday in the ski resort as you wish. Indeed, you decide the schedule of your private lessons. You are not a morning person ? Then an afternoon course will be ideal. You are an early riser and want to enjoy the snowpark as soon as it opens ? Then a lesson in the morning will be perfect for you ! It is possible to take lessons every day, every two days, or a single lesson during the week. Private lessons are very flexible and can be adapted to your schedule, so that you can enjoy the rest of your holiday with ease. It is possible to schedule a new lesson the day before for the next day, as your progress is made. 
In a private lesson, you set the goal you want to achieve, and the instructor will work with you in a specific way to help you reach these goals. He or she will create specific exercises to work on certain technical points and will give you personalized advice. The instructor can also give you indications on what to do after the course, independently, so that you can progress even faster. Of course, nothing is set in stone and your goals may change along the way or be achieved faster than you thought. It is up to you to redefine them and to inform your instructor so that he or she can adapt to them. Whatever you decide, our ski instructors are flexible and adapt to your wishes ! 
When you want to start freestyle, whether it is skiing or snowboarding, you have to think about the right equipment. Once you have skis or a snowboard adapted to this practice, it is important to get other elements for your safety. A helmet is of course obligatory in our opinion, but also a backbone could be useful. Together, they are the minimum equipment to practice freestyle safely. In any case, during your lesson your instructor will suggest exercises adapted to the type of protection you are wearing. It is indeed our duty to ensure your safety and prevent you from any potential injury, especially when it comes to freestyle. You will most certainly have to go to the snowpark in the resort of Les Menuires. Also remember to bring double tip skis and a snowboard suitable for freestyle. This will allow a more varied practice in the sensations provided. Do not hesitate to ask for advice from our team of specialists in our Prosneige Les Menuires shop located under our school at the Croisette, at the snow front. They will be able to give you the best advice according to your wishes concerning freestyle.
Finally, taking a private lesson means allowing yourself the comfort of being picked up and dropped off directly at your hotel, if the level is compatible. No need to bother to find our meeting place on the snow front, then to find your instructor in the crowd. The instructor will be waiting for you in the ski room of your residence/hotel and will also drop you off there at the end of your private freestyle lesson. Once again, this allows for greater flexibility and considerable time saving. It also avoids stress on your holiday.
In short, a private ski lesson is a tailor-made, flexible lesson that adapts to your desires and needs. We will be delighted to find the right freestyle instructor to take you further in your practice. You can contact us by phone at +33(0) 4 79 04 18 35 or by email at info@prosneige.fr. If you wish to book, you can do so directly on our website: https://fr.prosneige.fr. Do not hesitate to contact us if you have any doubts before booking your lesson with Prosneige, it will be a pleasure to help you in your choice !