Ski group lessons for children in our kindergarten in Val Thorens, offer an adapted pedagogy for children from 3 years old.
This is it! Time for your children to begin skiing! Either they have just started school, or they are older but they have not had the opportunity to ski before, we are ready to welcome them at Prosneige Ski School. You will not be disappointed!
Throughout the years we have put our heart into developing the ski lesson for beginner children, thanks to our chief executive. She is like a mother at Prosneige, and is very mindful about the teaching methods for young children, as it is at the center of our customer loyalty. To help you make your decision here are some elements that you will find solely at Prosneige Ski School.
OUR CHALET "LES PLANCHES"
Our Chalet is called "Les Planches" and here we have a dedicated room for all the children in our lessons. Les Planches is also where our kindergarten can be found and we have our own magic carpet. It is here where all the children will begin learning to ski. We have specialised instructors working in the Kindergarten who will be there to help parents on that first morning, ensuring all equipment is correctly put on so that your children are ready to start their journey into skiing. This includes their helmets, ski boots, skis and gloves. Our chalet is the only of its kind, all of its 200m² is fully dedicated to you, the customer; from parents with a snack-bar, to children with the dedicated room, but also to help you with your day to day movements thanks to our ski storage. Everything is designed to make your holiday easy and allow you to enjoy every moment.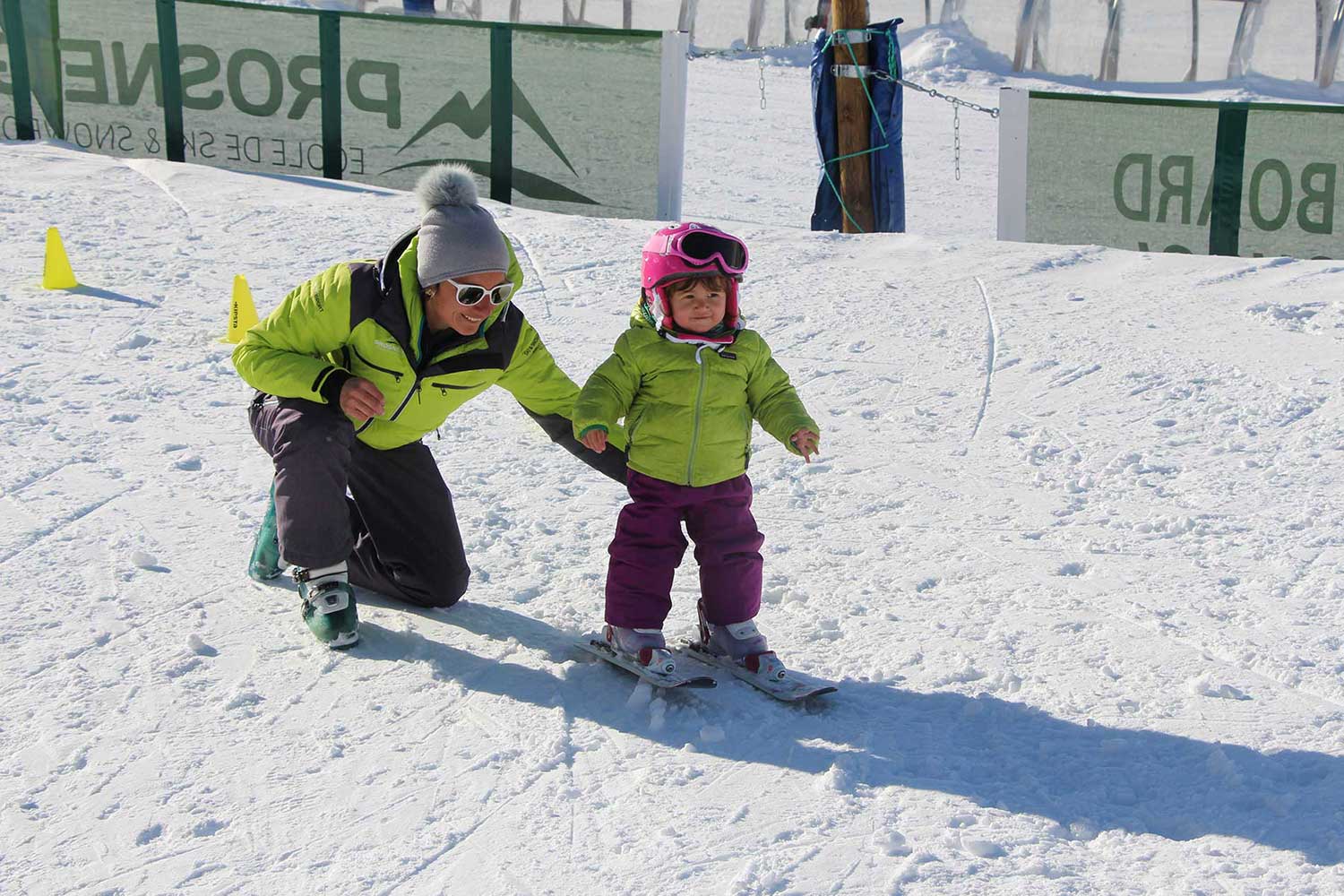 SPECIFIC LESSON "BABY SKI"
We have developed a specific lesson for the youngest of children wanting to get on to the snow. A lot of work had been put into developing "first snow contact" that we named "Baby Ski". It is the only lesson where we welcome young children, aged from 18 months to 2 and a half years, 3 times a week. The lessons will usually take place on Tuesday, Wednesday and Thursday evening, from 4pm to 5pm, after the afternoon nap. It is also the only ski lessons where we ask parents to stay close to the children, or even to hold their hands. This "first contact" with the snow is to make the children comfortable with skiing and we have found it is both easier and more enjoyable when the parent is around.  You, the parents, will be advised by a ski instructor throughout, being shown how to drop them at the top of our little slope,  catching them at the bottom, and helping the children to get safely onto and off the magic carpet. This is a great activity for both of you that helps the young children to build their confidence. This is the perfect time to take as many photos and videos as possible. These will be important memories for both you and your children! 
Our kindergarten staff consist of 3 instructors, who are especially comfortable with "Little bear" and "Brown bear". There are also 2 helpers that will be here every day to prepare the kindergarten, welcome the children, talk with the parents and manage the snack break and toilet needs. This team stays the same throughout the season and ensures everything is coordinated well, a good atmosphere is maintained and everyone's needs are met in the best possible way.
The way our kindergarten ski lessons functions in Val Thorens allows a steady and continuous progression for the children's lessons. The key to achieve our goals is that we limit each lesson to 6 children per instructor/helper. Also within the proximity of Les Planches is the larger magic carpet called "Musaraigne". This helps our instructor to get the children out of kindergarten earlier if they are doing snowplough confidently enough. The combination of smaller groups and a quick rotation on the magic carpet allows almost 90% of the children to ski down at least one green slope by the end of the week. This represents a big improvement in just one week!
We have a specific welcome for the children aged between 3 and 4 years during the the first two days of their lessons in order to make them feel confident, and you too, as parents. The lessons begin in our dedicated room to introduce them to their new environment. Then they will go on a quick tour, by foot (with ski boots on) and holding their parents' hands, before doing any exercises. The first exercises will be done with only one ski so that the children can start to trust the feeling before moving on to having both skis. They will also take the magic carpet by foot to discover it without any stress and be more confident to take it with skis on later.
There is a lunch option for the youngest children that will allow you to gain more time on slopes, to relax, or simply enjoy skiing without children if you wish to. Do not worry, children will be entertained during the lunch break, and you can collect your children at 2pm. Please be sure to let us know if your child has a specific diet or has any food allergies. After lunch, the children will go play outside if the weather permits, or inside with other toys. Two days a week, they will be able to go to the FUN PARK in Val Thorens, where there are trampolines and inflatable games. Usually, this takes place Tuesday and Thursday. The meals can be taken for one or several days. 
We hope that all the information provided here will reassure you, and make you confident enough to finish your booking directly on our website https://en.prosneige.fr/. To book you will only have to provide the participants' names, surnames, ages and levels for each person: "little bear" for 3-4 years old, or "brown bears" for 5 to 12 years old. You can of course book for the rest of your family and friends as well at the same time. If you would like some more information do not hesitate to contact our specialists in our office by phone on (+33)04.79.39.97.07 or by email at info@prosneige.fr. 
Once your booking is complete by either phone or directly on our website you will have several more options available for you, your children and all your family. In fact, we have several ski shops within Val Thorens and therefore there is the possibility to either rent or buy equipment here. We have equipment that covers every level and will fulfill all your needs. If you have booked lessons and rental, you can even get as much as 30% to 40% off, depending on the period you have booked. You can also add ski passes for children that are beginners, this includes anyone before the level called "1st ski". This ski pass has a remarkably interesting price; however, it is not available for more advanced children or adults as it is limited to fewer ski lifts. 
After you have completed your booking, you will be able to pay through a secured link with a credit or debit card. Following this payment, you will receive a recap email that contains two important documents attached. The first one is the booking you just made, with the names, surnames, levels of each participant, the schedule and meeting points for each lesson. The second document contains a map that will help you find us, and find your bearings in Val Thorens, for the first ski lesson. You will also receive additional information within a week of your arrival answering our frequently asked questions. Our teams will always be available for any other questions you may have.
After the first ski lessons you will receive a message to ask if our services went as you had planned, and if everything suits you. If not, our operations team will ensure changes are made. Please do not hesitate to come talk to Val Thorens Prosneige director, who is always happy to listen and discuss. 
At the end of the week, on Friday, the lessons for your children will end 30 minutes earlier than normal to allow the instructors and helpers to organise the medal ceremony. Each child will receive a medal, which also comes with their ski passport that has been signed and stamped and there will be hot chocolate available for everyone. This is a beautiful moment to share with the Prosneige team and your family. It is a great way to end the week. 
Sadly on this day it will be time to give back equipment. To help you are welcome to deposit the equipment at the Chalet or take them back to one of our shops later in the day. The last hours in Val Thorens will pass, and we hope that it is a "see you next year" not just a "goodbye"
Soon after your departure, you will receive an email thanking you and providing you a link for you to give your feedback on TripAdvisor. We are looking forward to you following our social media pages, especially Facebook and Instagram. We really appreciate your feedback, this is how we thrive and come closer to what the customer enjoys. 
Our team hopes that all the information provided will help you book your next lessons with Prosneige here in Val Thorens. 
We hope to see you very soon. All Prosneige teams.