Ski group lessons for children in Tignes are fun and in small groups of 8, ideal for your children whether they are beginners or experienced!
Are you looking for a fun, friendly group lesson for your child? Beginner or experienced, your child will be perfectly comfortable into our children's ski groups in Tignes! 
GROUP LESSONS SUITABLE FOR THE WHOLE FAMILY
At Prosneige, we offer ski group lessons for children as young as 3 years old. Group lessons are limited to a maximum of 8 children, so that the instructor can ensure special attention to each child in the group.
Our children's group lessons start at 9am and finish at 12am for morning lessons, except on Sundays, where lessons start at 10am so that everyone can come without extra stress on the first morning. Afternoon lessons start at 2pm and finish at 5pm. It is also possible to leave your children with us all day long, we will take care of them for the lunch break.
Classes will end earlier on Friday to make way for the weekend ceremony where the long-awaited medals are delivered. It is time to take pictures with the instructor, exchange ideas and create incredible memories with your child ! It is a beautiful conclusion to this week spent with us.
With the aim of always improving our offers, we offer ski lessons for children as young as 2 and a half years old. During these lessons, we ask parents to stay and guide their children in their discovery of skis and slopes. They are organized in morning sessions of 1h30 only, and are perfectly adapted to young children. No pressure is put on them and we want to avoid any stress, so that they get the best possible first impression of skiing. 
We have just set up in the beautiful resort of Tignes and are lucky enough to have a well-placed salespoint in the resort. This is where our children's group lessons will start. Our meeting point will be reminded on our website and in the confirmation email that will be sent to you after your booking. 
This is also where you will find our ski deposit, for you and your family if you rent equipment from us. We offer you a deposit, so you can pick it up in the morning and store it in the evening without worrying.
We have several options to offer you in addition to ski group lessons for your children in Tignes:
First of all, there is the "equipment + ski lessons" pack, which allows you to get a big discount on the rental of your equipment if you book it at the same time as your child's ski lessons. If you enter your details such as height, weight, size, and level, we can prepare your equipment before you arrive, saving you extra time. 
We also offer packages for ski pass especially made for beginners, at a lower price, which are perfectly adapted to beginners and level 1. On the other hand, as it is limited to certain ski lifts, it is not necessarily recommended for more advanced skiers.
Finally, we can also take care of your child for lunchtime. Special teams will look after them between midday and 2pm, taking over from the ski instructors. The children will eat in a restaurant in Tignes, with complete menus made for them. They will have plenty of time to rest and regain energy. They will also be able to play, always supervised by our teams. If your child has a special diet to respect, or particular food allergies, it is necessary to let us know beforehand so that we can pass it on to the restaurant or adapt. We will make sure to respect your preferences and requirements during the snack break and lunches.
WHAT LEVEL IS SUITABLE FOR MY CHILD?
In order for the course to take place in the best possible conditions, the group must be relatively coherent. Children in the same group must have a similar level and rhythm. Of course, we do not require total uniformity, but only a certain harmony so that everyone's progress can be made properly. For this, it is necessary to enroll your child in a level that has been adapted to him or her.
At Prosneige school, our expectations are different from all other schools. We have created a unique level grid. Several explanatory videos are available to explain these levels, which can sometimes be confusing when you discover them. You will find them on our YouTube channel: https://www.youtube.com/channel/UCO97pGM9tTYKufd5HjWSStg. 
Of course, it is always possible for your child to change groups if the level is not suitable, or if the rhythm is too different from your child's own.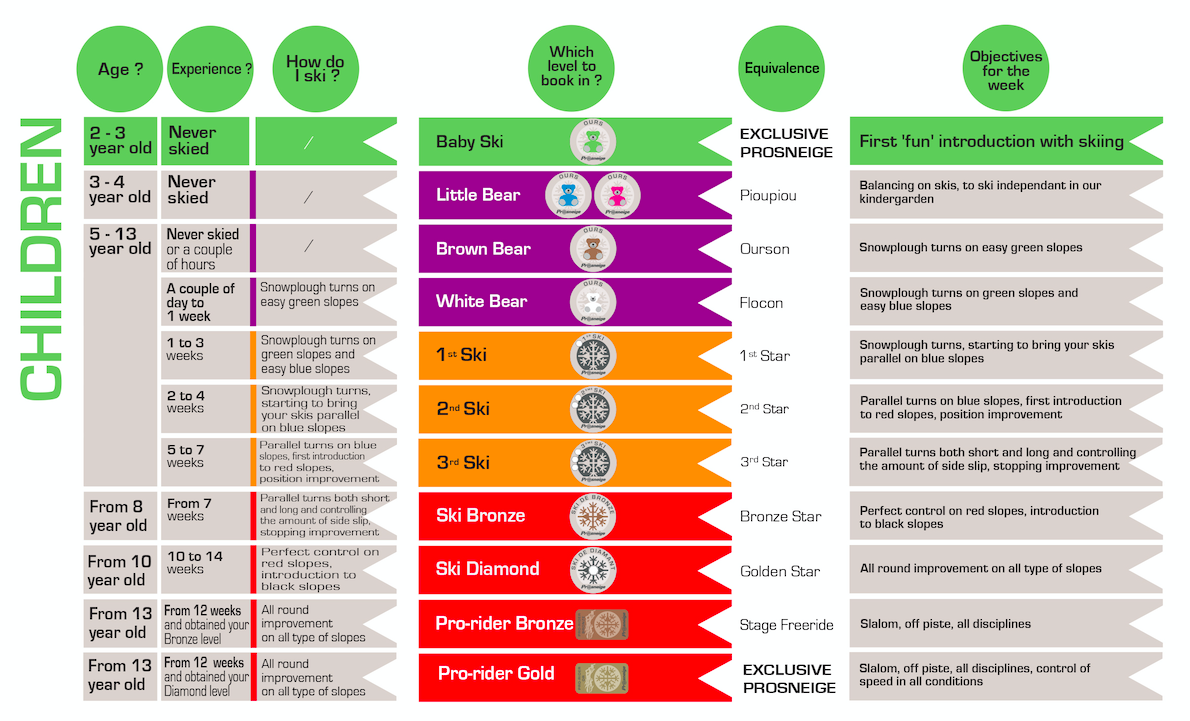 APPRENTICESHIP AND PROSNEIGE MEDALS
You can see in the diagram that Prosneige, within the ski group lessons for children in Tignes, evaluates the level of the students on specific technical elements. Nevertheless, your child will not be under too much stress with tests at the weekend but will be evaluated throughout the week. Thus, the progression will always be adapted to your child without any extra pressure.
The progression will be done through playful exercises, fun and above all in a good mood. Our credo at Prosneige Tignes is that learning can not be done without fun.
We are also aware that learning a sport is a tiring experience, and that there can be difficulties, fears and blockages on the part of the child. It is therefore even more important not to put pressure on the students so that skiing remains a pleasure despite the difficulties. Our teams are there to help children overcome their fears. 
The more the child progresses, the slower his evolution will be, as the technical elements will be more and more complex to master. It is normal to enroll two years in a row in the same level, in order to confirm what has been learned and not to rush the child by putting him/her in a group that is too technical for him/her.
The change of group, if it is necessary, will be made by agreement between the family of the ski students and the instructor in charge. The instructor will always indicate what seems best for the child. In all cases, our teams are used to and prepared to change a child from one group to another within a group lesson.
Reservations can be made by internet, on the Prosneige website (https://en.prosneige.fr/). You can also contact us by phone at +33(0)4.79.01.07.00 or by email (info@prosneige.fr). In case of doubt, do not hesitate to ask all the questions to our receptionists, who will be able to answer you perfectly and will even accompany you through the different stages of the booking.
After your reservation, you will be able to pay on our secured page. You will then receive an email summarizing your booking: the courses chosen, with times and meeting places, any options such as lunch, as well as your equipment rentals. All the necessary information for a good stay with us will be summarized in this email.
The bib that will be given to your child at the beginning of the course allows our teams to easily identify the groups, but also to indicate to the trackers that we can pass in the priority lines. They will be collected at the end of the course, unless your child stays with us for lunch or the whole day. 
TO BE PUT IN YOUR CHILDREN'S POCKET
The ski pass must be in the child's possession before the start of the course. Nevertheless, for beginners and class 1, please ask your instructor before which ski pass to choose, or even if a ski pass is necessary. You can also take advantage of our beginner's ski pass offer, which gives you an interesting discount. But the ski pass is limited to few lifts, and is therefore only suitable for beginners or class 1. 
We take a break around 10.30 am for the morning lessons, and in the middle of the afternoon lessons, so that the children can eat a little and rest for a few minutes. This is also a good opportunity to get warm. So do not hesitate to put a snack in your child's pocket, or give them 2€ so that the instructor can buy them a snack from us. 
Tissues and sun cream can be put in your child's pocket. If you think your child needs something extra, you can leave it with the instructor or supervisor in charge of your child's group. Backpacks are not recommended for children when skiing, for both it is not convenient and safe.
You can also specify any food allergies, or other health problems, which would be helpful for our instructors to take into consideration.
We look forward to seeing you and your child on the slopes of Tignes. 
The entire Prosneige team.