Ski group lessons children in Val d'Isère.
In Prosneige Val d'Isère the ski lessons are limited to a maximum of 6 children and even 3 for the youngest.
[homey-space height="50″]
No matter the level of your child, whether he/she is a beginner or has already skied: in our ski group lessons children, here in Val d'Isère, your child will have fun, progress safely while learning to ski or snowboard !
SMALL GROUPS THAT MAKE THE DIFFERENCE
The Prosneige teams take in group lessons children from 3 years old, on skis or snowboard. We do our lessons from 9am to 12am on the morning and from 2pm to 5pm the afternoon. On Friday, a little before the end of the lesson, we will take some time for the medal ceremony. This special moment, often very awaited by children, will create unforgettable memories for all the family. Do not hesitate to take pictures with the instructor of the week !
AN IDEALLY LOCATED MEETING POINT
We are lucky in Prosneige to have an ideal location within the resort of Val d'Isère. We are located on the snow front, directly next to the slopes, near the ski pass office in the Val Village. For your children, group lessons start in front of this Prosneige shop. We offer you a deposit for your ski equipment, as well as the one of your children, if you have rented your equipment at our Prosneige stores. 
At Prosneige, we are always looking for ways to innovate in our group course offerings. Therefore, we created a special offer : from 2.5 years old we offer a group lesson adapted to the youngest. We organize these courses in small groups of 3 students, for sessions of 1h30 in the morning. The goal of these first lessons is to enjoy the first approach of snow sports, to become familiar with the environment, the snow, the equipment, and event the first lifts ! This will be the first unforgettable memories for both children and parents !
You should also consider our beginners' promotional pack, which is very advantageous both in terms of time and money savings. In fact, this pack consist in Ski pass + equipment + ski lessons ! There is also a package with the children being care during lunchtime, if necessary.
After the group lesson, our experienced teams in Val d'Isère take over from the instructors for taking children to lunch. We will eat in the restaurant called "La Source" where a complete menu, specifically designed for them, and based on fresh products, will be given to the children. All the dishes are cooked there, and the menu changes every day. Your children will restore energy, relax after lessons, so that they can meet you at the start of the lessons at 2pm or join the afternoon lessons, depending on the schedule chosen. As you can see, we take care of everything, for your own comfort ! 
However, it is essential that you inform us of any special diet, if your children have one, and potential allergies. Menus will be adapted accordingly. We will also respect your preferences during breaks or lunches for your children. 
WHAT IS MY CHILD'S LEVEL?
It is essential for us that our students feel as comfortable as possible in our group lessons, especially for the youngest children. The dynamics of a group class is very specific, since each student must be able to progress at his/her own pace, doing the same slopes at the same pace as their groupmates. This is why it is important to study each level available for our group lessons in Val d'Isère. You can find our explanatory videos for you to better understand what is expected for each level. 
Of course, our booking team is there to guide you throughout your booking. You can contact them by email (info@prosneige.fr) or by phone +33 (0) 4 79 01 00 12. Do not hesitate to ask any clarification. 
Each school within the resort has its own way to organize group lessons. Thanks to its years of experience, Prosneige has determined 11 levels, classified into 4 cycles. This division is summarized below: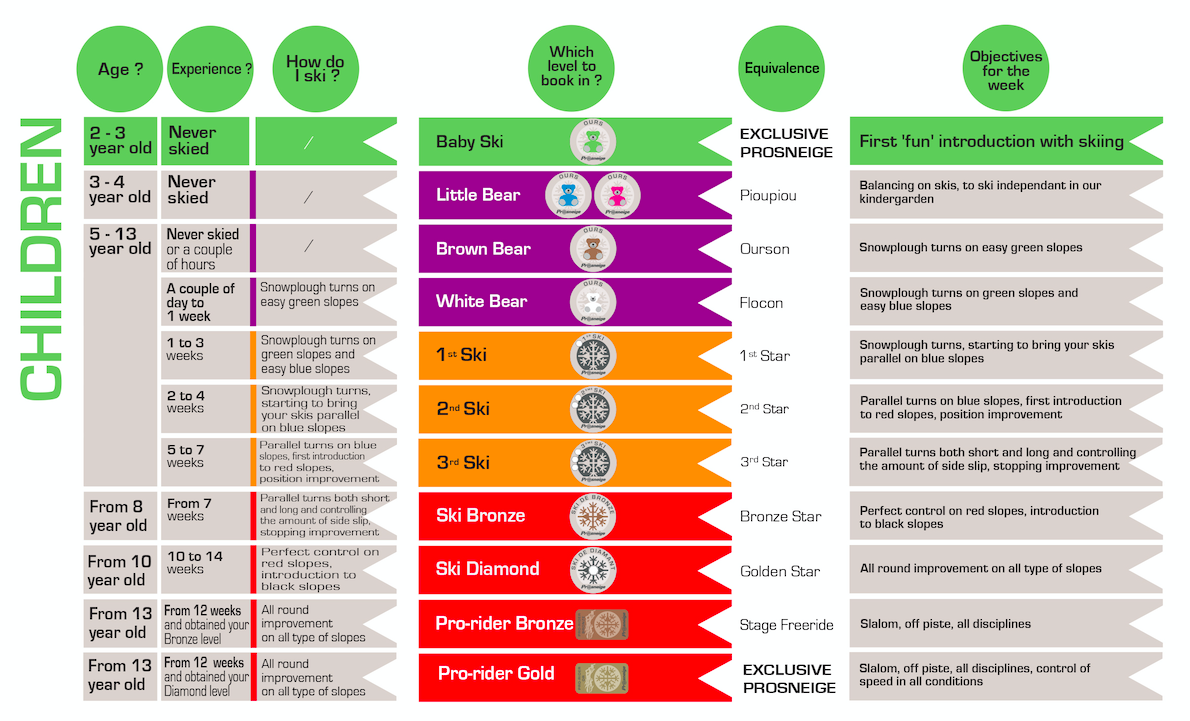 In our ski group lessons for children in Val d'Isère, and as shown above, we work all week on specific technical elements. Nonetheless, the level will always be adapted regarding the progress of our students; the evaluation of the level is thus a continuous assessment, throughout the week, which is less stressful for the child.
At Prosneige Val d'Isère, we are convinced that learning must be done in a pleasant and healthy atmosphere. Thus, we work through amusements and not strict exercises, especially in children's lessons. This allows them to learn ski or snowboard in a fun and serene way.
Skiing, snowboarding, like any other sport, can sometimes be difficult, and blockage could happen. It is quite normal that the progression is not perfectly continuous, especially as one progresses towards the advanced and pro-rider cycles. Indeed, in most advanced levels, learning can slow down because the elements to learn become more technical and require more precision. This precision allows our students to become accomplished skiers. It is therefore not worrying to re-enroll in the same level from one season to the next one; it allows you to confidently validate your knowledge and to be more comfortable in your learning.
Since we consider each of our students as individuals, it seems normal for us to give them the opportunity to change groups. Therefore, it is also obvious that the first hours of lessons are devoted to harmonization work between students in the same group and between groups as well. If there is a change of groups, it is always made after a mutual agreement between the children, the parents, and the instructor. The instructor will always be in favor of the children and parents' requests but also for what is considered to be the most suitable. Our teams will always take care not to disturb your child if this change is done. This is why we will always remain open to dialogue, in order to develop a relationship of trust between us, as much as possible. This information may seem a little technical, but trust us, because we are convinced that your child's progress must be based on pleasure and serenity. 
You can book online, directly on our website https://en.prosneige.fr/. If you have any doubt, or need further information, do not hesitate to contact us by e-mail or by phone (info@prosneige.fr or +33(0) 4 79 01 00 12. Our teams will not only be able to inform you, but also to book for you remotely.
Shortly after your reservation and payment on our secure page, you will receive a confirmation mail. Documents will be attached to this email, which will summarize the details of your booking, as well as essential information (where to find us in Val d'Isère, schedule…) to make your vacation with us in Val d'Isère go as smoothly as possible. Our teams remain at your disposal to answer your questions, as always.
The times indicated indicate the beginning and end of your courses. We advise you to arrive 10 min before the beginning of the course. This will allow our instructors and our team of specialists to take the time to introduce themselves, present the environment in which the children will be evolving, help them get equipped and find their group. 
If you have chosen to rent your equipment with us, we will be pleased to welcome you the day before your course to present it to you. Furthermore, you will not have to pick up your equipment as we offer you a deposit on our premises.
At the beginning of the course the instructor will give your child a ski bib, which allows our teams to always identify children and thus be more efficient. It also allows the lift staff to give priority in the ski lifts line. At the end of the course we collect back the ski bibs, except for the students who have lunch with us.
WHAT TO GIVE TO YOUR CHILD FOR THE LESSON?
Of course, you must make sure your child has a ski pass before the lesson, if the instructor has specified that one is required. If you are unsure about that, do not hesitate to ask the instructor lessons before. Plus, if you choose to take the ski pass with us (which is part of a special package for beginners), you will benefit from a great discount. The instructor will hand it over at the beginning of the course if the child does not already have it.
Our children's group lessons usually have a break around 10.30 am, to drink a chocolate and eat a snack. This is not an obligation, but you can leave 2€ in your child's pocket for this break.
Tissues and sun cream can be put in your child's pocket. If you think your child needs something extra, you can leave it with the instructor or supervisor in charge of your child's group. Backpack are not recommended for children when skiing, as it is not convenient and not safe for them.
If your child takes lunch with us, we would like to remind you that it is important to specify any special diets or food allergies. We will make sure to take this in consideration and adapt ourselves. If you wish, we can organize specific menus for your children in this respect. 
We look forward to seeing you and your child on the slopes.
Prosneige team.