Snowboard group lessons in Val Thorens are suitable for beginners, intermediate and advanced levels.
Are you a beginner snowboarder, do you go downhill slide slipping and complete turns on gentle slopes, but you still struggle completing several turns frontside and backside on blue slopes? Or are you more advanced, and tricks such as slide 360°, ollies, and cross slopes have no more secrets for you; it is time to do carved turns, go to the Snowpark and begin to go off-piste. 
You have two choices, either private snowboard lessons that allow you to work directly on your weak point as the instructor will focus only on your technique and prepare specific exercise for your needs. Or snowboard group lessons, the best quality-price ratio, that allows you to progress by working on every basic technique, specific to each level. With this snowboard group lessons, the schedule is quite advantageous, from 12 to 17h of lessons for the entire week, from 9am to 12pm for the morning lessons, or from 2:30pm to 4:30pm, or 5pm from February (because of the changing of ski lifts' schedule in Val Thorens). In each group lesson there is only 3 to 5 participants of the same level and we have several levels available each week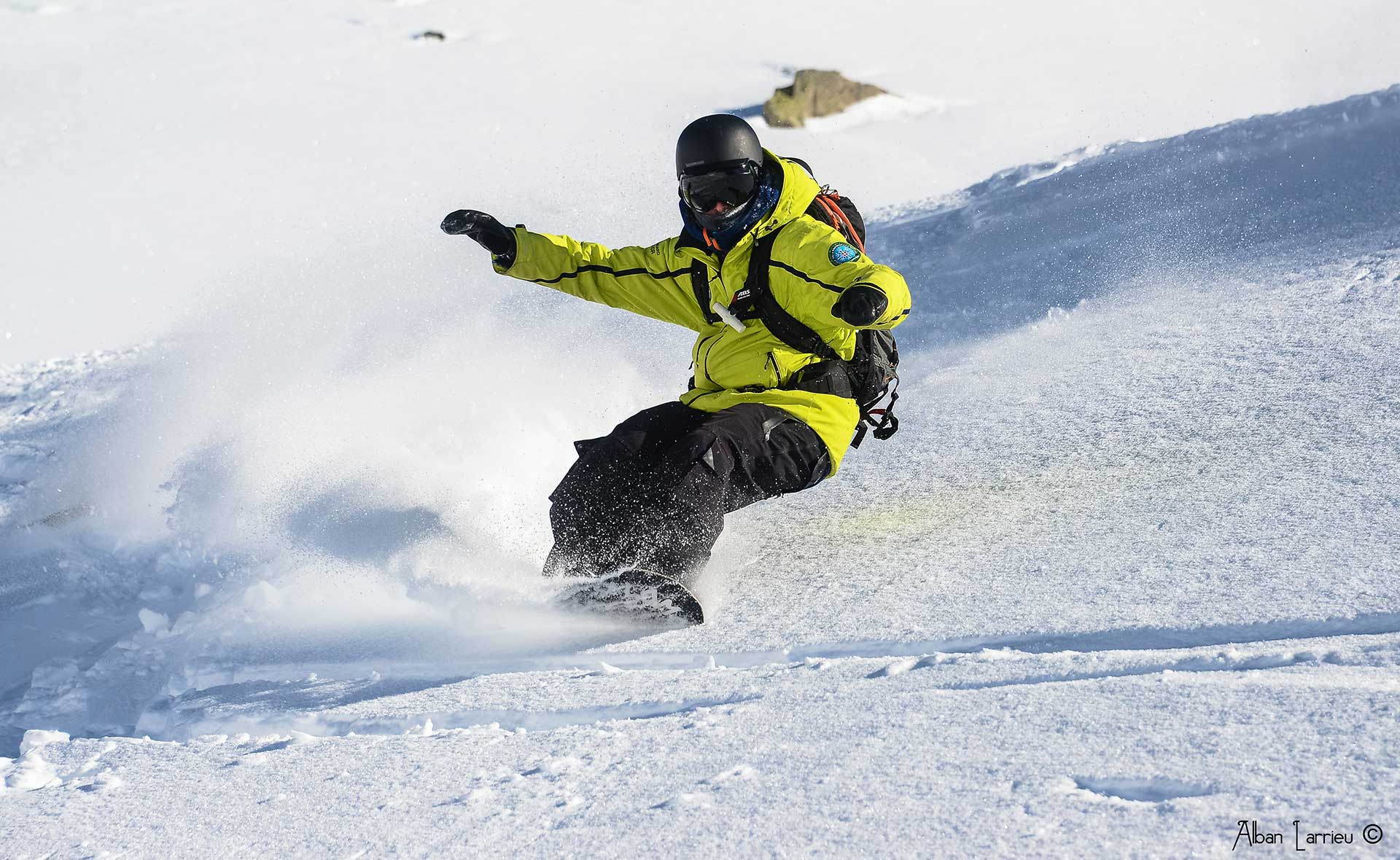 The instructors will focus on the harmonisation of the groups during the first and second lessons of the week. The harmonisation will allow the instructor to optimize the rhythm, the technique, and the need of each participant; this will assure a steady progress, help get over barriers, and create a pleasant atmosphere for the rest of the week. It is important to do this on the first day in order to make the rest of the week easier, and have a steadier progression in every group. The goal is that every participant is pleased to come back to the lesson every day!
You will find several levels for these snowboard group lessons in Val Thorens. Please find below the specificities for each group to help you find the right level for you, which will make booking easy. Do not worry if you happen to book on the wrong level for the snowboard group lesson, we will change this on the first morning if needed. 
Beginner level, also called "Snowboard Bronze"

:

You have never practiced snowboarding before, or only had a few hours that allows you to do slide slipping.

The goal is to cross slopes on your front and back side, on easy blue slopes by the end of the week. You will also be initiated to snowboarding on flats.

Please note that you will not need a ski pass the first day

; your instructor will let you know when you will need to purchase one and whether the beginner ski pass (50% off the regular price) would be sufficient for your lessons.

Level 2, also called "Snowboard Silver"

:

You have approximately 1 or 2 weeks of practice, and you can do turns on blue slopes.

It is time for you to do a series of turns on front and back side on red slopes, while working on switch (the other foot forward). You will also begin to learn box and ramps tricks in the Snowpark, and try to go on different terrains at the side of the slopes. 

Level 3, also called "Gold Snowboard"

:

You have a 3 to 5 weeks experience in snowboarding.

You are comfortable doing red slopes and going off-piste on even terrain. The instructor will help you work on carving, your very first 180° and 360° tricks in the Snowpark, movements on the box, and off-piste on varied terrain. 

Level 4, also called "Snowboard Expert"

:

You have more than 5 weeks of snowboarding practice, you are comfortable and have a good overall knowledge and control on all terrain. It could be interesting to take a "3 valleys" ski pass

because you may go to  other ski resorts, test other Snowparks and slopes, but also the best off-piste of the 3 valleys. The first day will be focused on the fundamental skills while moving around the slopes at a fast pace. This will also allow the instructor to check everyone's abilities, see if everyone has a similar level and check if the technique of each participant is adequate with the off-piste of the 3 Valleys for the entire week.

This snowboard group lesson level is focused on off-piste and a great atmosphere is created between all participants quickly.

We also check that the conditions are good enough for you to enjoy the off-piste and that the risk of avalanche is low.

Your snowboard instructors are equipped with the adequate gear to go off-piste in the most secure way (rucksack, shovels, shovel, beacon, transceivers…) and you will be provided the same or are welcome to bring your own. 
If the information above helps you to choose your level please find the link here to book directly on our website : https://en.prosneige.fr/. You will only have to enter the first names, surnames, ages, and levels for each member of your family or friend to book. However, if you are still in doubt about your level please do not hesitate to contact our call-center by email at info@prosneige.fr or by phone on (+33)04.79.01.07.00. Our receptionist will help you and can even book you in to the lessons. 
THE RENTAL OF YOUR EQUIPMENT
If you continue on our website, after you have selected your snowboard lessons in Val Thorens, you will find some other options. The first one is renting your equipment from one of our shops; this option is part of the pack "lessons + equipment". With this pack you can save up to 30-40% on your equipment. You have the choice between beginner (called 2 stars), intermediate (3 stars) and advanced (4 stars). You can even choose the brand and the type of snowboard you want. Of course if you would like to change the brand, type of snowboard or to take a different level of snowboard, we will make it happen once you are here. Please note that the discount on rental is only available via our website before your arrival. If you enter details such as your height, weight, shoe size our staff will prepare your equipment beforehand. You can even provide the distance between your feet, the angles for your ankles and whether you are goofy (right foot forward) or regular (left foot forward) if you know this information from previous rentals. This will allow you to save time on your arrival day and enjoy settling in. 
For the beginner level you can also add a ski pass that is discounted. It is specific for beginners as it it limited to certain lifts.
Once your booking is complete you can pay on our secured page. This will confirm and assure you a place in our snowboard group lessons in Val Thorens. After your payment, you will receive an automatic confirmation email with two documents attached. The first one will recap all the details of your booking, from the days, levels and times. The second document is a map of Val Thorens, which shows how to find our shops easily and the lesson starting points, and a list of the items to remember on your first day with us.  
All of our lessons will start by our chalet on the slopes, called "Les Planches". This chalet has a kindergarten for beginner children and the youngest ones, but there is also a storage for beginners to leave their equipment in the evening, after their lessons. You can collect the equipment again the next morning; this way, it is easier to come by foot or bus (depending on where your accommodation is) and allows everyone to have an easy holiday. Please speak to us via phone or email for more information. In this chalet you will also have a team who can provide more information and are able to book further services, including lunch for the children, extra lessons and children activities. There is also a snack-bar to take a coffee or hot chocolate, and even snacks. There is a room that is entirely dedicated to snack breaks for children. 
If you choose morning group lessons the first one will begin on Sunday at 10am, which allows you more time to find the lesson meeting point without any stress. The lessons for the rest of the mornings will start at 9am. We recommend for you to arrive 10 minutes early for the first two days to allow the instructor to introduce himself and welcome you the best way possible. The lessons will end at 12pm except for on Friday when the lessons end at 11:30am for the children medal ceremony, and to let everyone gather and say goodbye to each other after a week of group lessons together. If you choose the afternoon group lessons in snowboarding they will take place from Sunday to Friday, between 2:30pm and 4:30pm (or 5pm). It is recommended to come 5 minutes early each day. 
We hope that all the information provided will help you to book your next snowboarding group lesson in the beautiful ski resort of Val Thorens confidently. Prosneige Ski and Snowboard school look forward to welcoming you. 
To the pleasure to see you again very soon, all Prosneige teams.