Downhill ski rental. What are the characteristics of downhill skis? How does it differ from other skis? Downhill skiing is for you if you like to make curves on groomed and marked slopes. For young and old alike, downhill skiing is for all types of skiers.
Downhill skiing has a traditional camber (the ski touches the ground at the ends but not in its center where it is raised) which gives a bite and a grip even on hard snow.
The width of the skate (located in the middle of the ski, at the level of the binding) ranges from 68mm to 80mm. A short skate will allow you to go from edge to edge more quickly, allowing you to gain maneuverability and speed, without fear of a fall.
For beginner skiers or just wanting to enjoy the snow and the mountains, you will need wider skis and a ski that is between 72mm and 82mm wide, in order to be more stable and with a rounded heel to be able to slide in.
The ski must be shorter (-15cm compared to its size) to turn more easily. But instead, opt for skis with a narrow waist to promote grip in curves and the transition from edge to edge faster if you like speed and clear edging.

The core of the ski can be of 2 materials: wood or composite. It is very important in the choice of your ski because it will determine its strength, flexibility / rigidity. The wood is preferred because it gives more longevity and a better touch of snow to the ski. Downhill skiing is often equipped with titanium or carbon plates which will make the ski heavier and therefore able to bite on hard surfaces.
The sole of the ski is the part that will glide over the snow. It is made of polyethylene, a material that reduces the grip of the ski on the snow to improve gliding. It is also important to choose a ski with a short radius of curvature of less than 16m. The radius of curvature is the shape of a ski determined by the tip, runner and tail plus the radius.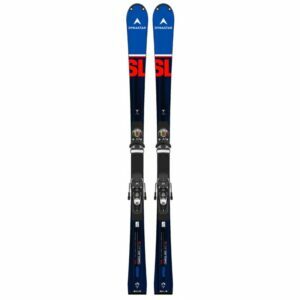 The different types of downhill skis
Downhill skiing is a mandatory part of learning to ski and getting the right stance and balance, but there are several levels of downhill skiing that evolve according to your skiing level.
The racer: For you, everything is a pretext for competition and skiing is no exception. There is nothing like a time on a track to perfect your technique and get the feeling of speed. Your goal is to ski hard and clean, with more and more performance and precision. In this case we recommend a slalom or piste race ski. Accessible slalom skis are derived from race skis, but they are softer, these skis are both efficient and sharp, but not race horses! The width of the runner is around 65mm. 
The geant: If you like speed then the Geant is for you. But be careful, this ski is for an advanced level, because if you don't have control, speed is useless. With the Geant there are no half measures. The width of the skate is 62mm and more.
The carver: The beautiful and well-groomed track is your favourite pleasure. You master (or try to master) the cutaway and you love it almost too much. You don't say no to a little track, a little slalom to test yourself. But the time is not an end in itself. You ski everywhere, even if your objective is to carve clean and efficient curves.
So choose a race ski: a hybrid between the race ski and the intermediate radius ski – 62mm skate width, or the performance ski, which is versatile, comfortable but also very efficient. A top of the range ski for advanced skiers. Ski width: 62mm +
If your goal is to ski everywhere on the slopes without getting into trouble. You ski cool, on piste and edge of piste, you go fast or not. Happiness is as simple as skiing… so choose an all-terrain ski!