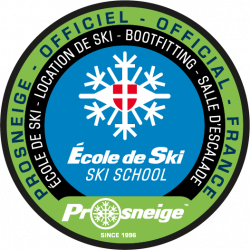 Welcome to Prosneige Ski School Val Thorens the heart of the Prosneige Group!  Since 1996 we've been providing Group & Private Lessons – Ski, Snowboard, Telemark & Adaptive – we have lessons for all the family.
Come & Say Hello!
Take a virtual tour of our Prosneige Val Thorens slope side hub!
Snow, Blue Skies, Winter or Summer ?
Check the Live Webcam at Prosneige Val Thorens Chalet Les Planches
Our Prosneige Ski School Val Thorens Team: 
Located at the summit of the Belleville Valley and a gateway to the famous 3 Valleys. This family friendly, high altitude & snow sure resort has easy access to an extensive network of over 600km of pistes. Come & learn their secrets with our Prosneige Val Thorens Team of passionate Ski & Snowboard Instructors.
Whether on slope or off-piste – join us for an unforgettable experience.
Group Lessons with Prosneige Val Thorens:
Mornings, Afternoons or both! Our Group Lessons are in small groups of 8 Skiers or Snowboarders with each of our Instructors. We think that this size group is perfect for meeting new friends, quick progression, exploring the resort & a more personalised lesson experience.
We love sharing our passion for the mountains with our Childrens Group Lessons for 5 to 13 year olds. No matter whether it's their first snow experience, gaining confidence, perfecting those parallel turns or pushing their limits on more advanced terrain. Fun and safety is paramount.
Don't forget that for the Childrens Group Lessons, we organise a medal ceremony every Friday – bringing their week to a fitting close.
Have Little Snow Explorers?
They can take their first slides with us from 2yrs old. Join our Baby Ski or Mini Riders for 2-3 year olds, or our Little Bears Group Lessons for 3 & 4 year olds.  With our very own Prosneige Ski Garden at our slope-side hub: Chalet Les Planches.  Complete with a Little Bear Room & our Café for hot chocolate & snack breaks. Its a perfect spot to take to skis. Above all – it's all about having fun (medals included!)
Prosneige Ski School Val Thorens Private Lessons
Private Lessons are perfect for skiers and snowboarders seeking a more bespoke lesson option.  Maximise your time on the slopes with one of our qualified instructors, 100% dedicated to your goals and progression.
One-to-one or with friends and family – Prosneige Ski School Val Thorens caters for all levels of skiers & snowboarders. Whether you are starting your snow adventure, perfecting your technique or ready to discover the vast off-piste – our instructors will be at your side to ensure your safety and progress.
Want to experience the feeling of freedom of the slopes, but have reduced mobility or a health condition that makes traditional skiing difficult? We have an Adaptive Ski Program – with specialist Instructors and a Tessier DualSki available – we believe skiing is for everyone!
What makes Prosneige Ski School Val Thorens Special
Firstly, our one and only Chalet Les Planches – our 200m² chalet on the snow front, which is the starting point for all our lessons.
On the slopes and ski in / ski out, our Chalet has all the comfort you would expect and more. A south-facing terrace to relax & soak up the sunshine, watch the Little Bears master their first slides, and our Café to enjoy a coffee, the best hot chocolate on the slopes, a light lunch or maybe something stronger at the end of the day…
Welcome! We'll make you feel right at home.
Ready, Set, Snow! 
Prosneige Val Thorens is a one-stop shop for Ski and Snowboard Rental, Bootfitting  and Ski Storage.
Our Prosneige Val Thorens Central or Hotel FitzRoy Shop – has all your equipment rental & snow accessories covered.
You'll find our Prosneige Val Thorens Bootfitting centre at Caron – just steps from either of our Ski Shops – make an appointment with one of our bootfitting experts to keep your skiing feet happy.
You'll find us slope side at our Chalet Les Planches. You'll see our Chalet, Prosneige Flags & Ski Garden at the top of the Musaraigne Moving Carpet. On the opposite side of the piste to the Cascade Chairlift & the Peclet Telecabine.
Our Meeting Point from your Hotel or Residence
Hotels – Val Thorens
Hotel Altapura,  Fahrenheit Seven,  Hotel & Residence Koh-i-Nor,  Hameau du Kashmir,  Hotel 3 Vallées,  Hotel Le Val Thorens,  Hotel Le Sherpa, Langley Hotel Tango,  Village Club MMV Les Arolles,  Village Montana
Residences & Appartments – Val Thorens
Residence Le Cheval Blanc, Residence Le Chamois d'Or, Residence & Spa Les Balcons de Val Thorens,  Residence Les 3 Vallées,  Residence Les Ancolies,  Residence L'Arcelle,  Residence L'Oxalys,  Residence Montagnettes Soleil,  Residence Tourotel,  Residence L'Eskival,  Residence Zenith,  Roc de Peclet Apartements,  Residence L'Atineige,  Residence Le Dome du Poslet, Hauts de Chaviere Apartments, Residence Les Hauts de la Vanoise, Residence Les Daphnés,  Residence Le Diamant, Residence Le Lac Blanc, Les Lauzieres Apartments,  Residence Le Schuss,  Residence Le Val Chaviere,  Montagnettes Lombardes,  Residence Montana Plein Sud,  Residence Village Montana Soleil , Les Niverolles Apartments,  Residence L'Olympic,  Residence La Roche Blanche,  Le Sabot de Venus,  Residence Le Sérac,  Residence Odalys Le Silveralp
Chalets & Accommodation Providers – Val Thorens
Chalets des Neiges Hermine,  Chalet Les Trolles,  Chalet le Cristallo,  Pierre & Vacances, Maeva, Chalet Selaou