The Prosneige ski school in Val Thorens was created in 1996. The ski school offers group and private lessons, for skiing and snowboarding but also telemark, ski touring and handiskiing.
PRESENTATION VAL THORENS SKI SCHOOL
LIVE WEBCAM VAL THORENS SKI SCHOOL
Details of group ski lessons at the ski school :
We limit the number of students to 10 or even 6 for the 3 year olds. Most importantly, on Fridays we organise a unique medal ceremony.
Ski lessons take place in the morning from 9am to 12pm from Monday to Friday. Or in the afternoons from 14h30 to 16h30.
What makes us special :
First of all, our one and only 200m² chalet on the snow front the starting point for all our lessons :
Then, undeniably, our welcome structure made to make you feel at home. Indeed, our chalet on the slopes, ski in ski out, has all the comfort you would expect and more. A south-facing terrace to admire your little children during beginner ski lessons, a small bar to enjoy a coffee, a hot chocolate or,  maybe at the end of the day something a bit stronger…
The private kindergarten with a magic carpet is located in front of the chalet.
A ski shop area :
In addition, there is also a shop with all the necessary ski accessories : Beanies, gloves, ski goggles. Our main rental shops are in the heart of the village.
You can also exchange your ski equipment. It is even possible to test equipment during ski lessons.
A snack area :
Notably, in our chalet, called "Les Planches", our team is present from 8am until 6pm. The team is available to welcome you, serve food and drinks in the snack bar and answer any questions.
In addition, you have ski lockers at your disposal to deposit your equipment.
Ski lessons for children from 3 years old in our Val Thorens ski school :
Prosneige has a private kindergarten for ski lessons for children from 3 years old. We therefore have an exceptional structure for ski lessons from the age of 3. We teach with a specific programme. In fact, we teach the youngest children living in Val Thorens, right from the nursery school. This is how we have acquired unrivalled experience.
The ski school instructors :
Our team of 50 ski instructors have of course all high grade French ski teaching diplomas. Also, only in our ski school Prosneige in Val Thorens, will you find profesional training courses.
Teacher's technical training :
Refresher ski courses focus on the latest carving techniques and on the specific exercises to be carried out per level. Above all, particular attention is paid to safety. Indeed, for the off-piste ski lessons organised by our ski school, our instructors follow special training on snow and avalanches. This is with the ANENA (national association for the study of snow and avalanches). Please visit the ANENA website if you are interested in this subject: https://www.anena.org/7340-formations-nivologie-progression-hors-piste-.htm
Customer relations training at the Val Thorens ski school:
Customer relations and group management training courses take place over the course of each season at our ski school. We also have customer experience sessions. In other words we we do everything possible to make your stay at our ski school in Val Thorens as simple and enjoyable as possible.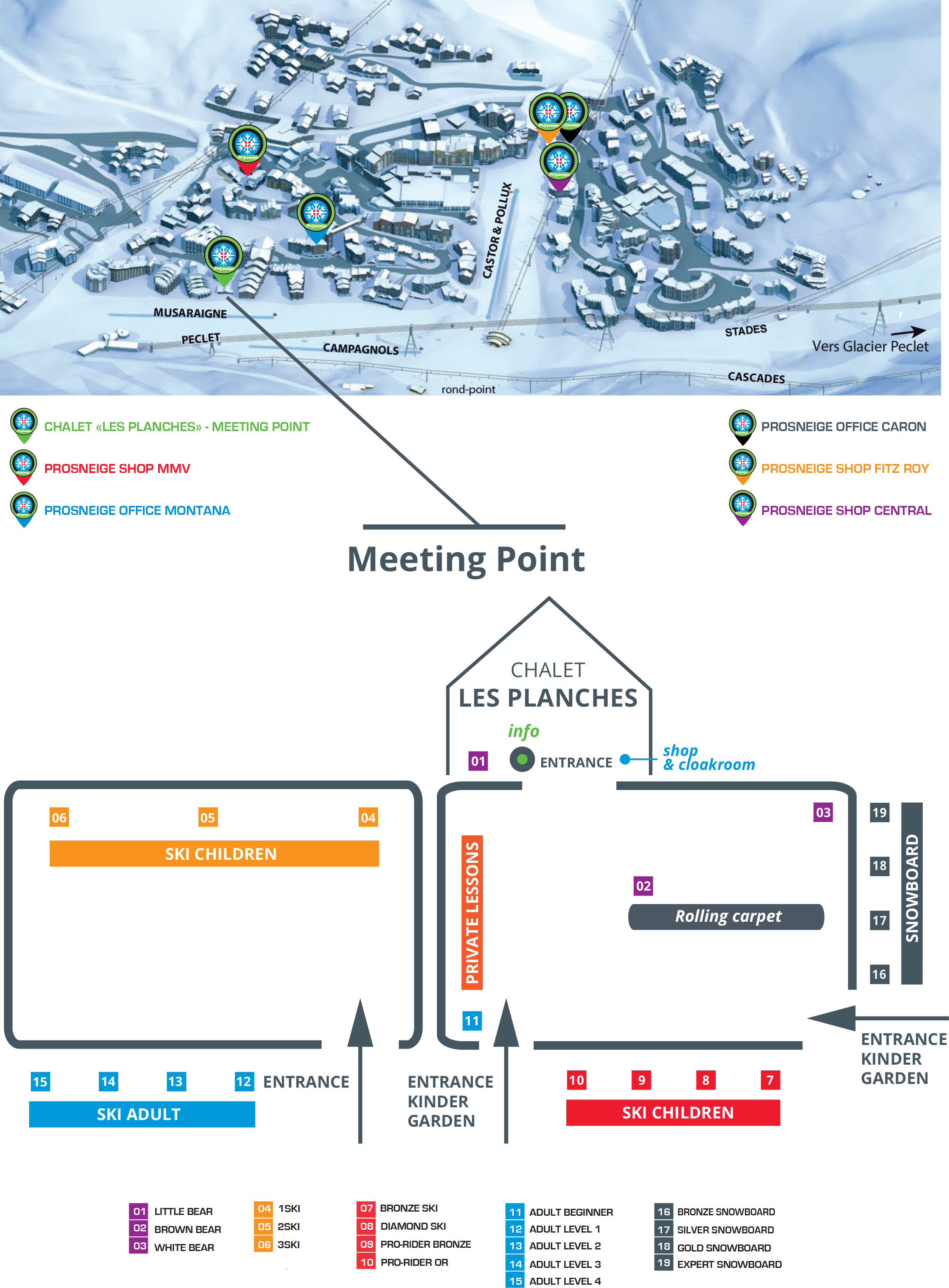 ACCESS TO MEETING POINT FROM YOUR RESIDENCE