When putting your ski boots on becomes something to look forward to!
Prosneige Ski Boots Pro Center: the only shop in Val Thorens 100% commited to ski boots. We adapt and mold ski boots to the shape of your feet to ensure a maximum of comfort and precision.
An experienced Team: Our bootfitting experts Jeremy and Eric have over 10 years of experience in their field. Together they have sold over 2000 pairs of ski boots. As they propose an extensive offer in boots you have ample choice of brands, colors and sizes. As a result they can guarantee a perfect fit for each customer!
A trained Team: Our experts are trained by recognized brands like Sidas every year. In addition they get hands on experience in the field helping the French world cup ski champions with their boots every winter. They are also the go to people for our ski instructors and their clients. From beginners to experts, they know what works for you!
An equipped Team: Furthermore innovation and technology go hand in hand with bootfitting. To this end we invest in new equipment every year. Like our 3D scanner for example, which is the most precise in the world and allows our specialists to get a perfect 3D image of your feet. Or the special oven that allows them to mold and reform the plastic shell of your boots for them to have a snugger fit.
After Sales service: On top of all of this we propose lifelong ajustments on every pair of boots bought in our shop. You are more than welcome to go out skiing for the day and stop by our shop after your day on the slopes to ask for any ajustments you might wish for.
Free assesment : Last but not least, our team commits to giving you a free diagnosis. Come by our shop and let them have a look at your stance and foot morphology, tell them about your skiing level and favourite discipline. They will recommend boots for you accordingly.
When should you come see our bootfitters?
If your feet hurt in your ski boots
If you can move your feet in your ski boots (your boots are not snug enough)
Your feet are cold in your boots
You're an experienced skier with top quality skis and your boots are no longer adapted to either
You've got very thin or rather strong calves
You're looking for more precision and reactivity
What is Bootfitting?
Bootfitting concerns every technique used by our experts to adapt and adjust ski boots. First our bootfitters do a full static and dynamic podiatric assesment of your feet. Secondly they ask about your skiing level, prefered terrain and discipline.  Finally they recommend or adjust boots accordingly. By molding the plastic outer shell, modifying the inner boot, customizing the insoles, changing the canting position and adjusting the buckles our technicians can ensure ultimate boot comfort and precision.
Your ski boots are what connect you to your skis and ultimately to the terrain. The better they fit, the more you will enjoy skiing!
Meet our technicians
A bootfitter combines all of the above mentionned techniques to find the perfect fit for you. At our Ski Boots pro Center in Val Thorens we have united 2 of the best technicians out there: Jeremy and Eric.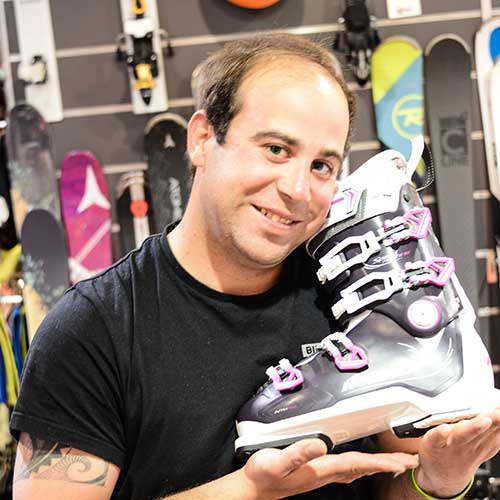 Jeremy Coudeyre, manager of the Ski Boots Pro center in Val Thorens.
We call him "The Magician" because he can make the impossible possible. He's got 8 years of ski shop experience behind him. His greatest passion is putting a smile on your face when you put on your ski boots.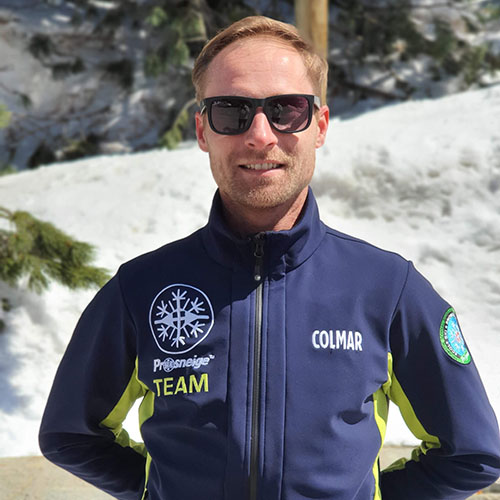 Eric Roobaert, ski boot technician in Val Thorens.
Eric has joined our team after spending some time in the United States discovering the latest bootfitting techniques. His trip has turned him into a bootfitting specialist, and a bilingual one to boot! Leave it to him, once he's finished with your boots they will be the definition of the American Dream!
What to expect from a bootfitting session?
Listening: Firstly our bootfitters will want to hear from you what it is you're looking for exactly. More comfort, more précision, or the best compromise of both. They will also ask you what problems you usually encounter wearing ski boots: like cold feet for instance, or specific pressure points. Besides all of this they will ask you about your skiing level, preferred terrain etc. to get the best idea of what type of boots will suit your needs.
Analyzing: Next up is a detailled anaysis of your feet, ankles and calves. Whether you have narrow heels, broad feet or a high foot arch will define what brand will work best for you. This is where our 3D scanner also comes in. The most precise piece of bootfitting technology on the market, this scanner will determine pressure points and sensitive areas and reveal more about your stance.
Choosing: Based on all of the previous analyses our experts will then propose 3 different boots. The choice of the shell is mainly based on your skiing level, the volume of your feet and the principal usage. After you've tried on all 3 of them you choose which one you prefer, and then it's on to the next step!
Creating: At your request the bootfitters can now make special insoles for your boots. These will help stabilize your foot and relieve pressure points. On top of that they can even customize an inner boot for you. To do this they inject a boot liner with mousse and let it take the shape of your feet. This way your inner boot will fit snuggly around your feet and form the perfect compromise of comfort and precision.
Adjusting: Last but not least: we'll ask you to take your boots out for the day and hit the slopes. Afterwards you can stop back by our shop and share your experience with us. That way we can adjust where necessary. It's important to remember that when you've bought your boots with us all adjustments are on us of course! We guarantee the best after sales service out there.

The guys in Prosneige treated me like a king and fitted the new boots with professionalism and care, I needed an adjustment to the right boot and they were great in doing it. Their service, attitude, and professionalism allowed me to have the best ski boots I ever had and if you love skiing and get to Val Thorens do yourself a favor and buy your boots here

I cannot rate Proneige's ski boot fitting service highly enough. My new boots (bought elsewhere) were killing me so I brought them in to Proneige. The very knowledgeable and friendly Raphael adjusted them to the point where I was happy leaving them on all day. Very highly recommended indeed.

Andrea Katsifli
10:20 14 Jan 23
Thank you Jeremy for the best ski boots and the best boot fitting! 100% recommend!

Kathy Shine
19:10 12 Jan 23
Amazing ski school in Les Menuires with fantastic teachers and friendly staff.Jerome in particular this year was an exceptional ski instructor. He had a great balance of pushing us out of our comfort zone without putting pressure on us and also allowing us to enjoy the experience. Great ski boot fitting service also from Tomas.

The team in this shop are REALLY ski boot fitting experts. Best boot fit ever!!!

Fiona Harris
17:08 30 Dec 22
Amazing team! The instructors were brilliant with our children's ski lessons. The staff in the ski rental were super friendly even assisting us putting on our ski boots each morning.
Next Reviews