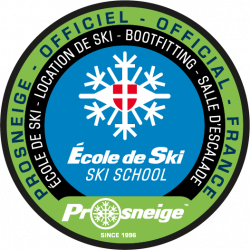 Welcome to Prosneige Ski School Val d'Isere.  One of our most well-known resorts in the immense Vanoise mountain range & bordering the National Park.  Whether on slope or off-piste – join us for an unforgettable experience.
Prosneige Ski School Val d'Isere:
Explore the extensive slopes of one of Frances largest resorts with our Prosneige Val d'Isere Team. With an historic alpine village and over 300km of slopes to discover – it really is a snow lovers paradise!
Group and Private Lessons with Prosneige Val d'Isere Ski School:
Our experienced & qualified Prosneige Val d'Isere Ski School Team offer both Group & Private Lessons from our meeting point at our slope-side Prosneige Shop in the heart of Val d'Isere. No matter your level, Adult or Child (5-13yrs), Ski or Snowboard – we have a lesson to suit you.
Group Lessons
Our Group Lessons are in small groups of 6 Skiers or Snowboarders with each of our Instructors. We think that this size group is perfect for meeting new friends, quick progression, exploring the resort & a more personalised lesson experience.
We love sharing our passion for the mountains with our Childrens Group Lessons for 5 to 13 year olds. No matter whether it's their first snow experience, gaining confidence, perfecting those parallel turns or pushing their limits on more advanced terrain. Fun and safety is paramount.
Don't forget that for the Childrens Group Lessons, we organise a medal ceremony every Friday – bringing their week to a fitting close.
Private Lessons
Private Lessons are perfect for skiers and snowboarders seeking a more bespoke lesson option.  Maximise your time on the slopes with one of our qualified instructors, 100% dedicated to your goals and progression.
One-to-one or with friends and family – Prosneige Ski School Val d'Isere caters for all levels of skiers & snowboarders. Whether you are starting your snow adventure, perfecting your technique or ready to discover the vast off-piste – our instructors will be at your side to ensure your safety and progress.
Lesson Times and Prices:
Discover all of our Prosneige Val d'Isere Ski School Lesson Times & Prices – here
Lessons, Equipment Rental, Ski Storage & Bootfitting:
As well as our Group and Private Lessons, we are a one-stop shop for Ski and Snowboard Rental, Bootfitting  and Ski Storage.
Our Prosneige Val d'Isere Shop – slope-side & a short ski away from the main lift area – has all your equipment rental & snow accessories covered. You'll also find our Ski Storage with boot dryers here too.
You'll find our Prosneige Val d'Isere Bootfitting centre here as well – make an appointment with one of our bootfitting experts to keep your skiing feet happy.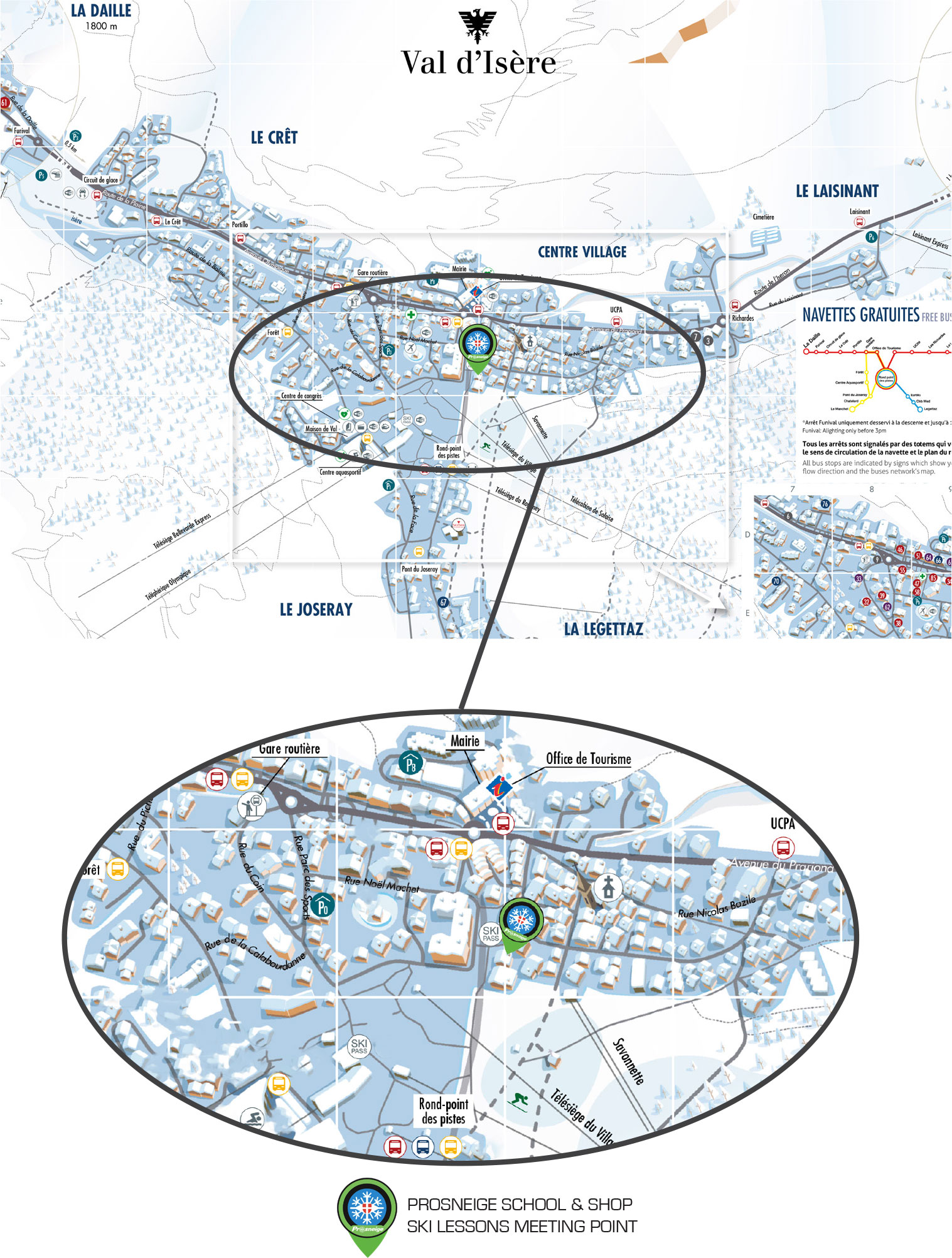 Our Meeting Point from your Hotel or Residence
Hotels & Residences – Val d'Isere Centre
Hotels & Residences – Val d'Isere Le Fornet
Hotels & Residences – Val d'Isere La Daille
Hotels & Residences – Val d'Isere Slopes
From the surronding area