Group ski lessons at the ski school in Méribel :
First of all, group lessons in our Méribel ski school are limited to 6 pupils. Thanks to these reduced numbers the ski instructor is able to give you a more tailored experience and faster progression. The great advantages of  ski group lessons are : fun atmosphere and shared experience of the group.
Private ski lessons :
Secondly, private lessons in our Meribel ski school are lessons for which you book a ski instructor for yourself or your family.  Personalised experience offered by private ski lessons provides many advantages such as choosing your meeting point and faster progression. At our ski school in Méribel, our instructors will teach you a wide range of disciplines: skiing, snowboarding, ski touring, handiskiing, telemark skiing, and much more… Why not book a private lesson to visit the ski area or take advantage of an off-piste adventure. Your instructor will help you discover new and original itineraries.
Our additional services:
In addition to the Méribel ski school activity, we have a shop where you can buy and rent equipment. Most importantly, you can book your ski lessons, rent your equipment and complete your gear at the same place.
For your comfort, you can take advantage of our ski lockers, no more carrying your skis to the hotel !
Last but not least, think about our ski boot specialists : boot fitters. Putting on your ski boots will become a real pleasure.
The Prosneige Méribel ski school team:
Prosneige Méribel ski instructors exchange every day with our ski technicians and boot fitters. In short, we obtain an incomparable complementarity, your needs are met by the whole team. We have created a team of experts who trained to listen to you, to analyse and then advise you. Moreover, ski tests are possible with the instructor to understand your style. In conclusion, you can be reassured that every member at our Méribel ski school focuses on your desires and needs to make your ski holiday a memorable one.
MORE DETAILS ON HOW TO ACCESS FROM YOUR RESIDENCE UNDER THIS MAP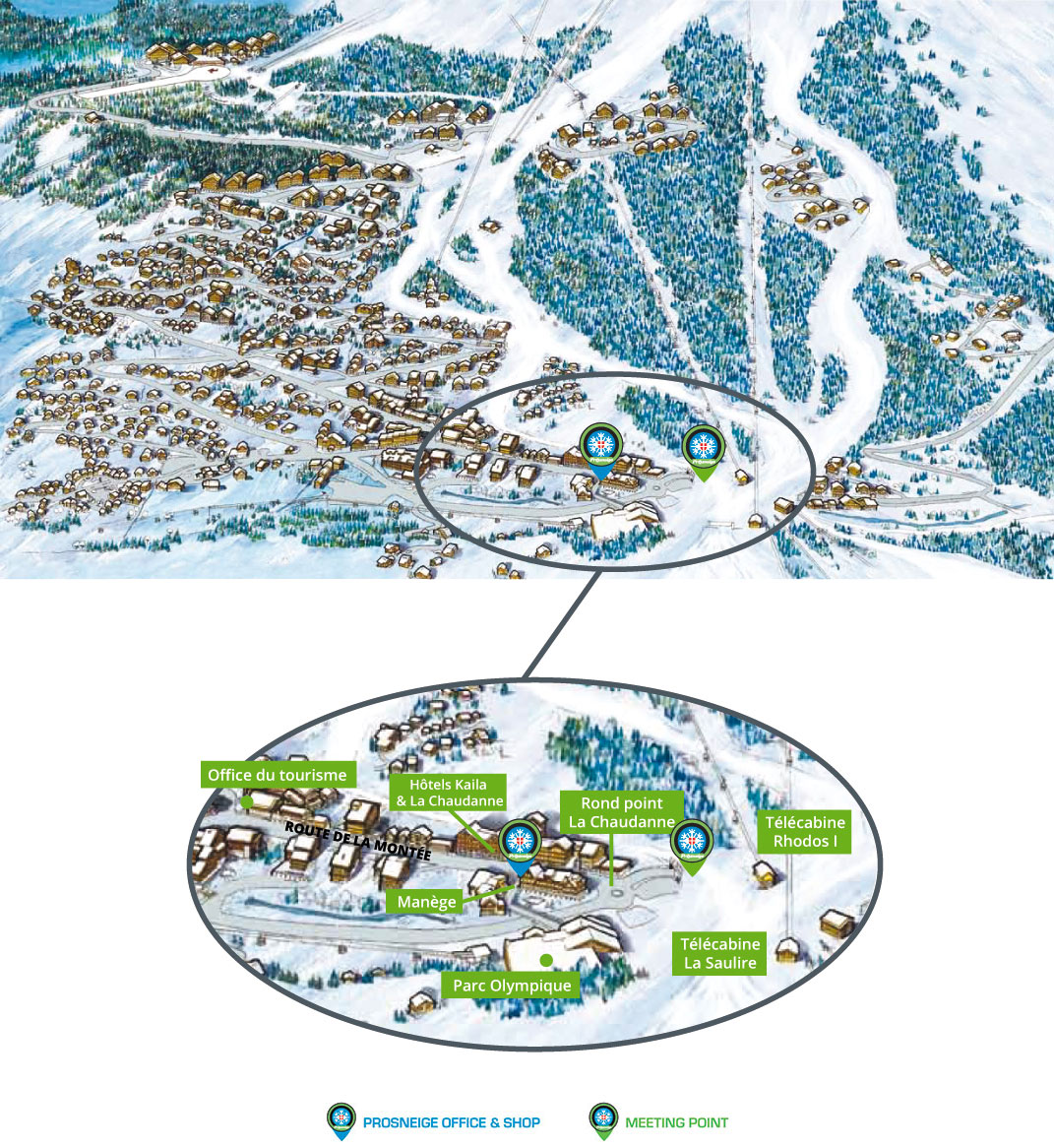 ACCESS TO MEETING POINT FROM YOUR RESIDENCE