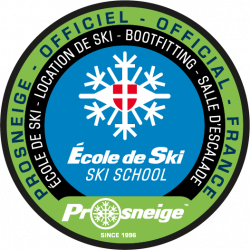 Bienvenue to Prosneige Ski School La Tania. Join our Prosneige La Tania Team for a Private Ski or Snowboard Lesson; Adults or Children, Beginners to Experts – we look forward to sharing our mountain playground with you.
Prosneige Ski School La Tania:
Come and join our Prosneige Ski School La Tania Team on the slopes of  La Tania, Courchevel & the extensive 3 Vallées.
Ideally situated in the heart of the Vanoise, between the Courchevel & Meribel valleys. La Tania with an altitude of 1400m, has easy access to the 3 Vallées slopes of Courchevel & Meribel.  Explore the 3 Vallées with Prosneige Ski School La Tania.
Private Lessons with Prosneige Ski School
La Tania:
No matter your level, Ski or Snowboad, Adult or Child – we have a lesson to suit your needs.
Private Lessons are perfect for skiers and snowboarders seeing a more bespoke lesson option.  Maximise your time on the slopes with one of our experienced & qualified Prosneige Ski School La Tania Instructors.
One-to-one or with friends and family – Prosneige Ski School La Tania caters for all levels of skiers & snowboarders. Whether you are starting your snow adventure, perfecting your technique or ready to discover the vast off-piste. Above all,  our instructors will be at your side to ensure your safety and progress.
Our Prosneige La Tania Ski School Instructors can meet you at your hotel, accommodation or on the slopes.