Choosing the right length for your skis is very important. You can get a ski that's perfectly adapted to your level, terrain and discipline…But if the length is not adapted it just won't feel right.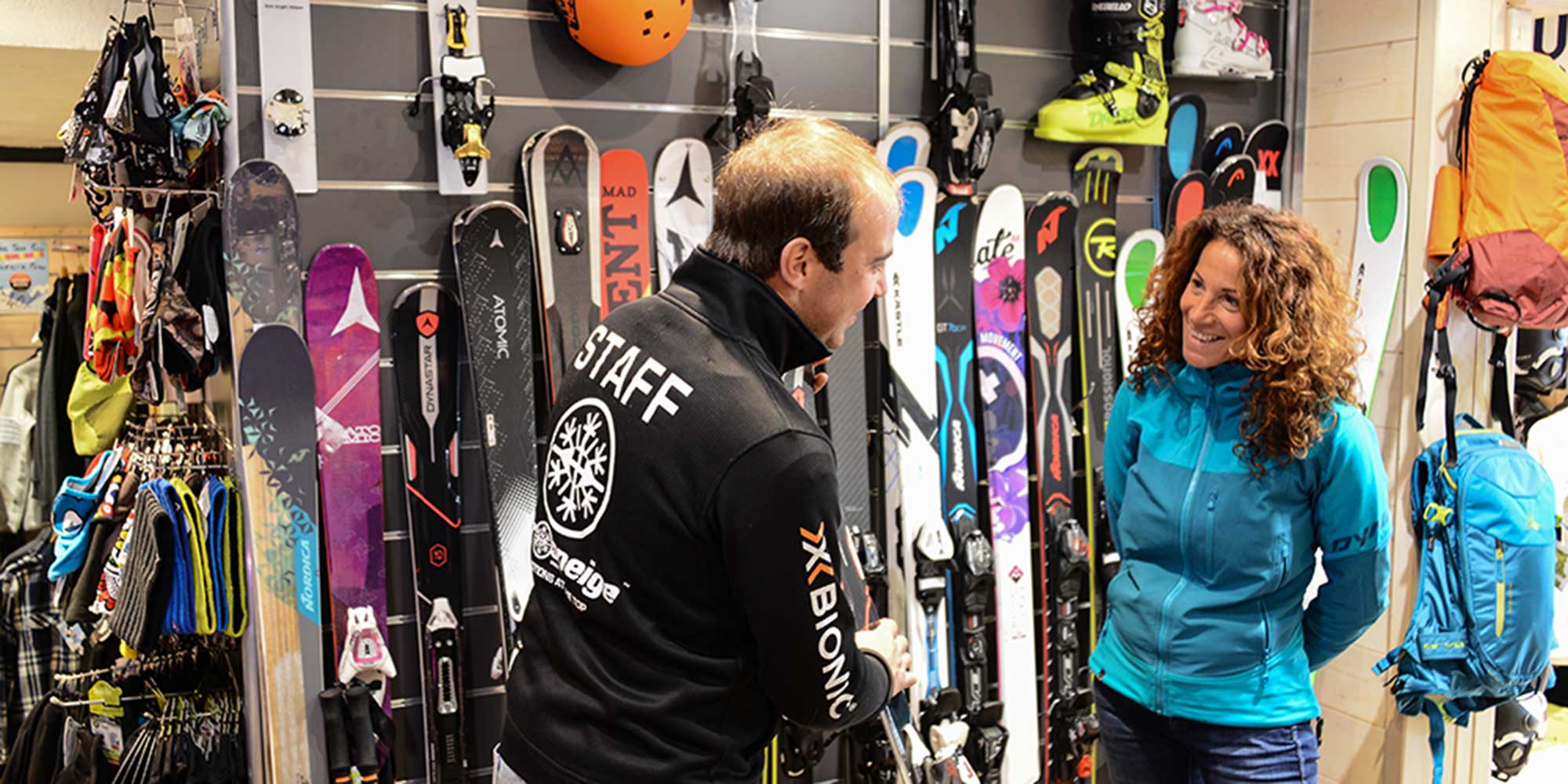 The rule of thumb for choosing the right ski length is as follows: the more advanced you are, the longer your skis can be. This because you generally ski faster when you are an advanced skier and your skis need to be more stable at a higher speed. However the longer your skis are, the more they will become difficult to manoeuver. So what we  should bear in mind when choosing the length of our skis is the following:
Our skiing level
Our lenghts and weight
The discipline we practise
Downhill ski, freestyle ski, off-piste ski
General downhill ski for every day use:
If you are a beginning to intermediate skier your ski should be supple and quite forgiving, so as you can turn easily and acquire the right technique. Furthermore it's better to start out with a slightly shorter ski as it will be easier to manoeuvre. So to sum it up, your ski should mesure between 15cm and 5cm shorter than your own length.
Slightly more challenging ski:
For a confirmed skier who's got the right technique down and wants to start speeding up the ski can be a little longer. This will allow you to keep your stability through larger carved turns and at higher speeds. With this in mind you should select a ski between 15cm to 5cm shorter than your own length.
Finally when it comes to a race ski everything will depend on the discipline you  will want to practise. For a giant slalom for example you will need a ski that's minimum your own length, whereas you will prefer a much shorter ski for a slalom. That much shorter even that you can go as much as 20cm shorter than your own lenght
Finally for a freestyle ski we would recommend taking something that's maximum 10cm shorter than your lenght, as you will want the perfect combination of manoeuvrability and stability.
Freeride ski
Generally speaking a freeride ski should be longer as it will allow you to "float" better in powdery snow and more stability as your flying down a steep descent.
A versatile freeride ski or a freeride ski for someone only just starting to explore the off-piste ideally is up to 15cm shorter than you are.
If you're an advanced off-piste skier or looking to buy a ski for off-piste runs only you can select a ski that's minimum your own length and up to 15cm longer.
All-Mountain ski
As far as all-mountain skis go the length will mostly be decided by your skiing level.
Beginners will want to choose a ski that's about 5 to 10cm shorter than their own length
Intermediate skiers should go for anything in between theit own length and 5cm under
Advanced skiers can select a ski their size or even slightly longer