With the creation of Prosneige in 1996, our wish was to create a different method with small groups and instructors who speak multiple languages to guarantee the quality of all ski lessons. Our concept at Prosneige is based on simple fundamentals of client service, deeply valued relationships and always advancing together with our clients. We set our bar high by continually evaluating our organization in every way to guarantee those once in a lifetime experiences. Our strength is a personalized services and constantly improving our know-how. All our instructors and technical experts are eager to teach you what they're most passionate about.
Prosneige, in the heart of the '3 Vallées' Val Thorens, Les Ménuires and Méribel, an independent ski school, several specialized ski shops, our ski instructor training center and an agency for all your corporate events.
All full of passion, for our beloved mountains, skiing, winter sports and dedicated in giving you the best service possible.
We listen to our clients, we personalize our follow up and welcome you all year round with the same enthusiasm about every detail to facilitate your holiday in every way.
Our team's commitment is to guarantee a once in a lifetime experience.
Our motivation: To see you amongst us again!
MORE THAN 20 YEARS OF EXPERIENCE
1996 : Prosneige was born in Val Thorens with a team of 10 instructors. Today 5 of them are still ski instructor at our ski school.
2005 : Claire Jurine-Gastaud becomes Prosneige director
2007 : Creation of Prosneige Seminars, an agency for the organization of corporate events www.seminaireski.com
2009: Creation of Prosneige training, an open training center to become a ski instructor
2010 : Creation of Prosneige Les Menuires
2011 : Construction of our Prosneige chalet 'Les Planches', the heart of our ski school with a terrace, a cloakroom for your skis. Claire Jurine-Gastaud becomes the owner of Valthosport shop in Val Thorens
2014 : A new office at Les Menuires, 120m² to welcome our clients
2015 : After a legacy of 5 years the Valthosport shop becomes Prosneige Shop, increasing their partnership with Prosneige School to offer you complete packages ski lessons and ski equipment
2016 : Creation of Prosneige Méribel, a ski school and wintersport shop
2018 : Creation of Ski Boots Pro Center in Val Thorens
2019 : Creation of Prosneige Val d'Isère. Creation of booking department in Albertville. Opening of Les Menuires Prosneige Shop.
PROSNEIGE LES PLANCHES : PROSNEIGE LIFESTYLE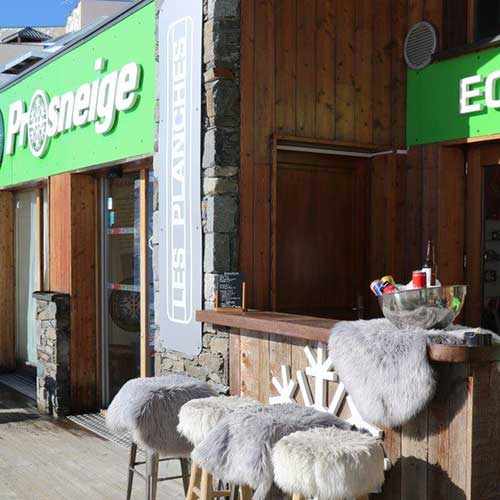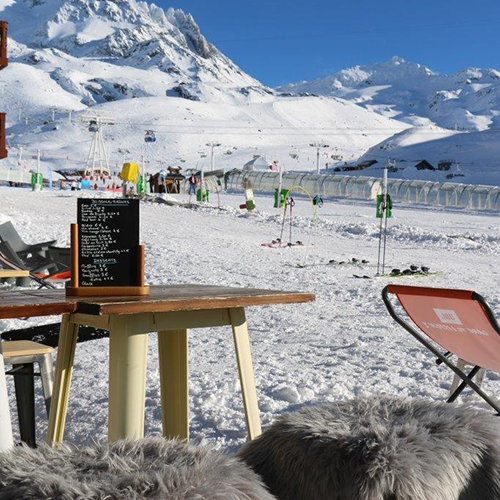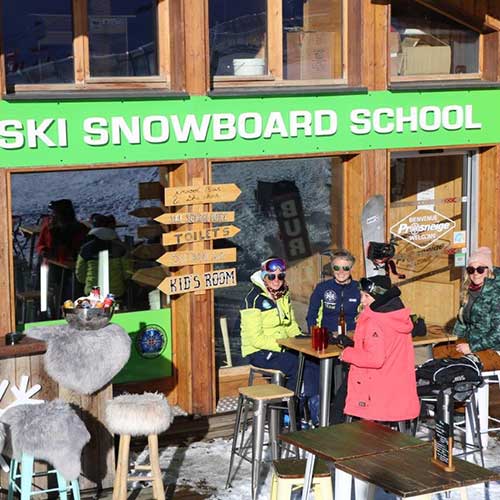 Come and enjoy our terrace and deckchairs in the sunshine
See your children learn how to ski in our kinder garden
Coffee for everyone and time to chat with our instructors
Enjoy sledging in our kinder garden
Delivery service for equipment to our meeting point
Use our chalet ski lockers
Ski tests
Let our bootfitters and technical experts advise you
Claire Jurine-Gastaud, who has been running Prosneige for over 10 years and is also a former high level competitor in snowboarding, trained alongside Julie for the same team.
They both shared the same passion: to qualify for the World Cup championships, hard work and training, traveling the world to participate in the best competitions, moments of happiness and tears. These are without a doubt once in a lifetime experiences, which helped forge a long lasting friendship. Today, they embark on a new journey together in our beloved mountains.