What are the different types of skis? Which ski should I choose? How to conceal it with my budget? Ski is a curved blade placed under your foot to slide properly on snow. Considering your budget and your level, you must choose the most adapted blade to enjoy fully your winter holidays. 
Thus, you must know what do you want to do with your equipment, be clear with your habits and your technical level.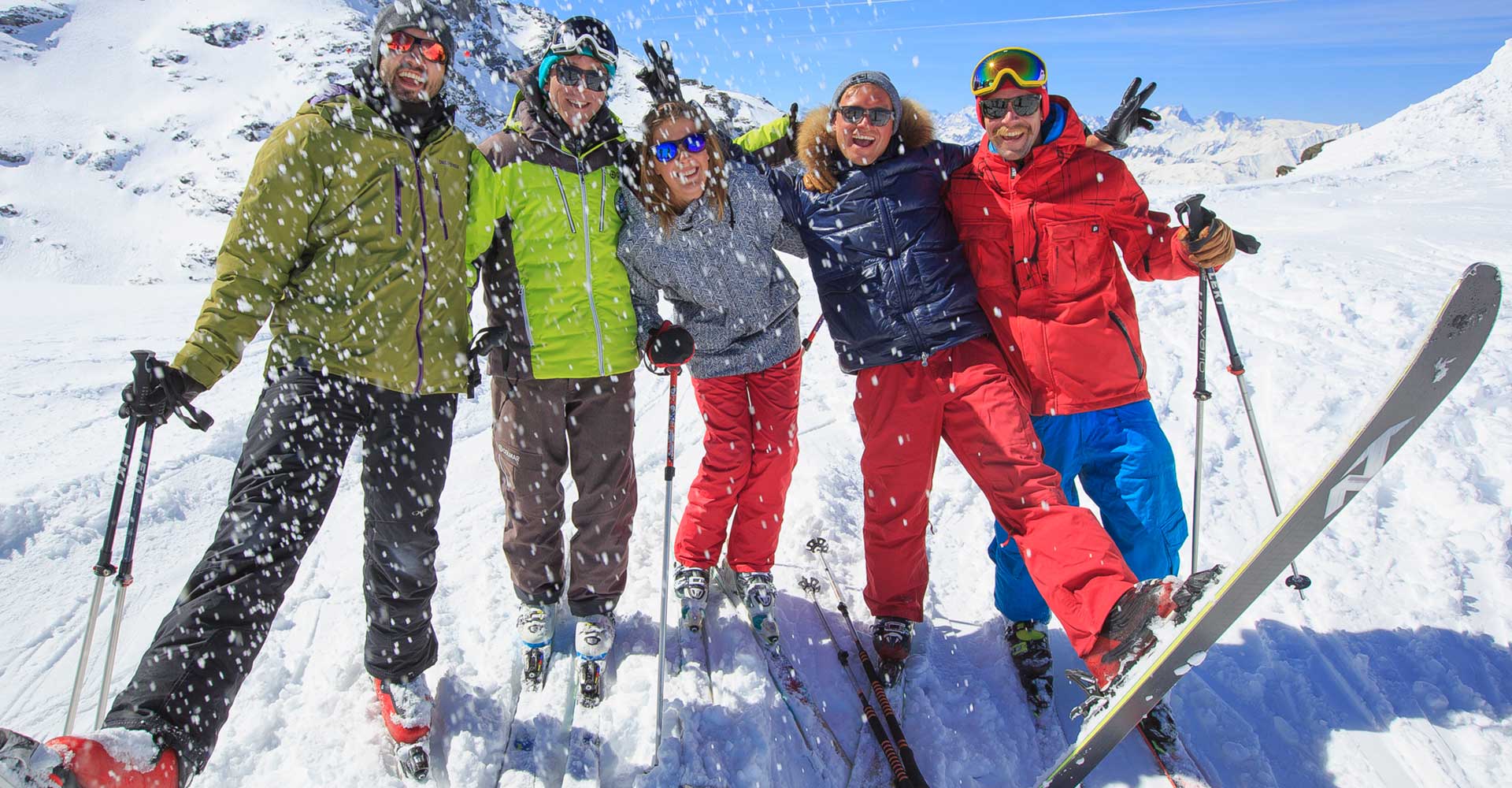 A ski is composed of 7 parts : spatula, ski waist width, the tail, the sides, the deck, the edges, and the base.
The spatula allows the ski to adapt to every curve and to soften impacts. It influences how the ski responds to the terrain thanks to its length, its shape, and its thickness. The wider it is, the more the turn will be optimized. 
The ski waist width, which the central part of the ski, right under the bindings. The support transmission and the angle between the skier and the ski is mostly linked to this part. It is the width under the foot of a skier that determines how fast the skier can switch side and edges. The narrower the waist is, the faster the change can be. A slalom competition ski would have a width of 68mm. A freeride ski can be width up to 115 mm.
Piste : width between 65 and 80mm
All-terrain or freestyle : 80 to 90mm
Off-piste : 90mm and more. 
The tail is the part that is at the ack of a ski. It is useful to stabilize and balance the skier, but it also helps with turns, especially at the end of them. 
The sides are the lateral parts of skis. They protect and make the ski stiffer. Straight sides allow more power and more precision.
The deck, the part that is on top of the ski, is important for the skier's lift on snow, and has an aesthetical aspect that could be important.
The edges are the sharp parts on the sides. It is used to sink into the snow or the ice the base of the ski. It allows a better grip on turns, without loosing speed.
The base is the part that is in contact with the snow. It is mostly made out of polyethylene PE. It reduces adhesion to make the ski slide properly on snow.
To help you choose the right skis, we will review two main criteria :
For what level? We will talk about the construction of the ski
On what type of terrain? We will talk about the width of the ski's waist. 
The construction will influence the price. 
At Prosneige, we have 6 ranges for skis : 
1* is our most basic and affordable model. This category is made for skiers that want that type of very affordable and practical equipment. 1* are skis that have served for 3 years and thus, are older, and come from every other category. They may have marks that proves they have been used, but our staff is taking care of them with the same attention than our other skis.
2* are for beginner skiers, who skis for the first time, or have only skied for few hours. 
3* are easy and simple skis, made for intermediate skiers, regarding their goals and progress. 3* skis are versatile that are easy to direct to enjoy the firsts cut curves on snow. 
4* skis are made for skiers that still want to progress with equipment that midrange, thus, very performant.
5* skis are made for good skiers that want the last innovations for their skis, and quality brands. These skis are made to help skiers push their limits and be good on every aspect of skiing.
6* skis are made for skiers that want to enjoy themselves. Skiers that choose 6* will see an important difference with skis that are quite rare, almost unique. This type of equipment will bring you brand new feelings on snow.
5* and 6* skis : in this range, skis are oriented for races, and are thus made for skiers that are interested about performance, chronometers. We also have more versatile models. It is best to start with slalom-oriented skis, where the technique is all about short curves and speed. They will have a waist width that is about 62mm, and a 11M radius. Then, the giant-oriented skis, with a waist width of 65mm and a 17M radius. 
3* and 4* skis are more affordable. They are able to adapt to your progression, to slide without gripping snow and to help you enter properly the first phase of your curves. They are usually categorized as versatile skis because they are not slaloms-oriented nor giant-oriented skis. Their waist width will vary from 72mm to 80mm.
To start off-piste skiing :
4* and 5* skis : we have a special category called "All mountain", very versatile because they are made for both slopes and off-piste skiing. These skis are easy to direct thanks to their waist width, and they have a good potential : they can cut curves on slopes, but are also efficient off-piste, thanks to their rocker. They can adapt to every kind of snow. 
If you are a skier that like taking challenges, Prosneige will recommend you take between 80mm and 90mm for the waist width. The purpose is to have a 70%-60% slopes ski and 30%-40% off-piste ski, for skiers that are more technic-oriented and who want to go on fresh snow, not yet groomed. 
If you want to only do off-piste skiing, on fresh and untouched snow, Prosneige will recommend you take "fat skis", that are 5* or 6*. They will have a waist that measures 100mm with a rocker shape to help you float on snow.
You are now ready to choose skis that will be perfectly adapted to you! You only have to click the button below!