FREQUENTLY ASKED QUESTIONS: SKI & SNOWBOARD LESSONS
We understand that booking lessons can be a bit daunting! So we've compiled a list of our most frequently asked questions & their relevant responses.
Can't find the answer you're looking for? Contact us on info@prosneige.fr or +33 479 01 07 00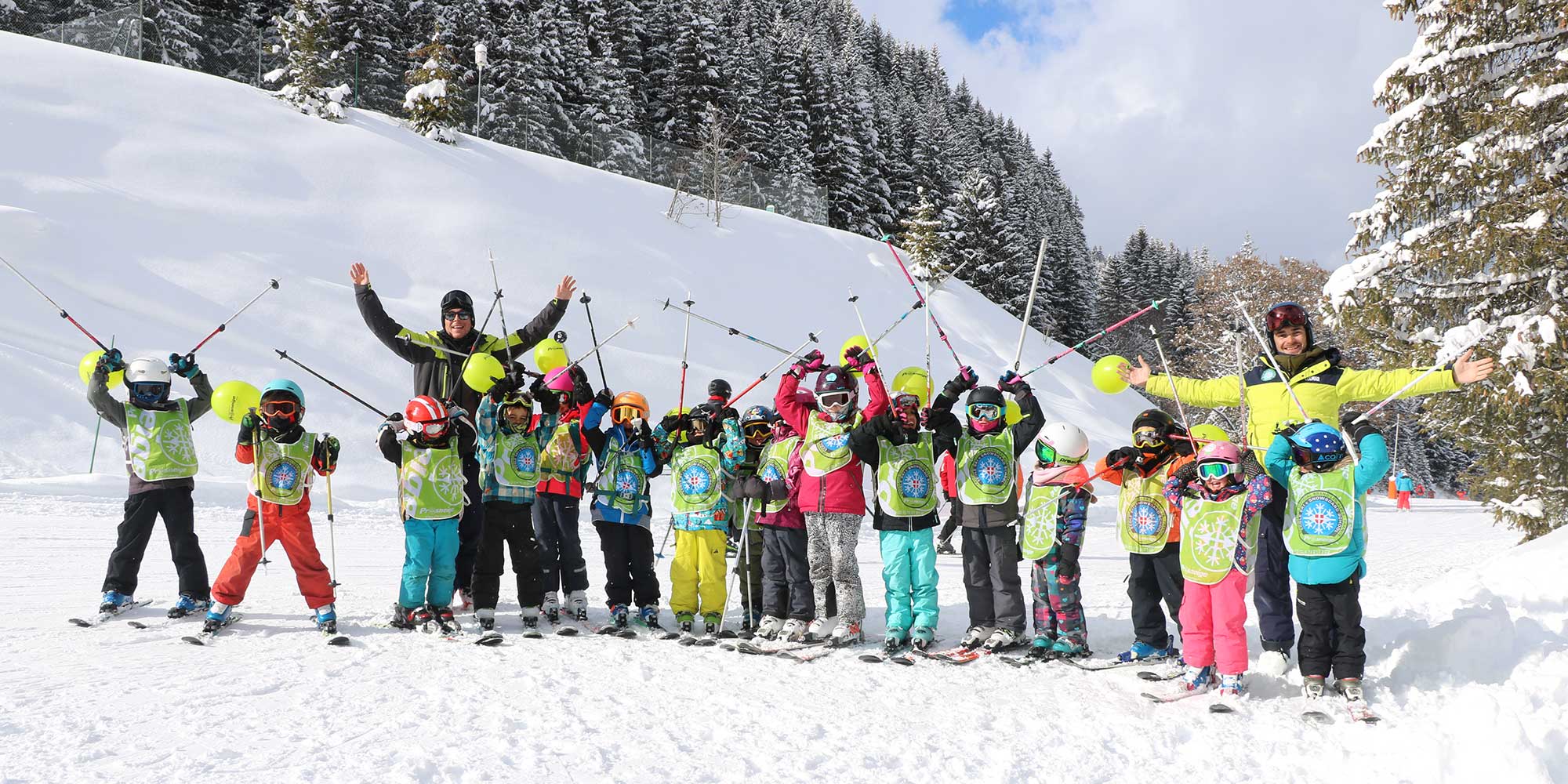 How many participants are in the Group Lessons?
The number of participants in our Group Lessons is a little different in each resort:
In Val Thorens & Les Menuires: Our Little Bears Groups are 6 skiers per Little Bear Team Member; All of our other lessons are a maximum of 8 per Group.
Our Lessons in Meribel are 7 participants per Instructor & 6 per group in Val d'Isere. In Alpe d'Huez, you'll find 8 Skiers or Snowboarders in our Groups.
How old are the Children in the Lessons?
Our Little Bear Groups in Val Thorens & Les Menuires are for those aged 3 & 4 years. In all of our other Group Lessons for Children, they'll be between the ages of 5 & 13 years. We have Teen Groups for Advanced Skiers  (Pro-Rider) or from 14yrs they can join any of our Adult Groups.
A Group Lesson are Ski or Snowboard Lessons in a Group with other participants at the same level. The lessons are spread over the week in half days (mornings or afternoons) or full day, starting on Sunday or Mondays through to Friday. Outside of the school holiday weeks it is possible to join the groups for 3 sessions.
What is a Private Lesson?
Private Lessons is a lesson in which you have booked an instructor for yourself, your family our your group of friends. It is your instructor and your lesson. You decide on its duration, its content, the number of sessions per week, the meeting place, etc. It's a tailor-made lesson!
How to choose between a Group Lesson or a Private Lesson? 
A Private Lesson allows quicker progression in shorter time and is totally adapted to your objectives.  The Group Lessons, on the other hand, allows for good progress during the week, is sociable and less expensive than a Private Lesson.
What should I bring to the first day of Lessons?
Make sure you have your equipment (Skis, boots, poles or snowboard & boots – helmet (not complusary for Adults) and your lift pass.
What are the Group Lesson Times? 
I am a beginner, do I need a lift pass?
First time on skis or snowboard?  Then you may not need a lift pass straight away. A number of our resorts have limited beginner areas that are free of charge. If you are not sure, then please get in touch with us & we can let you know.
Already have some experience under your skis or snowboard?  Then you will need a lift pass – for all of our Group Lessons – you'll only need the relevant Valley Pass for where you are staying : Val Thorens/Orelle,  Les Menuires or Meribel.
What Lift Pass should I buy for Group Lessons?
Our Group Lessons take place over the space of a week, for either 5 or 6 days. Your lift pass will need to cover the duration of your lessons.
For all of our Group Lessons we require the Valley Pass of your chosen resort; For Val Thorens this is the Val Thorens/Orelle pass; The Les Menuires Pass covers St Martin de Belleville & Les Menuires areas; the Meribel Valley pass for our Meribel Lessons.
Alpe d'Huez & Val d'Isere only have 1 pass option that covers all areas.
If you are in one of our Intermediate or Advanced Groups in one of our 3 Valley resorts, then you may prefer the 3 Valley pass option. Alternatively, your instructor will let you know when/if you will need the 3 Valley Extension for the following days lesson.
Is the Lift Pass included in the Lesson cost?
Lif Passes are not included in the cost of your Group Lesson. In some of our resorts we can add a lift pass to your booking – these are limited to our Beginner Group Lessons Only.
Are the Instructors Qualified?
Yes – All of our Team have or are on their way to completing their Ski Instructor Diploma. This is compulsory for all Ski & Snowboard Instructors teaching in France. The Diploma is issued by the French Government and is awarded by ENSA (National Ski and Mountaineering School).
Our Team have simply preferred to work with us at Prosneige, which has a philosophy and values similar to their own: a school on a smaller scale with a family atmosphere; that is constantly challenging itself to offer you the quality of service and teaching that you deserve.
What languages do the Instructors speak? 
Our instructors all speak French and English! In total 17 languages are spoken by our teams: Dutch, German, Italian, Russian, Czech, Portuguese, Polish and many more. Do not hesitate to ask us if you wish a particular language.
In Private Lessons, can the Instructor pick me up at my hotel?
We certainly can! Please note that it will depend on the time of your lesson, if your accommodation has access to the slopes & finally on your ski or snowboard ability.
If for any reason it is not possible to meet you at your hotel or residence, we'll let you know where the easiest meeting point for your lesson will be. 
How do I know which Group to book?
You can find your level using our 'Find my Level' on our website; Find my Level – Adults or Find my Level – Children. If you fall between two group levels – our advice is to book the easier level & we can always move you up a group if you are ready.
The first morning Lesson will be for everyone in the group to get their snow legs back; our Instructor Team will evaluate the group & make any changes if necessary.
Do I need to prove my level to book because I lost my booklet (or medal)?
Not at all! You can either use the 'Find my Level' option on our website or get in touch with the Reservations Team by email or phone. If you have already had lessons with us previously in any of our resorts, we can find your previous booking & confirm your level.
Can I change groups during the week?
Of course you can! Our goal here at Prosneige is for you to have fun while you progress. In resort, please pop in to chat to one of our Resort Reservations Team & we can move you into a group that suits you better.  Please note that during the busy School Holiday weeks, we'll do our best, however, there may be limited spaces to change in Group Lessons.
What do I do if my level is too strong/weak for the group?
No worries! Our Instructor & Resort Teams are used to dealing with this kind of situation. we'll do our best to ensure that you are in the group that suits your level.
Are your levels recognized by other Ski & Snowboard Schools?
Of course! There are similar levels in all Ski & Snowboard Schools – just with different names. Let us know who you have taken lessons with previously & we can let you know what our equivilant group is.
Will my child get a medal at the end of the lesson?
Absolutely! Every child enrolled in one of our Group Lessons will leave with his or her medal. Our medal ceremonies are on Fridays at the end of the lesson. If  your children will be leaving before the medal ceremony, let our Resort Team know & we'll ensure that your Children receive their medals before their last lesson. We can also arrange medals for children booked into Private Lessons (3 x 3 hours minimum).
Can I leave my bag or shoes at the School during the lesson?
We can certainly help with this! In all of our resorts, there is the option to leave your bag or shoes to change into at either our Meeting Points or at our Ski & Snowboard Shops. 
Is there a slalom on Friday?
No. We've opted to have our Instructors do their groups level assesments during the week of lessons.  Our philosophy to make skiing or snowboarding fun and taking an exam at the end of the week goes against this principle. 
Can we be in the same Lesson if I'm Skiing and my friend is Snowboarding? 
Yes, although honestly it is not ideal. Your Instructor will not be able change their equipment during the lesson, so you'll need to choose either Ski or Snowboard for the predominate discipline. For the person practicing the other discipline, they'll be able to get tips & suggestions, however, it will not be a 'true' lesson.  Our advice is if you are both not at an Intermediate to Advanced level – that you take an instructor for each person.