Vallée Blanche Ski Off-Piste Chamonix
Vallée Blanche Ski Off-Piste Chamonix. Join us for an unforgettable day skiing off-piste in Chamonix and the Vallée Blanche (White Valley). The fabled and most well-known of Chamonix's off-piste routes. Savour the extraordinary setting and views in the heart of the Mont Blanc range whilst skiing the Vallée Blanche. For those skiers seeking an incredible experience coupled with off-piste adrenaline, the Vallée Blanche is for you!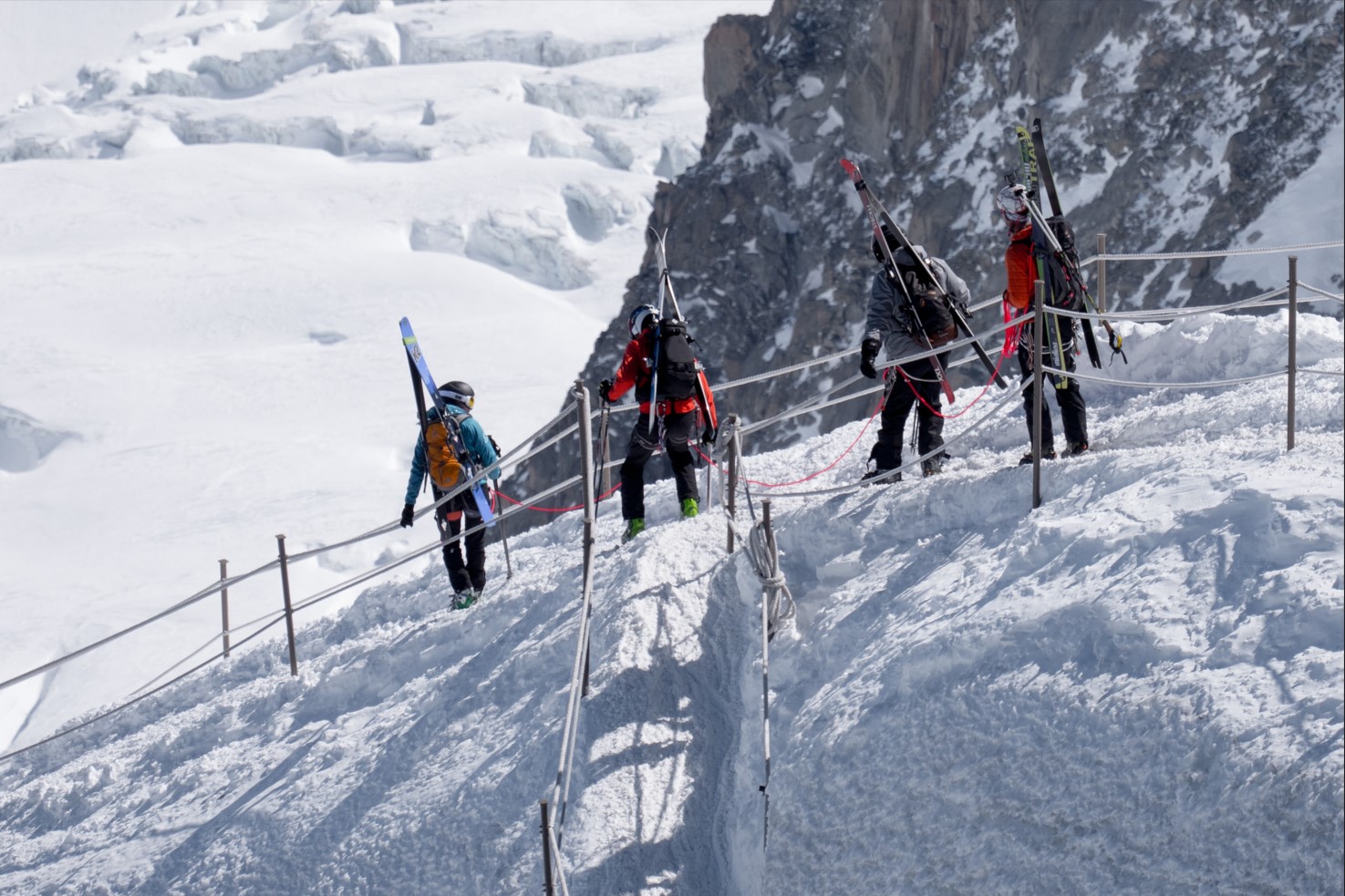 Discover the Vallée Blanche in Chamonix
Ski Off-Piste in the Vallée Blanche
The Vallée Blanche starts from the summit of the famed Aiguille du Midi, at 3842m altitude, with uninterrupted views of Mont Blanc, the Drus and the Grandes Jorasses. Surrounded by the rocky peaks and glaciers of the Mont Blanc range, descend 20km and 2000m altitude, navigating the crevasses and ice pinnacles in the heart of the high mountains.  This day of off-piste skiing, far from the crowds, will leave you enchanted by the tranquility, astounding views and memories of a day well spent on skis. Descend via the Glaciers du Géants, du Tucal and the famous Mer de Glace, a true off-piste heaven where safety and vigilance is crucial. Take a well-deserved break at the 'Refuge du Requin' and you will end the day at the Montenvers station.
The Off-Piste routes of the Vallée Blanche
The Vallée Blanche is an off-piste which does not require you to be an expert in skiing off-piste. As the descent is physically and technically demanding, you will need to be an experienced and confident skiing on off-piste terrain. The Vallée Blanche has several routes for descent. The routes of the Petit Envers du Plan, Grand Envers du Plan and the true Vallée Blanche are the most challenging, requiring more technical off-piste control and experience. The classic Vallée Blanche and Grand Rognon descents are more open and are less difficult.
Off-Piste Ski equipment needed for the Vallée Blanche in Chamonix:
Off-piste in the Vallée Blanche requires a little more specialised equipment that a traditional day of freeride. The descents here comprise of not only off-piste but also mountaineering.  Along with the essential off-piste equipment; airbag backpack, transceiver (DVA), probe and shovel, helmets are also required. You will also need a harness, rope and crampons. Our mountain guide team can provide this equipment should you require it.  We highly recommend that you have an airbag backpack which allows you to carry your skis, in the event of needing to climb or traverse on foot.
330 Route du Nant Jorland – 74310 – Les Houches