[homey-space height="50″]
FREQUENTLY ASKED QUESTIONS ABOUT SKI LESSONS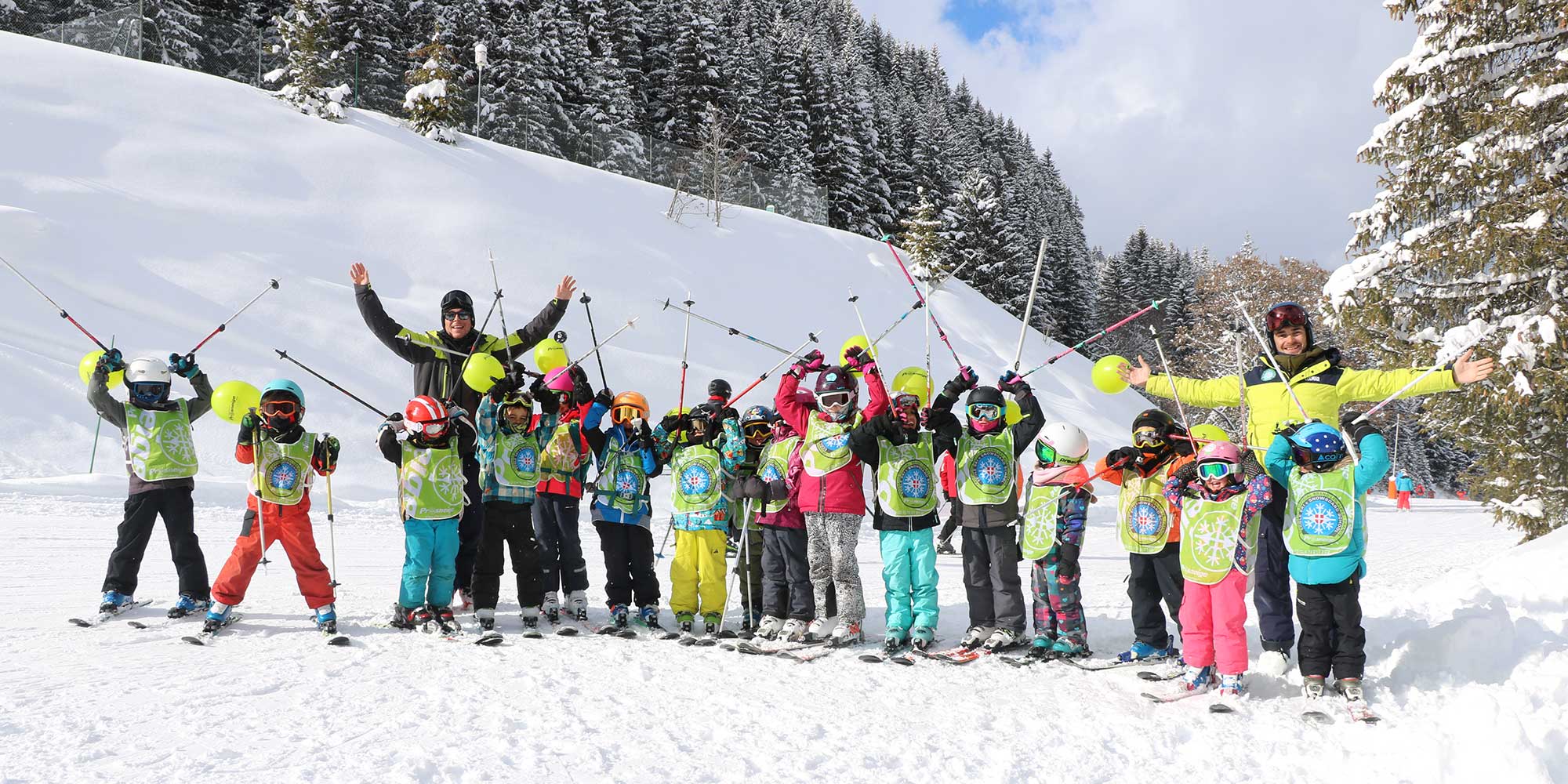 How many kids in the lesson?
In ski, group lessons are limited to 10 in Les Menuires and Val Thorens and 6 in Méribel and Val d'Isère. Our snowboard group lessons are limited to 6 in all resorts.
How old are the children in the class?
At the kindergarten the children are between 3 and 4 years old. In the children's group lessons the participants are between 5 and 13 years old. From the age of 13, we move on to group classes for teenagers and adults. We always try to harmonize the age groups for the comfort of all.
What's a ski group lesson?
A group lesson is a course in a group spread over the week in half days (mornings or afternoons) or full day generally over 5 or 6 days. In low season it is possible to join a group lesson for a few sessions only.
A private lesson is a lesson in which you have booked an instructor for yourself, your family, your group of friends, etc. It is your instructor and your lesson. You decide on its duration, its content, the number of sessions per week, the meeting place, etc. It's a tailor-made course!
How to choose between a group lesson or a private lesson? 
The private lesson allows a faster technical progress and is totally adapted to your desires and needs. The group lesson, on the other hand, allows you to make good progress during the week thanks to the sequence of sessions in a group atmosphere at a lower rate than in a private lesson.
What should I bring to the first day of lesson?
My ski equipment and my ski pass. No need for booking confirmation, everything is recorded electronically.
What are the group lesson times? 
Morning group lessons take place from 9am to 12pm. Afternoon group lessons take place from 2 to 4.30 p.m. from December to the end of January and from 2 to 5 p.m. from February until the end of the season. Group lessons during the day are a combination of morning and afternoon lessons. There may be some variations according to the resorts, do not hesitate to ask us.
I am a beginner, do I need a ski pass?
Some resorts offer a free beginners' area. Don't hesitate to contact us, we are experts in our fields and can advise you on whether you need to buy a ski pass or not.
What ski pass should I buy for group lesson?
As group lessons take place during the week, it is important to remember to take a skipass that covers the duration of the lessons (5 or 6 days). If your resort is part of a larger area it may be wise, depending on your level and your pocketbook, to choose the whole ski area.
Is the ski pass included in the lesson fee?
No the ski pass is not included but it is possible to add it at a discounted rate if you book your group lessons with Prosneige. Don't hesitate to ask us, we will be delighted to make you take advantage of this offer.
What is the instructor's diploma?
Like all ski instructors in France, our instructors hold the State Diploma of Ski Instructor awarded by ENSA (National Ski and Mountaineering School). This diploma is compulsory for teaching and our instructors are no exception to the rule. They have simply preferred to work in our school, which has a philosophy and values similar to their own: a school on a human scale that is constantly challenging itself to offer you the quality of service and teaching that you deserve.
What language does the instructor speak? 
Our instructors all speak French and English! In total 17 languages are mastered by our teams: Dutch, German, Italian, Russian, Czech, Portuguese, Polish and many more. Do not hesitate to ask us if you wish a particular language.
In private lesson, can the instructor pick me up at my hotel?
Of course you do. In private lessons the instructor will pick you up at the skiroom of your hotel if your ski level allows it.
How do I know which class to book in?
Simply by consulting the guidelines on the Prosneige website or by calling us for further assistance. We are used to advising our students and thanks to our experience, you will quickly find the group lesson in which to enrol. In any case, so that the level of skiing is not too much of a concern for you, please know that our instructors always make sure the first lesson that our students are in the right group and make changes if necessary to optimise progression.
Do I need to prove my level to book because I lost my booklet (or medal)?
No, we trust our clients and if you don't know which group lesson to sign up for, please visit the Prosneige website or call us. We are here to make your registration easier.
Can I change my level during the week?
Of course you did. Prosneige's goal is for you to have fun while you progress. If your group is too slow then you will pass 2 levels at once. Conversely, if you feel you are having difficulty and you are afraid to come to class, then you will join a class that is more adapted to optimize your progress.
What do I do if my level is too strong/weak for the group?
No worries! Our ski and snowboard instructors are used to dealing with this kind of situation. You will be immediately directed to the group corresponding to your level, guaranteeing you a good progression throughout the week.
Are your levels recognized by other ski schools?
Of course! There are equivalencies between all schools
Will my child get a medal at the end of the lesson?
Absolutely! Each child enrolled in a group lesson will leave with his or her medal. And at Prosneige, they are really beautiful.
Can I leave a bag at school during the lesson?
We have skilockers in each of our schools, remember to ask us for more information.
Are you going to do a slalom on Friday?
No. At Prosneige we prefer continuous assessment. Our philosophy is to transmit the practice of skiing through fun and taking an exam at the end of the week goes against this principle. We're here to have fun, to progress, to enjoy ourselves, and it's over the whole week that the instructor will decide which level has validated his student. There is no risk of ending the holidays with stress and a false mark!
Can I come skiing and my friend snowboarding? 
Yes, but as our instructors are 100% dedicated during their lessons, it is not possible for them to teach 2 disciplines at the same time. So there will be one student and one "companion".