Kindergarten group lessons with Prosneige Les Menuires offer an adapted teaching method for the youngest skiers, from 3 years old.
[homey-space]
ARE YOU COMING TO LES MENUIRES FOR A HOLIDAY AND WOULD LIKE TO ENROL YOUR YOUNG CHILD IN GROUP LESSONS IN A SECURE KINDERGARTEN? WELCOME TO PROSNEIGE LES MENUIRES! OUR SCHOOL HAS BEEN PRESENT IN THE TROIS VALLEE SINCE 1996 AND IS CONSTANTLY INNOVATING TO OFFER YOU THE BEST OF PROSNEIGE QUALITY!
Prosneige was established in the Trois Vallées 25 years ago. The Les Menuires ski resort is a family resort and is perfectly adapted to learning to ski for beginners and especially beginner children. This resort is located in the Tarentaise valley in Savoie. It is located between the ski resort of Saint Martin de Belleville and the ski resort of Val Thorens, in the Belleville valley. It is part of the largest ski area in the world: Les Trois Vallées. This ski area is composed of 8 ski resorts: Les Menuires, Val Thorens, Saint Martin de Belleville, Orelle, Méribel, Courchevel, La Tania, Brides les bains. 
Our Prosneige school in Les Menuires is located in the centre of the resort in the Croisette district. It is an ideal location no matter where you live in the resort as it is accessible on foot, by ski, by car and even by bus! Our ski school offers group lessons in both skiing and snowboarding for all ages, from the youngest to the oldest. We also offer private lessons (you privatize the instructor) for all publics (even disabled people) and in all disciplines: skiing, snowboarding, telemark, off-piste, freestyle, etc. Snow sports are evolving and at Prosneige our instructors have not failed to follow these changes to be at ease on all types of snow sports. They are versatile, educational and multilingual and allow us to welcome a large majority of skiers and snowboarders. Our ski school is located in the heart of Les Menuires, on the snow front, in the Croisette district. The start of the lessons is opposite our school on the snow front and it is easily spotted thanks to our large green banners stamped Prosneige. Below our school is the Prosneige shop where you can rent your equipment (ski, snowboard, boots, sledges, etc.) but also buy your equipment (clothing, accessories, sledges, material, etc.). A team of specialist salesmen is on site, ready to help and advise you in order to make the right choice! 
Above all, at Prosneige Les Menuires we are lucky enough to have a kindergarten to welcome the children who are in our Petit Ours and Ours Brun group lessons! This structure allows us to welcome children from 3 years old for ski teaching in complete safety. Because at Prosneige Les Menuires ski teaching starts from the age of 3, we felt it was essential to offer a safe and secure area for the very youngest children to learn the basics of skiing in optimal and safe conditions.  Our kindergarten is equipped with a carpet and a small chalet that can accommodate the children in case of bad weather or if they need to rest or have a little snack. The garden is located at the top of the Roc I gondola lift, whose departure station is on the Croisette, opposite our school. The access is very easy and the children are accompanied by our instructors and "garden helpers" all along the way (which takes only a few minutes!). Once on site, they benefit from a dedicated area with a ski lift just for them (our magic carpet!).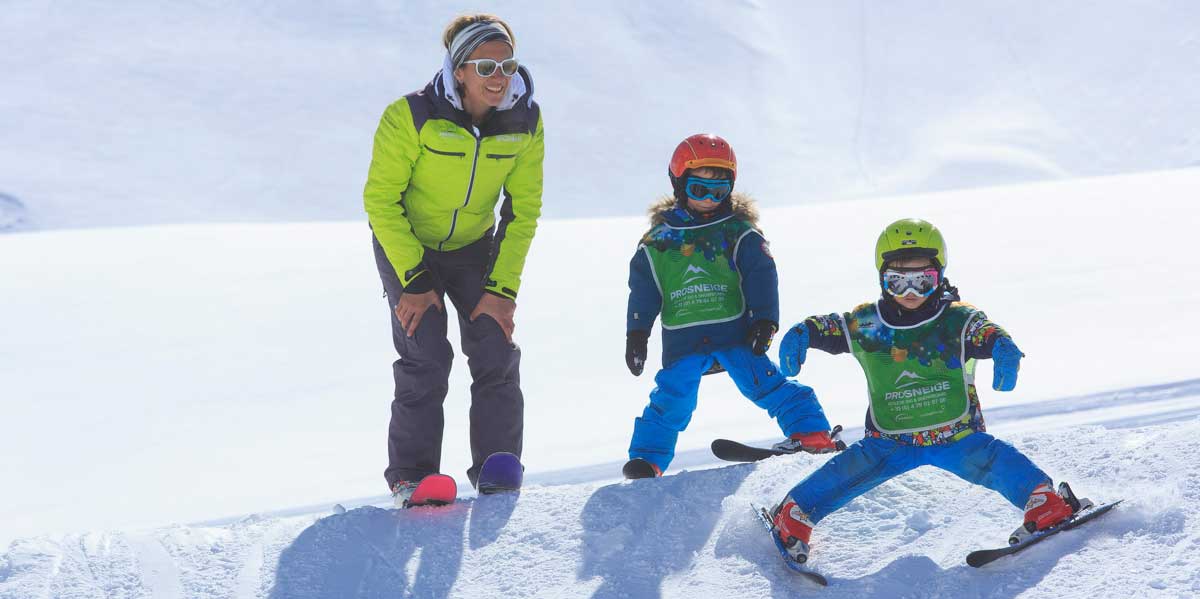 At Prosneige, teaching is something we work hard on and our instructors are regularly trained in order to always be at the forefront of teaching whatever the audience. Prosneige's pedagogy is therefore adapted to each child, the one who wants to succeed right away, the one who is afraid, the one who doesn't want to ski or the one who doesn't want to be in the garden but doesn't know how to stop by himself.
For children who want to succeed right away and/or who don't like failure then we will make them evolve on workshops they like, on which they feel comfortable. We won't always make it more difficult. For children who are afraid our ski instructors will take the time and let them observe longer so that they feel comfortable. For children who don't want to ski, let alone put on skis, we won't force them to do anything! We will simply offer them to come and help others. Usually the child will put the skis on by himself between 1 hour and 2 days later than his peers. He will very quickly get the same level as the others because he has spent a lot of time observing. 
Finally, for children who are no longer progressing in kindergarten but still don't know how to stop on their own, then our ski instructors will take them out of the garden on a slightly longer piste which will force them to stop. In the vast majority of cases the children understand the interest and move on very quickly. If this is not the case then they will quietly return to the kindergarten to enjoy the help of our instructors and garden helpers and our private carpet. Everyone has their own pace of learning! In addition, some of our ski instructors are specialised in very young children and we have a fixed team all winter long dedicated to the Prosneige kindergarten.
A DAY IN THE KINDERGARTEN
As a general rule, this is how a day at the kindergarten goes. All the children are welcomed at the school by our entire team dedicated to the kindergarten. Each child will be given a bib stamped Prosneige with their level written on it. This bib is the link that will unite your child to his instructor, you keep it preciously all week and give it to us on the last day of class. This bib is reassuring for the child, as it makes him/her more visible to the instructor and also allows him/her to recognise his/her group and quickly get to know his/her fellow skiers and snowboarders! This team will then take your children to the departure station of the Roc I gondola lift which is located on the snow front opposite our school. The children are of course supervised during the ascent in the gondola, our instructors and kindergarten assistants are with them until their arrival at the kindergarten. Don't be surprised, we start without the skis! The first thing we learn is how to walk on skis on a playful course in the kindergarten. The child will first put one ski on one foot, then on the other, then on both, and will then progress through various workshops (stepping over poles on the ground, sliding down a gentle slope, etc.). Each child evolves at his own pace, the first objective to reach is fun! At the end of the first class, all the children should want to come back to see us, if the pleasure is there, progress will come very quickly. 
Parents are accepted in the kindergarten but we tend to ask them to come out so that the children can focus on the monitor rather than on their mums and dads . And don't worry, if your child is crying and doesn't want to stay, we physically get down to his level and take him in our arms to talk to him, reassure him and make him want to stay with us. With Prosneige Les Menuires the teaching method is professional and fun because your children's pleasure is our priority. Our school is on a human scale and our instructors are attentive to your children's needs. Our kindergarten allows them to put into practice the full extent of their knowledge and to be able to pass on the passion for skiing and winter sports in general to your children. Moreover we are able to offer lessons in their own languages as 17 languages are spoken in our school. Our instructors all speak French and English, but also Italian, Dutch, Russian, Czech, Portuguese, German, etc. And to finish on an even happier note, on the last day of the week a medal and diploma ceremony is organised over hot chocolate! 
AND THERE YOU HAVE IT, YOU KNOW ALL ABOUT GROUP LESSONS AND THE PROSNEIGE KINDERGARTEN IN LES MENUIRES.