Off-piste private lessons in Méribel.
The lessons are the best way to discover the 3 Vallées area accompanied by specialised instructors who pay great attention to safety.
[homey-space height="50″]
YOU COME TO SKI IN MERIBEL, IN THE HEART OF THE TROIS VALLES, THE LARGEST SKI AREA IN THE WORLD. WHAT LUCK! A UNIQUE AND MAGICAL TERRAIN FOR ALL TYPES OF SKIING AND ESPECIALLY FOR OFF-PISTE SKIING! AT THE GATES OF THE VANOISE NATIONAL PARK, VIRGIN SPACES, COMMITTED OR NOT, IN THE FOREST OR HIGHER UP, A PERFECT PLAY GARDEN FOR THOSE WHO ARE NEW TO OFF-PISTE AS WELL AS FOR THE BEST. THERE IS SOMETHING FOR ALL LEVELS, ALL SNOW CONDITIONS, ALL WEATHER CONDITIONS.
If you want to enjoy wide open spaces, you find yourself in the heart of our mountains, you get away from the flow of skiers, ski in powder, go down steep slopes, couloirs or just do a bit of hiking, you let off steam on the way up and enjoy the solitude on the way down, then this glide is for you. It provides incredible feelings of freedom, emotions, adrenaline and above all allows you to admire magnificent landscapes, untouched by any human traces. 
As you know, off-piste skiing is a risky sport and it is not recommended to venture off-piste without a ski instructor.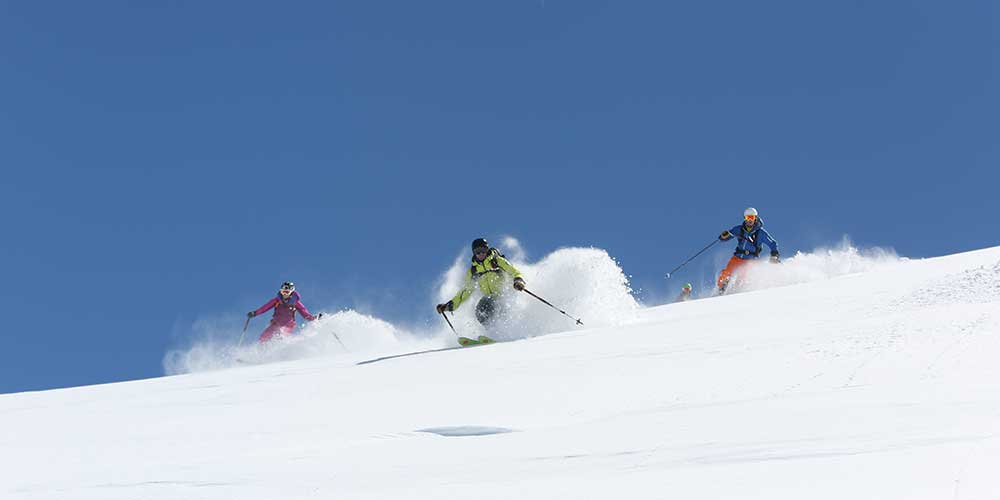 The off-piste by definition is the terrain that is outside the ski slopes, and therefore outside the ski area. The off-piste is therefore a terrain that is not marked out, and which is not safe either in terms of relief or avalanches. It should also be remembered that rescue does not arrive as quickly as on the ski slopes and that evacuations are often more complicated and may require the arrival of a helicopter. This is why we advise you to practice this sport with one of our state-qualified ski instructors. Continually trained, they know these particular terrains by heart, practice them in winter as well as in summer, and go out of the domain regularly. They are therefore more aware of the risks involved and will be able to give good advice.
Whether you are a beginner or an experienced skier, the off-piste private lessons in Méribel, always start with a check of the safety equipment. Whether it is your personal equipment or that of the Prosneige ski school, (the equipment is provided for all off-piste lessons) each practitioner must be equipped with a backpack with a shovel and a probe and a DVA (Detector of Victim in Avalanche). The equipment is checked by the professional at the beginning of each off-piste lesson in Méribel. It is strongly recommended to take a lesson to learn how to use this equipment before your first private off-piste lesson. It is also possible to ask your instructor and reserve a part of your off-piste lesson for this very special training which can save your life or that of your colleagues in case of problem. Before the lesson, your instructor will have checked the snow conditions by consulting the specific bulletins. He will check them again at the beginning of the lesson in your presence. His knowledge of other mountain professionals, and in particular ski patrollers, will enable him to ask them for their opinion on the snowpack and the risks. The risks are posted on the ski area, they range from 1 to 5, 5 being the most risky. It is important to know that there is no such thing as a 0 risk. It is also important to respect your instructor's instructions. If he thinks the risk is too great, do not push him. The risk is not visible, the mountain can seem very welcoming but you must rely on the return of your professional. Avalanche risk is the biggest risk off-piste. There is also a weather risk. The sky is blue but the weather can change very quickly in the mountains and you can quickly get trapped by the changing light, poor visibility, or even the arrival of fog or a storm. Having a professional in front of you and following him or her is much easier. He will show you the way and know how to get you home. Then, your instructor is trained in case you get bored. Even if it's not serious, help can only arrive as quickly as on the ski area, evacuation can be complicated depending on the slope you're on. It's important to know the processes and to master them.
[homey-space height="50″]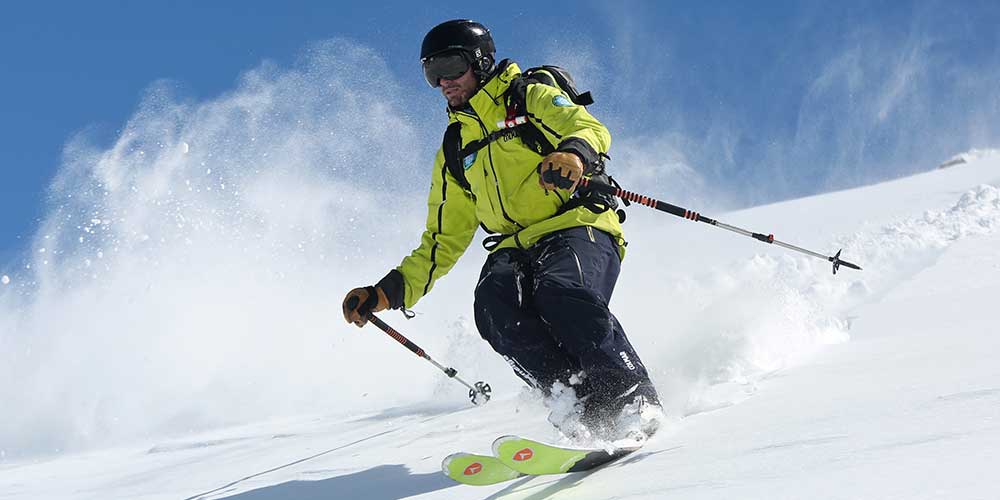 You also need adapted ski equipment. In off-piste, we use wider and longer skis to provide more lift and float above the powder. If you want to go trekking, or sealskin, you will need special skis, boots with sealskinz and knives. The touring equipment is generally lighter, it allows us to make less effort on the way up. We have some for hire, don't hesitate to ask us. The helmet is also strongly advised, we do not see the relief under the powder snow and a bump of "chantilly" can be a sharp stone. 
Your level of skiing, your physical condition and the risk of avalanche defines your terrain. If the avalanche risk is above 2 we prefer less steep terrain or skiing in the forest. Also if you don't have a lot of experience, your ski instructor will take you to gentle slopes and introduce you to off-piste skiing techniques. A technique that differs according to the quality of the snow, in fact, you will not ski the same way in 30 cm of powder snow as you would in the snow we call spring snow. In the same way, skiing techniques evolve according to the terrain and the slope. If your level and experience allow it, you can evolve on more committed terrain, steeper slopes, narrower slopes…
You have chosen to try your hand at ski touring. It's a very good idea. The industry has invested a lot in research and development over the last few years, and cross-country equipment has evolved a lot. The boots are much lighter, very comfortable and still very skiable on the downhill. The same goes for touring skis, which no longer require a compromise between lightness on the way up and dynamic and maneuverable on the way down. They are also wider and wider so they are much easier to ski in different snow conditions. The advantage of ski touring is that it is accessible to as many people as possible. Even if you are not in great physical condition or your skiing level is not very good, you can still enjoy this sport. Your instructor adapts to your level and your desires and he will find all the time in the 3 Valleys, a good place to make you discover the mountain differently, far from the animation of the domain, closer to the fauna and flora. And he will even be able to push the lesson, to make you go up in hiking and come down in ski lifts if you don't like or don't know how to ski. And yes, everyone has the right to his or her moment in nature.
Small practical point: Off-piste private lessons in Méribel, are limited to 6 people maximum? It's a question of security. We advise you to take lessons of 4 hours minimum. The off-piste areas are longer to reach, so you need to plan a little more time. For an initiation hike, 3 hours can be enough if you want to privilege the ascent and not make too much descent. The best being a day commitment, so you have time and you can fully enjoy this unique experience. Time to watch, breathe, learn, take pictures, create memories, in short time. 
Being in the heart of the largest ski area in the world, we advise you to buy a 3 Vallées ski pass. It will allow you to enlarge your playground and thus access more areas depending on the conditions. But if you only have the Méribel valley pass, the instructor will adapt. There is plenty to do. In your backpack, in addition to the safety equipment, you can slip a water bottle, a cereal bar, just to replenish your energy and what to change if you sweat.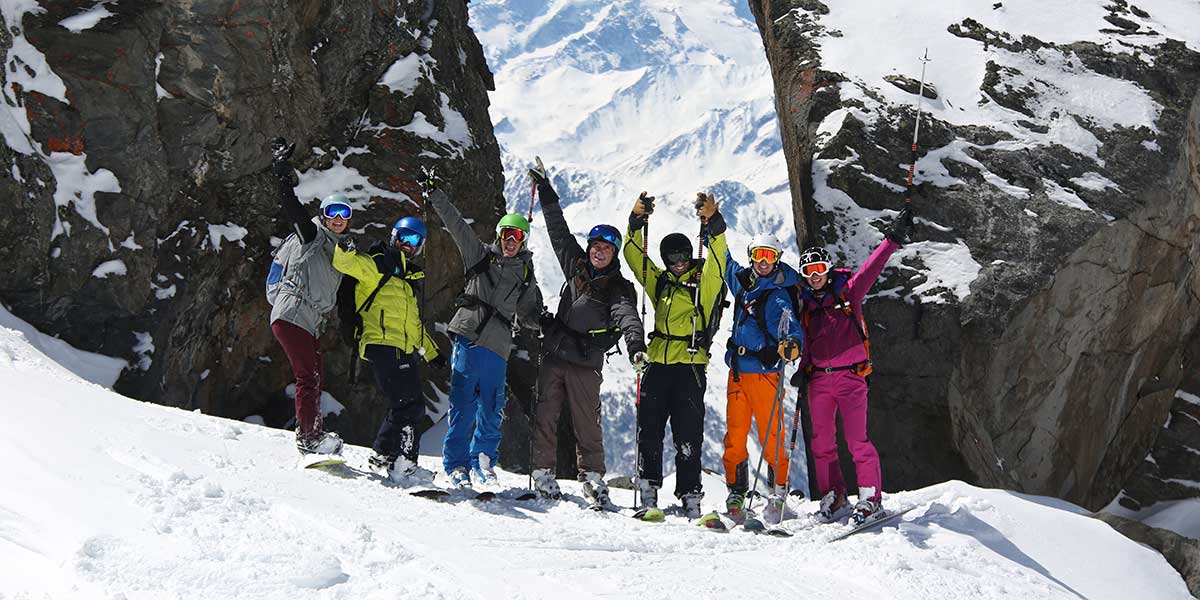 And as always at Prosneige, after your off-piste private lessons with us, you will receive a text message asking you to rate your off-piste ski lesson from 0 to 10. 0 you are not at all satisfied, 10 you are very satisfied. It is important that you let us know how you feel quickly so that we can instantly adjust and give you the best experience possible. We have 2 objectives in off-piste, your safety and your pleasure. You will come back from your day, enchanted, your head full of memories, the camera full of pictures to share with your loved ones or to watch at the office.