Private off-piste lessons in Tignes. The ideal formula to initiate or improve your off-piste skiing or snowboardiing off the beaten track.
PRIVATE OFF-PISTE LESSONS IN TIGNES
The ski resort of Tignes is a great place to start and improve yourself in the off-piste practice. It offers a multitude of terrain, types of snow and difficulty, so that everyone can have pleasure there, no matter the technique of ski. That is why Prosneige Tignes has sought to develop lessons especially dedicated to off-piste, as it is possible to practice off-piste at any level in this resort. In this specific off-piste course, we will both help you progress in this very special discipline that is off-piste, but we will also help you unblock some of the difficulties you may encounter. The goal is to overcome your fears and challenge yourself, in order to take maximum pleasure on a variety of terrain and snow conditions. Of course, we put your safety above everything else, even more than for ski lessons off the marked slopes. In fact, safety and awareness is absolutely necessary when going off-piste.
Our specialized instructors will help you to choose your off-piste itineraries as wisely as possible. Indeed, in the resort of Tignes, some paths are more accessible for beginners than others, while some offer more challenge, and are therefore more suitable for experienced skiers. The aim of the instructor will therefore be to guide you, according to your level, on itineraries adapted to your needs and capacities. Your needs might be diverse : reassured and put at ease, or to push back your limits and get out of your comfort zone. Thus, our instructors are both there to help you progress and to help you discover new off-piste skiing terrain. All this in the magnificent landscapes offered by the ski resort of Tignes, known for having one of the most beautiful snowy panoramas. 
So, whether it is for a simple family outing in an easy off-piste area or for a longer, more challenging outing on your own, or in the company of experienced friends, all your expectations will be met with Prosneige. Our teams will be able to adapt to you and will create lessons that are always varied and interesting for you. Of course, if you have any special requests, do not hesitate to ask your instructor, who will adapt to you as much as possible. Indeed, the instructor will always choose the itineraries in your interest, according to your physical condition, your level, but also the snow conditions, which will greatly influence the choice of itineraries for maximum safety. Our instructor can not compromise with safety while going off-piste with clients.
Private off-piste lessons in Tignes are there to make you attain your goals, whatever they may be. Whether you are a complete beginner in off-piste skiing or simply want to discover new routes to test in safety, or you want to get back into the discipline on a healthier basis, our instructors are able to meet all your expectations. The wide variety of itineraries offered by Tignes makes this possible. Indeed, some itineraries are perfectly suited to the most beginners, or to those who still lack confidence. Our students learn off-piste skiing technique first, but also safety within the group and with other skiers, and of course the proper use of safety equipment in case of emergency. Off-piste skiing, even more than skiing on marked runs, requires more attention depending on the weather and snow conditions but also on your own fatigue. 
THE OFF-PISTE BENEFIT'S IN TIGNES
As well as improving and surpassing yourself, taking a private off-piste lesson will give you many other advantages, including priority access to ski lifts in the tails of the resort's ski lifts. This will allow you to make more runs and progress more quickly. There are also itineraries that are not accessible by ski lifts, in which case a little walking is required. Nevertheless, many are accessible by lift. In addition to this advantage is the knowledge of our instructors, who will easily guide you through in the resort and will allow you to make the various off-piste runs quickly. This ensures a rapid progress and a diversity that will make you never get bored during your stay. Off-piste skiing also allows you to discover the mountain in a different way. In fact, off-piste allows you to be more intimate with the mountain because you will be confronted with a wilder and more authentic nature, more than by staying on the marked slopes. In the same way, our instructors will be able to show you more of the surroundings of the Tignes ski resort, and you will discover it from new and original angles.  
Safety is the most important aspect when it comes to off-piste outings. As such, our instructors are all trained by the National Association for the Study of Snow and Avalanche (ANENA) before each winter. This training allows them to stay up to date with the latest technical recommendations, the latest discoveries, and the latest gears, in order to ensure you maximum safety once on the slopes. They are trained through concrete exercises to put you in situation but also through more theoretical courses on the weather and the snow condition. This allows us to ensure that you will be perfectly safe with our teams. In addition, you and our instructors will be equipped with all the necessary equipment for off-piste outings, including avalanche transceivers, shovels etc. You can therefore be completely confident with us, because safety comes first at the Prosneige ski school. 
TIGNES, AN IDEAL OFF-PISTE SKI RESORT 
In the resort of Tignes, the thrills are always there. By this we do not mean sensations linked to fear, but intense sensations that this great off-piste area provides : freedom, discovery and above all, a change of scenery. Once you are comfortable enough to ski off-piste without fear, you will be able to take great pleasure in going down the resort's powdery slopes, and our instructors will do everything they can to give you that confidence. Some off-piste runs are accessible via the ski lifts, and others via approach walks. Some of these walks can be shorter or longer, depending on the itinerary chosen. The runs accessible only by foot are, of course, much less frequented but require even more attention from the instructor and you. You will be able to make much longer runs, starting from the highest points and going down the slopes to the village of Tignes; these are challenging but extremely satisfying runs.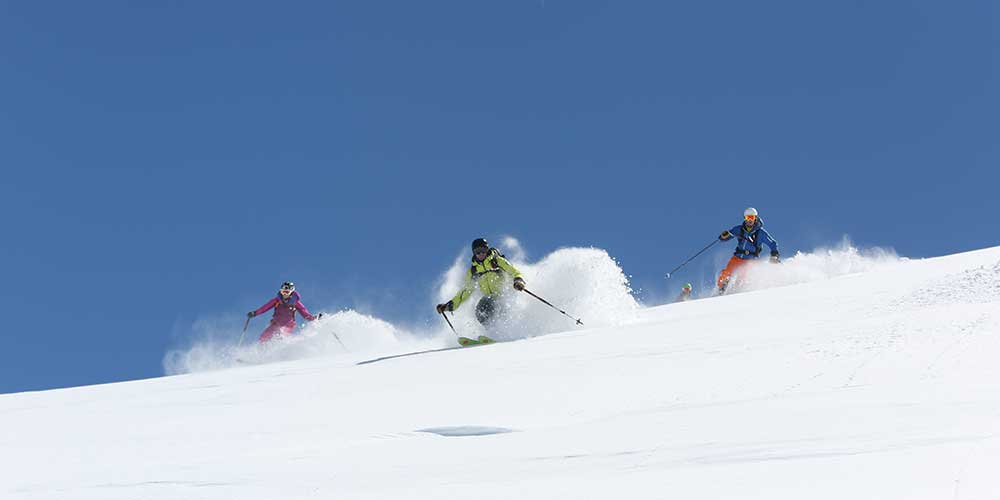 Like many other resorts, Tignes is located in the Tarentaise valley, more precisely in the Haute-Tarentaise. If you are looking for a tougher challenge, it would be interesting for you to take an interest in the Tour de la Tarentaise. It is a ski tour that lasts an entire day. During this day, you will cross 8 ski resorts, all in the same valley, without walking once, simply using the ski lifts of each resort. It is a physically difficult tour but extremely beautiful and very rewarding. It is also possible to do, in our company, heliskiing for the day.
Tignes is renowned in the world of ski touring. We have therefore chosen, at Prosneige Tignes, to offer private ski touring lessons. Our instructors are also qualified to accompany you in this discipline. They will guide you step by step to make you appreciate the resort of Tignes from a new angle, far from the ski lifts and artificially traced slopes. In the same way as off-piste skiing, we offer you the opportunity to reach your goals in safety.
Thus, the resort of Tignes will reveal all its best itineraries to you, thanks to our teams, whatever your skiing level! So, if you want to take up or start off-piste skiing, or ski touring in Tignes, do not hesitate any longer!
CONTENT AND BOOKING FOR OFF-PISTE SKIING LESSONS
The price of your private off-piste lesson in Tignes includes the loan of a bag with the necessary safety equipment for your practice during the week. Once again, this is with the aim of making you enjoy off-piste skiing in complete safety. The organization of off-piste private lessons is the same as the regular private ski lessons, concerning the meeting places and the formulas that you can add. Thus, the instructors will meet you at the desired place during the periods outside school holidays, or in front of our salespoint during the busiest periods. You can also benefit from the "lesson + equipment" pack if you wish to rent your equipment from us. 
If you wish to book, you can do so on our website: https://en.prosneige.fr/  or by phone at +33(0)4.79.01.07.00, with the help of our receptionists. If you have any doubts, do not hesitate to contact us by e-mail (info@prosneige.fr) or by phone at the same number. Our teams remain at your disposal for further information and can make your reservation remotely. Do not hesitate to say that your reservation is for Tignes, as we have only recently opened our shop in the resort.
Before the start of the private off-piste lessons in Tignes, we would like to give you a briefing to explain how the equipment works, when and how to use it, in case of any problem during your lesson. If you then have any questions or uncertainties, do not be afraid to ask for clarification or repeat the explanation, as your safety and that of other skiers is at stake.
We hope that we have answered your questions as well as possible and that we have been able to guide you as to which course to choose at Prosneige. 
We look forward to seeing you soon, on the off-piste runs of Tignes, the entire Prosneige team.