Private ski lessons Prosneige Les Menuires.
Those lessons are made-to-measure courses that adapt to your needs, children and adults alike.
[homey-space height="50″]
Are you looking for a ski instructor for a private lesson in Les Menuires? You have come to the right place, our ski and snowboard school Prosneige is ready to give you the best possible experience in the beautiful ski resort that Les Menuires is. 
Prosneige is a ski school that has been present in the Trois Vallées for more than 25 years, so it has a lot of experience in the well-being of the client. The Trois Vallées ski area is the largest in the world, and is currently made up of 8 ski resorts : Les Menuires, Val Thorens, Saint Martin de Belleville, Orelle, Méribel, Brides Les Bains, La Tania and Courchevel. Prosneige is present in 4 of these 8 resorts: Les Menuires, Val Thorens, Méribel and Courchevel. 
Les Menuires is a family ski resort located in Savoie, in the Tarentaise Valley. It is ideal for beginners but also for experienced skiers or those who want to experiment new types of practice. It has magnificent slopes and good snow conditions throughout the year to please all types of skiers.
Prosneige Les Menuires is located in the center of the resort in the Croisette district. Our premises are very easily identifiable thanks to our large green signs. As you will see when you arrive in the area, our Prosneige premises are located on the snow front ! At the school you will find the reception where we welcome you throughout your stay with us. There, you will also find ski deposits for dropping off your equipment. This will allow you to avoid having to carry it every day from your hotel. Our team of 25 ski instructors like to spend a lot of time on our premises to enjoy our sunny terrace before starting their lessons. They are available for you if you have any questions, that is what the Prosneige service is all about : proximity and dialogue with our customers! Underneath our ski school is the Prosneige shop where you can get advice from our team of experts in rental, sales and bootfitting. There you will find all the equipment you need to make the most of your holiday in the beautiful ski resort of Les Menuires (clothing, accessories, equipment, sledges, etc.).
Our ski school offers group lessons but also private lessons in all disciplines (skiing, snowboarding, handiskiing, telemark, ski touring, etc). Our lessons can be given in French, English, Dutch, Russian, Portuguese, Italian, Czech, German, and many other languages. Do not hesitate to ask us if we have an instructor who speaks your language, or a language in which you feel comfortable. Our team is international, and 17 languages are mastered! Here we will talk about private ski lessons with Prosneige Les Menuires. 
WHAT IS A PRIVATE LESSON?
A private ski lesson is a lesson during which you privatize the instructor for yourself, your family or your friends. It is a formula which, unlike the group lesson, is personalized and is tailored to your wishes ! You choose the duration of the lesson, the number of sessions over the week and the discipline. The instructor then takes care of the content of the lesson to help you reach your goals. Therefore, certain qualities may be required of the instructor : that he/she can teach skiing in your native language in particular. At Prosneige, mastering languages is an essential element to be able to join our team of instructors ! A total of 17 languages are spoken by all our instructors. Each of them must, of course, be fluent in French and English, but also be able to teach in at least a third language. Our instructors are therefore able to teach you to ski in French, English, Dutch, Italian, German, Portuguese, Hebrew, Russian, etc. Do not forget to ask us, we are sure that we have instructors who speak your language!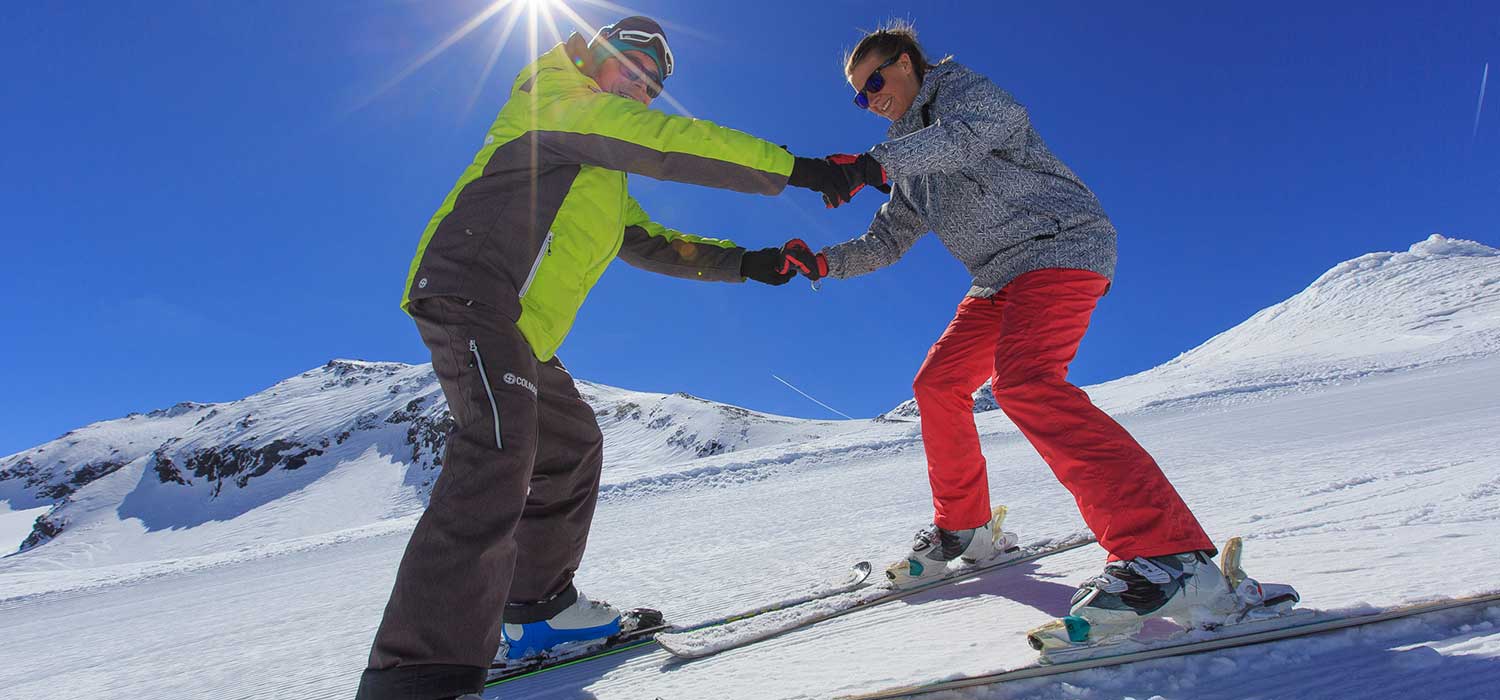 AN INSTRUCTOR JUST FOR YOU
You may also require your instructor to have certain qualities that you feel are essential to facilitate the students' learning. A female instructor for young children, an instructor of more or less the same age as you, someone fun and dynamic for teenagers or very gentle if you need to regain confidence after a fall or an accident. Even if all our instructors know how to adapt their teaching method to our students, certain profiles are more likely to correspond to your personality. You are here to learn to ski but also to have fun, so be demanding for the choice of your instructor. It is important to us that you can create a relationship of trust with your instructor, as we take at heart the communication between a student and the instructor. You should know that if you have found the instructor of your dreams at Prosneige, you will be able to continue taking lessons with him.her from one year to the next. It is a source of pride for us to see such relationships develop between students and instructors. In addition, our instructors are always delighted to see your progress year after year. 
The private ski lesson also has the advantage of great flexibility. You decide the schedule. You are not an early riser type of person ? Then an afternoon lesson would be ideal. Are you an early riser and want to enjoy freshly groomed slopes ? Then a morning lesson will be perfect for you ! It is possible to take lessons every day, every two days, or a single lesson during the week. The private lesson is very flexible and adapts to your schedule. It is also possible to schedule a new lesson the day before for the next day, as you progress. 
TO EACH ONE ITS OWN OBJECTIVE!
In a private ski lesson, you set the objective you wish to reach, and the instructor will work with you in a specific way to help you get there and achieve these objectives. Of course, nothing is immutable and your objectives may vary along the way or be reached more quickly than you thought. Whatever you decide, our ski instructors are flexible and adapt to your desires ! 
Each private lesson is unique and there are a multitude of reasons to start and continue taking lessons : to start skiing and learn the basics face to face with your instructor, to continue learning to become independent on the slopes with your trusted instructor, to take a step forward when you are no longer progressing alone, to correct mistakes or bad habits, to constantly improve your technique, to test new skis, etc. Whatever your desires are, do not hesitate to tell your instructor!
DISCOVER THE TROIS VALLEES SKI AREA
It is also possible to take advantage of a private ski lesson to enjoy the new area you are in. If you would like to explore the Trois Vallées but do not know how to make the most of your day, then our instructors will be delighted to show you their playground! Of course they know all the secrets of their resort, Les Menuires, but also of the Trois Vallées and will help you discover the best slopes, the best views and all the hidden treasures of the ski area that only locals know! 
THE ADVANTAGES OF PRIVATE LESSONS AT PROSNEIGE
Having an instructor with you in private ski lessons also means that you can take advantage of the instructor queues at the chairlift and thus avoid waiting too long to optimize your skiing time during the day. Our instructors also know the areas to avoid during busy periods and will always know how to take you to where the conditions will be the most pleasant as the day progresses so that you have the best possible day ! 
In private ski lessons Les Menuires, you can also try out new disciplines such as off-piste, freestyle, ski touring or even telemark! Do not hesitate to discover new sliding sensations with our instructors, we have specialists in each of these disciplines. Taking a private lesson with Prosneige is an opportunity to renew your desire to discover and your will to learn ski!
Finally, taking a private ski lesson is the comfort of being picked up and dropped off directly at your hotel if the level is compatible. No need to bother to find our meeting place, then to find your instructor in the crowd. The instructor will be waiting for you in the ski room of your residence and will also drop you off there at the end of your lesson. 
In short, a private ski lesson is a tailor-made, flexible formula that adapts to your wishes and needs. Do not hesitate to call us, we will be delighted to find the instructor who can take you further in your skiing. 
You can contact us by phone at the following number: +33(0) 4 79 04 18 35. Our receptionists will be happy to answer your questions, and can even make your reservation remotely if you wish. You can also contact us by email at this address: info@prosneige.fr. You can also book your private ski lesson directly on our website: https://en.prosneige.fr.