Private ski lessons Val D'Isère. They are also called private ski lessons. You book a ski instructor for a fixed period of time, from 1 hour to the whole day. So you have the choice, you organise your time as you wish. No stress!
PRIVATE SKI LESSONS IN VAL D'ISÈRE
At Prosneige, our private ski lessons guarantee quick progress thanks to a personalized follow-up throughout the week. Indeed, you will be able to benefit from the expertise of a personal instructor, who is there for you, who will adapt to your desires, your needs, and your rhythm. It is certain that a private lesson is the best way to make progress but also to get back on skis and work again the basic techniques. 
By choosing our private ski lessons, you book an instructor for a certain period of time, from 1 hour to full day. This gives you a wide of choice, allowing you to organize your time as you wish, avoid stress, and have a great holiday in the beautiful resort that is Val d'Isère.
It is a tailor-made formula that we offer you with our private lessons in Val d'Isère. Indeed, our private ski instructors will adapt their teaching to your physical condition and your desires. We believe that communication between instructor and student is essential, so do not hesitate to share your goals, the technical points you would like to work on first, and your fears. This way, our teams will be able to prepare specific exercises, adapt our method to you, and even give you personalized advice on how to progress outside of your lessons. Our goal is also to help you gain confidence and autonomy on the slopes.
The private ski lessons in Val d'Isère are an optimal choice to start skiing, but also to perfect your technique or to take back what you have learnt after a few seasons without skiing. They are adapted for adults and children alike; our instructors will know how to adapt to each one. 
THE RENTAL OF YOUR EQUIPMENT
Prosneige has an advantageous offer that will save you time and money: the lesson + equipment pack. In fact, we also have shops where you can buy and/or rent your ski equipment. By choosing this pack "lesson and rental" with us, you benefit from a free deposit in our premise. This premise is on the Val d'Isère snow front. The pack also guarantees, in addition, an interesting discount on equipment rental. You will be able to choose this formula when you make your booking, directly on our website :https://en.prosneige.fr/. We will take care of your equipment if you put it in your deposit; your ski boots will be dried every evening, your skis will be waxed and sharpened by hand by our teams and prepared for the next day. If the equipment rented is not suitable, or if you wish to change models or take a better ranked equipment, you can do so, free of any charges, throughout the week.
As far as our ski lessons are concerned, we want to remain flexible and attentive to our clients' needs. As far as possible, we do everything we can to make your stay in Val d'Isère as easy and pleasant as possible. This is why, if you choose to take your private ski lessons in the morning, our instructors can meet you at your place of residence to introduce you the equipment and help you prepare yourself or your children. Do not hesitate to specify this beforehand, to make sure the instructor can organize the schedule to be there for you.
Outside school holiday periods, you can also choose where you want to start your private lessons on the slopes of Val d'Isère. Your instructor will meet you there and you will start the private lesson directly at the location of your choice. Finally, you can also choose to meet your instructor in front of our Prosneige shop, which is located on the snow front of Val d'Isère. We are right next to the ski pass sales office in the Val Village. Please find the map with this link. It is also in this shop that you will find the free lockers that you will benefit from if you rent from us. This can therefore be an advantageous meeting point for both you and our instructors. Nevertheless, during busy periods in Val d'Isère, you will be able to find our instructors in front of these same shops, at the center of the resort, in order to facilitate the logistics during these tense periods.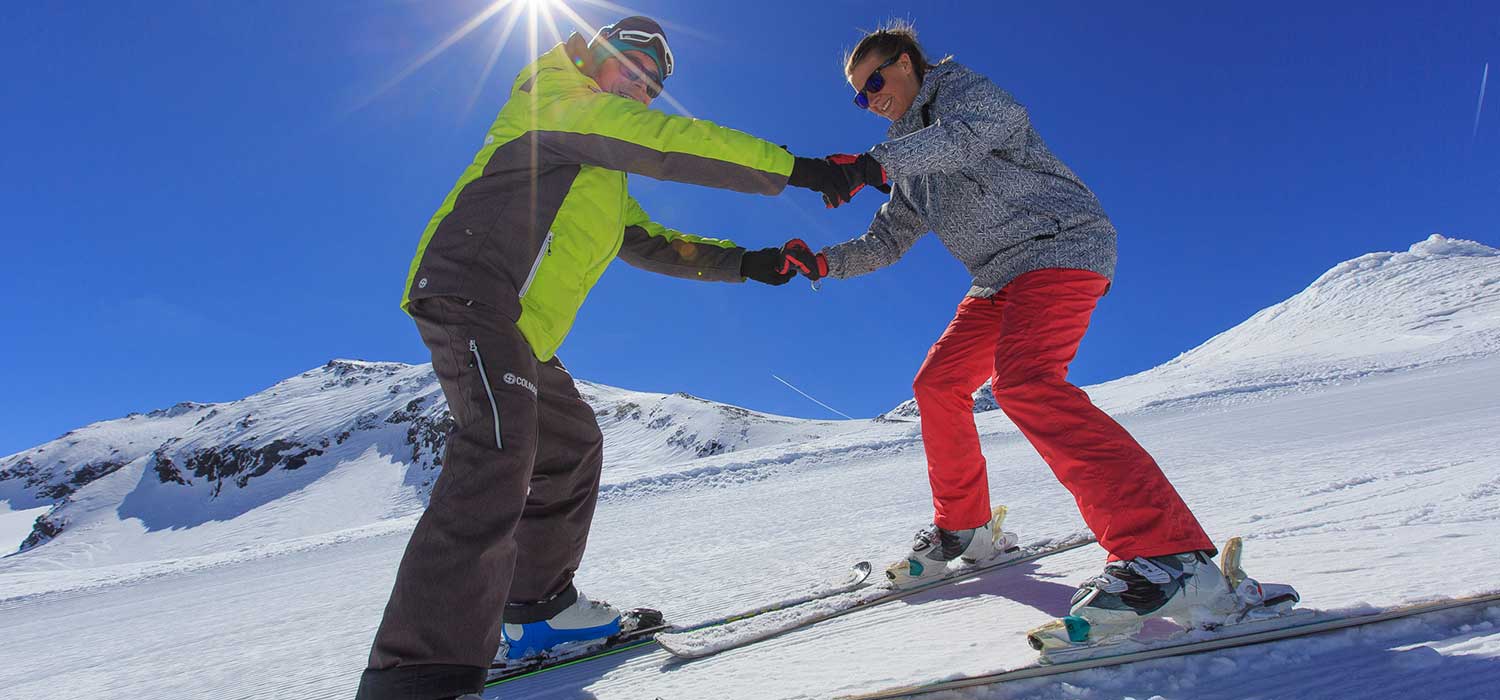 A RELATIONSHIP OF TRUST WITH YOUR INSTRUCTOR
At Prosneige Val d'Isère, our private ski instructors are professionals who will bring you all their experience to help you progress quickly and make you love skiing. All our teams are specifically trained in customer experience. However, if you would like to book a private lesson for your family, it is entirely possible to book a lesson for those members of your family who wish to do. However, it is important to know that the monitor will adapt to the lowest level of the group. The instructor will prepare different paths and personalized meeting points for you. The instructor will make it a point of honor to make family skiing a pleasure for all. An instructor can also help the youngest children to follow you. We take in consideration your expectations and are ready to meet them as best we can. 
It is important to us that our instructors put your safety first in their decision making. As ski professionals and experts of the Val d'Isère resort, this is our primary mission. The pleasure, the progress, sometimes the challenge will always be made in a safe environment.
If you have not skied for a few seasons and you want to get back on the slopes, private lessons are highly recommended. This will allow you to take back what you have learnt, to start again on a good base, with an healthier mindset. A relationship of trust is then established between the instructor and the student, generally quickly, so that several of our instructors are asked  for from one season to the next. This give us pride and motivation, and pushes us to offer ski lessons, always of high quality, and to do everything possible to create this kind of relationship. 
If you feel the need, do not hesitate to ask for video corrections. This kind of exercise can be interesting to overcome certain blockages or misunderstandings. Similarly, advice on lifestyles and environment of the resort can be given to you according to your curiosity, which will allow you to immerse yourself even more in the atmosphere of life in the mountains during your holidays.
The instructor who will supervise you will be chosen according to his specialty, to satisfy you as well as possible, either for the discipline (skiing or snowboarding), or for the language you wish to speak with him. Whatever your level of ski or snowboard, our instructors are passionate people who are ready to give their best so that you progress, have fun and enjoy yourself in Val d'Isère. 
For children's private lessons, children will still obtain the medal corresponding to their level, which will give them an idea of their progress. Discover the Prosneige medals.
Above all, we want you to regain confidence in your skiing when you are with us in private ski lessons in Val d'Isère. Some of our students tell us in us that they have been skiing for several years and have found themselves facing a blockage in your progress. After having taken lessons with us, these same students have managed to overcome this blockage and return to skiing much more serenely. Sometimes, this blockage is only due to a technical detail, bad posture, or fear, but which prevents you from fully enjoying your sensations and your holidays. Our objective is to resolve this detail as quickly as possible so that your technique regains its fluidity, so that you get less tired and feel more confident on the slopes. Thus, private lessons are also perfectly adapted for beginners and more experienced levels. It can also be about discovering new ski paths in the magnificent resort of Val d'Isère as well as putting on skis for the first time. We are confident that we can live up to your expectations, whatever they may be. 
If you feel you have enough information to finalize your booking, you can do so now on our website: https://en.prosneige.fr/. It is interesting to note that you also have the possibility to book, through Prosneige, a ski pass for the Val d'Isère resort with a special discount. Nevertheless, this ski pass is reserved for beginners, as it is limited to certain lifts only. More experienced people may not be satisfied with this offer. It is recommended that you speak to your instructor to find out which ski pass to take.
If you still doubt, you can contact us by email at the following address: info@prosneige.fr. Similarly, our receptionists will be pleased to help you by telephone on +33(0) 4 79 01 00 12. They will even be able to make your reservation remotely if you wish. 
We look forward to seeing you on the slopes of Val d'Isère. Prosneige team.