Ski group lesson adults Special 5, are lessons for adult beginners with a maximum of 5 people. The main objective is to give you confidence and make you progress quickly.
Are you a beginner skier, or a level 1 skier (also called "class 1"); do you go down green slopes in snowplough but you are feeling stressed, do you lack this confidence you need to achieve turns on harder slopes and progress with pleasure? Do you find that the regular group lessons are not adapted enough to you as you need more attention? Do you wish to find people that have the same needs? Prosneige Ski School has thought about this, and during holidays, we have a special offer of a ski group lesson adults that has a maximum of 5 participants in each group, and that takes place during lunchtime, the time when the slopes are at their quietest. This lesson will be between 12:30pm and 2:30pm, to avoid crowded ski lift lines, and to enjoy more space on empty slopes. You will be able to practice more as around 70% to 80% of skiers and snowboarders will be lunching. 
Your need is clear : you need to be more confident to progress! With Prosneige Ski School, two choices are possible for you : either private lessons, which will take you straight to your goals with an instructor fully focused on your technique, and on creating you specific exercise according to your needs. Or you can try group lessons with lesser participants, for adults that have the same level as you. It has a better quality-price ration, as you will have 6 hours to 12 hours a week, each time on lunchtime. This group lesson has 3 to 5 people of beginner level or level 1 (green slopes with snowplough turns). Parallel turns are already more advanced, but are definitely a goal to reach by the end of the week, with skiing on blue slopes.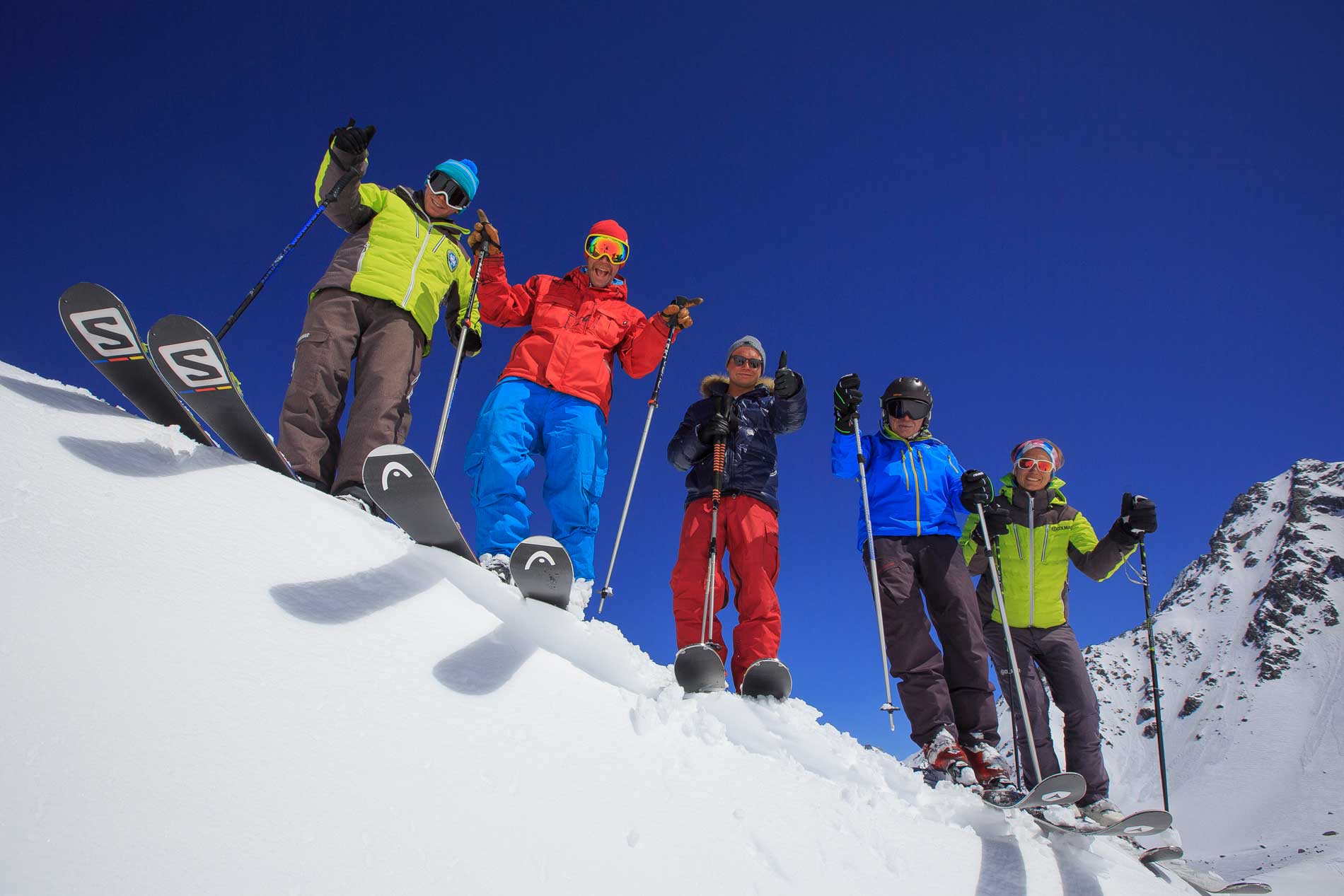 The first day, the instructor of this special group lesson will focus on the level of the group and on harmonizing it to find the best pace, technique and reach the needs of each participant. This will guarantee a steady progression of everyone, and create a great atmosphere. The goal is to make everyone happy and excited to come back to the next lesson, while fully trusting the instructor. If one participant is too advanced, we will recommend him/her to change group to not waste anyone's time. On the other hand, if another one does not keep up with the rest of the group, we will advise him/her to stop there and maybe take private lessons as the last solution. Do not worry if some time is wasted the first day, it will be largely compensated afterward. 
You can find several levels in the group lessons that Prosneige offers, here in Val Thorens, but this lesson special 5 is unique. We limit it to the first two levels, that are beginner and class 1. Please find below the difference between the two levels, and find which one is the most suitable for you to book in: 
Beginner level

:

you never skied before, or only few hours on artificial slopes.

Your goal is to be able to ski all by yourself down green slopes completing turns in snowplough by the end of the week. Please note that you will not need a ski pass on the first lesson. Please speak to your instructor as to when you will need to purchase a ski pass.

Level 1, also called class 1

:

you have one week of experience on skis. You can do snowplough turns on green slopes.

You lack confidence to do basic side slipping and to go on blue slopes. You want to achieve parallel skis as much as possible, especially when crossing slopes.
If these details are sufficient for you to find your level, and to finalize your booking, you can do it right now on our website, https://en.prosneige.fr/. You will only have to enter your names, surnames, ages, level for each participant. If you still have questions please contact our office team who will be happy to help. This can be done either by the phone on (+33)04.79.01.07.00 or by  email at info@prosneige.fr. Our team will be able to give you advice and even book you into our lessons. 
THE RENTAL OF YOUR EQUIPMENT
If you continue on our website you will have some more options suggested to you after booking the Special 5 group lessons in Val Thorens. The first one is for renting your equipment with us, it is part of a special package called "lessons + equipment". It will save some time and money ; the discount will be from 30% to 40% on the equipment. All your family will also be able to have this discount, and not only the members that enrolled in a lesson. You will have to choose between 2 stars, which is our beginner equipment, 3 stars, which is meant for intermediate skiers, and finally 4 stars equipment, for more advanced equipment. You can even choose the type and brand for your skis. Of course, if you want to change the brand or the type, or switch to higher ranked equipment, it will be possible when in resort. It could be interesting to enter details while renting : weight, height, shoe size as this will allow our team to prepare everything before your arrival, and you will save time. This will let you to focus on other details of your stay in Val Thorens, and to relax with your family. 
As another option you can take a ski pass with us. The ski pass we offer is only suitable for beginners. The ski pass is only made for few ski lifts, that will limit you if you are more advanced. 
Once your booking is completed, you will be able to pay on our secured page ; it will validate and create a place for you in our group lessons. After the payment, you will automatically receive a confirmation mail, which will have two documents attached: the first one will summarise all the details of your booking, including the dates, times, levels, and meeting-point. The second document will be a map of Val Thorens, which will help you to find Prosneige quickly and easily, and will recap the items not to forget on your first day with us. 
All of our lessons start at our chalet called "Les Planches". This chalet has the kindergarten for children lessons, but also a storage for the equipment. The storage will help beginners, whether they are adults or children, as they can leave their equipment there for the night and collect them before the next lesson. This will simplify your moving in the resort, as you will not have to carry heavy equipment each day. For further information please speak to our office team. There is also an information-point in the chalet, where you can book other services including meals for children, additional lesson and children activities. We also have a snack-bar where you can have some coffee, hot chocolate or simply a snack. A room is also entirely dedicated for children, where they play or have their snack breaks. 
It is time for you to start your Ski group lessons adults Special 5! You will begin on Sunday at 12:30pm, and we recommend for you to arrive 10 minutes beforehand to allow you to have time to meet your instructor and for the lesson to start on time! You will see that getting dressed for skingi takes time, so take this into consideration. It is important for you to have warm clothes, even on a  hot  day, it is better to be too hot than cold! Do not forget gloves, hat , ski mask, ski googles or sunglasses. You will have access to store any unnecessary pieces of clothing during the group lessons. 
Be careful when putting ski boots on for the first time, a lot of people tend to wear them too tight. We recommend you to make them as loose as possible to let your foot adapt to the shoes, and the shoes adapt to your foot, which will allow you blood to flow normally. This will avoid pain at the beginning of the lesson, or freezing cold toes. 
Prosneige's little extras : you can come in casual clothes and keep your ski clothes in your storage locker. It will avoid you having to transport them each morning. 
Your first day will run something like this: if you are a beginner, then you will not need poles to begin with. It is important to start without them to help you find your balance on skis and let your legs adapt to the posture.
The first day is usually the hardest for everyone : you will learn basic techniques, but it will not be effortless. You will have to push yourself less and less as the lessons go on, and step by step your confidence will increase and your technique will improve.
Finally, it is important not to go too fast. If you want to do harder slopes after the lesson, please ask your instructor for some advice. It is important to take your time to learn the proper techniques to ski as safely as possible and not harm yourself.
We hope that all the information given above will help you to finalise your booking in this Ski Group Lesson Adults Special 5 or one of our other group lessons. To the pleasure of seeing you soon on the Val Thorens slopes, All Prosneige teams.