Adult ski group lessons in Méribel are group lessons for a maximum of 6 people. With the group ski lessons you also progress thanks to the group emulation and the atmosphere.
PLANNING TO SKI IN MÉRIBEL ?  THE HEART OF THE BIGGEST SKI AREA IN THE WORLD AND WANT TO TAKE ADULT SKI GROUP LESSONS 
GOOD  CHOICE !
ENJOY THE FUN AND TEAM MINDSET OF A SMALL GROUP, PROGRESS TECHNICALLY, DISCOVER THE SKI AREA AND ALL FOR A SMART PRICE
Group lessons for adults in Méribel are limited to 6 students per group. Small groups for better progression, more qualitative teaching, and more safety. Thanks to our small groups our ski instructors have more time to take care of you. Discover how having a closer relationship with your ski instructor can help improve your skiing.
We have a special program for beginners : we pamper them. A gentle encounter with this new element : snow. And best of all, with our group lessons, tailored equipment and Méribel's superb beginner's areas, (undoubtedly the most beautiful). We guarantee the best skiing experience in town.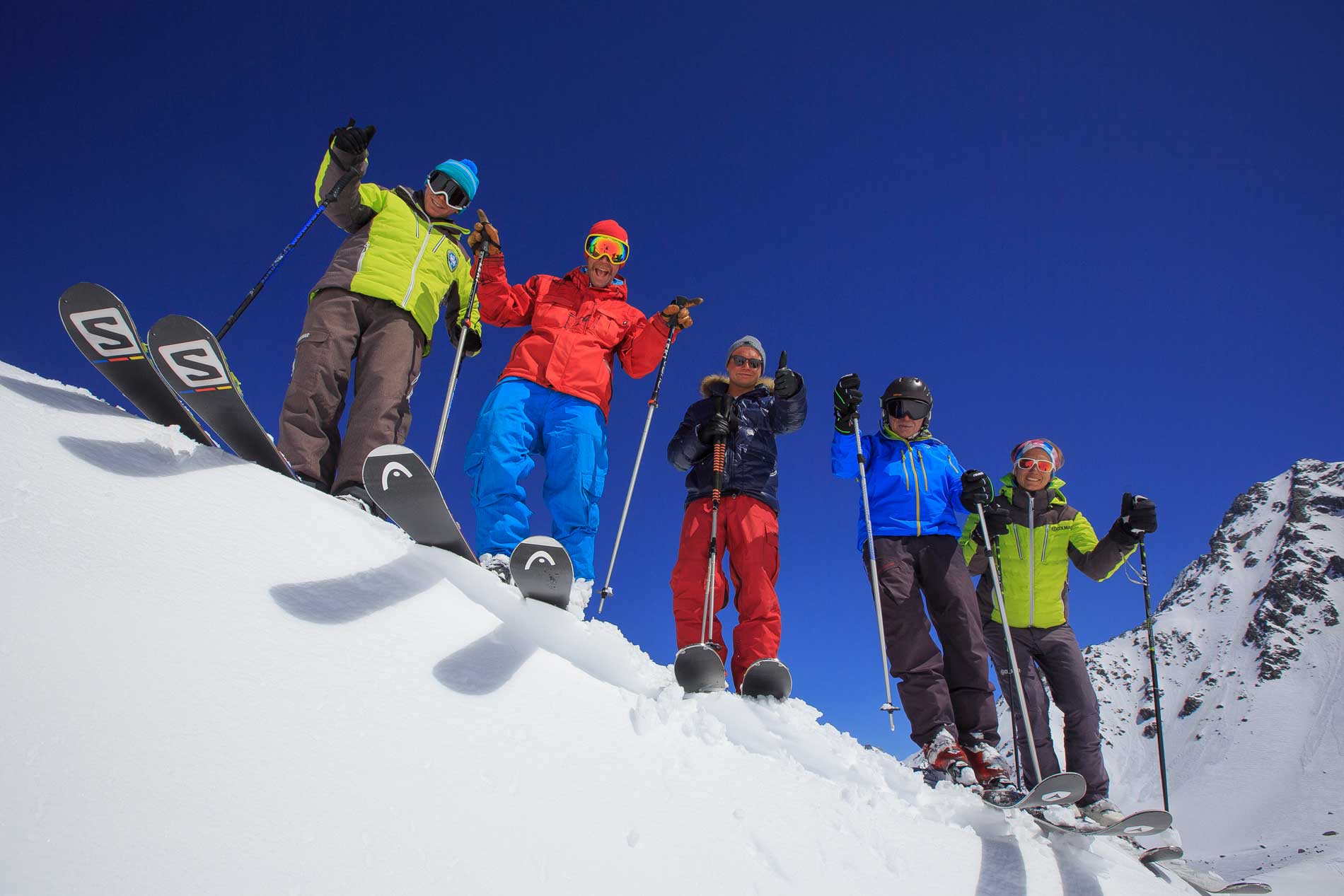 Prosneige ski instructors
France has one of the highest ski instructing standards in the world. All of our snowboard and ski instructors are, of course fully qualified. But their training doesn't stop there, it continues throughout their career with us to cover all new developments in technique and equipment. They are fluent in several different languages. You therefore benefit from being taught in your native tongue in all adult ski group lessons.
Relax with our modern teaching methods
Thanks to our small groups the ski instructors are easily able to adapt the lesson to your wishes and needs. Trained in pedagogy, the science of learning, they are fully aware of the different stages and progression of an individual's learning. They offer playful and progressive methods to help you work on your technique and adapt to make the lessons fun but informative to progress your skillset. Their technical advice, given at the right time will set your mind to rest, build up your confidence and ease you into the sport. In order to become a good skier, it's essential that are able to relax and above all enjoy yourself.
Has said above freedom to relax can only come with confidence, which coupled with correct technique is a sure way to enjoy the sport. In our adult ski group lessons, your teacher will start by doing the necessary movements themselves. Also, you can learn enormous amounts by mimicry and from watching other students getting it right (and wrong).
It's so important to get the right advice in order to progress at your own pace. Learning with a professional ski instructor allows you to concentrate on which aspects interest you and to avoid the worries or concerns when trying to learn on your own or someone close to you. This way, you can concentrate on pure enjoyment and keep the good moments of sharing with friends and family on the mountain. 
What makes us special
We offer a special program for beginners, so you can rest easy knowing that you will be treated with extra care. 
Firstly you are given an introduction to life on the snow, the equipment that you'll be working with, and the areas that specialise in terrain just for people learning.
Secondly,  and for all adult ski group classes your instructor keeps an eye on your skillset and progress and makes appropriate recommendations to move you up or down a class. Its not ideal to be in a group that's too easy for you. If you are not being challenged, things can get boring quickly so we would look to move you to the next adult ski group level.
Similarly, if  you start in a group that's too advanced for you, developing your technique correctly and advancing could be difficult . You could find yourself going to quickly and have trouble being in full control. This could increase the likelihood of falling, catching your edges and losing your confidence. If fear starts to set in, you can quickly lose the fun element in skiing. 
The best slopes and advice
In addition to learning new techniques, your instructor will take advantage of their knowledge of the local ski area. Take you to the well maintained and best suited slopes for skiing at the time of day, the snow conditions and the weather. This helps to avoid the sometimes large queues for ski lifts by heading for the quieter slopes. It means that you can really optimise the 3 hour lesson to it's maximum. Most importantly, they will take you on slopes which are suited for your own learning experience. Thus making it safer, leaving you to concentrate on having fun.
It's all about enjoying your skiing so you can bring your family and friends on the journey.
During your adult group ski lesson the instructor will also let you in to their own local knowledge, secrets, tips and advice. Learn about the mountain but also where to go for all the best shops, restaurants and people to know. Trained in all new equipment developments, our staff will advise you on your gear and if necessary, recommend alternatives.
Starting times
In order to avoid all the commotion of the other ski schools which tend to start at 09:15, our classes start at 09:00. This means you can avoid the queues for the lifts to get on the mountain first and optimise your 3 hour lesson. For this reason, we always ask our students to arrive a little before 09:00 so you are actually ready to leave at 09:00. The first day is always a little more stressful so, to give a little more time to prepare yourself, Sunday morning sessions  start at 10:00 instead. Adult ski Group lessons in Méribel can begin either on Sunday or Monday. Choose between either  3, 5 or 6 day courses, which ever suits you best. 
Note that the 3 day option is only available outside of the school holidays and that all students must start on Sunday or Monday so as to not hinder the progress of  other students during the week.
Meeting point
The Meeting Point (or Rendez-Vous) is at 09:00 on the snow front of Méribel, called La Chaudanne. This is where all adult group ski lessons start in Méribel. You can find us in front of the kindergarten on the right, before the white Rhodos ski lift if you're coming from Méribel Centre, on the bus or from the Brides Les Bains gondola. 
You will easily recognise us with our large green banners – the different course levels are written on each of them. The instructor standing in front of your banner is yours, you can miss them with their big green jackets and navy blue trousers. Please don't be afraid to come and see us, we are all here to help you.
Whatever your level, you will be taking the ski lifts to start your lesson straight away so you will need to get a ski pass before, even if you are a beginner. You can buy a 'mini pass' or a 3 hour pass, if you are a beginner. They're a bit cheaper and will suffice for the first 2 lessons. Do ask at the lift pass office about your options though as there are deals for families buying passes together. If you are already at a decent level, we recommend getting a 3 Valleys ski pass. Although a 3 hour session is ample and the instructors will always adapt to what they have in their group, it would be a shame to penalise the rest of the group because you haven't bought an appropriate ski pass.
Again, please feel free to email or call us for any advice on this, we are here to help you. We also advise that you take the 'Carte Neige' skiing insurance. This is a big help for peace of mind and goes a long way to assist you if you have an accident in the ski area during or after your lesson.
It's always best to wear your ski pass in the left pocket of your jacket, put some sun tan lotion in your right pocket and then you're ready to start your lesson.
We also have a ski rental shop, you will be able to benefit from our equipment at very preferential rates. We will make sure you have the right equipment for your level, equipment that will allow you to progress with confidence. Enjoy up to 50% discount on equipment hire. Just Ask.
After your first lesson, you will receive a text message asking you to rate your experience on a scale of 0 to 10. 0 if you are not satisfied, and 10 if you are completely satisfied. 
It's so important for us to have your immediate feedback on your ski lessons so that we can adjust accordingly to make your experience with us as good as it can be. Even the tiniest detail can make a huge difference to your experience on the snow, so please don't hesitate to let us know.
Our guarantee
You will learn to ski and progress in a friendly atmosphere, with people of a similar level to you. You will discover a taste for skiing quickly and enjoy the sport for longer. We promise never to leave you alone or to make you feel nervous, we have all the elements needed so you can find yourself on the snow quickly and can just have fun throughout your stay in Méribel.
We would be delighted to welcome you and to share all of our experience and know-how with you. Our dedicated team are at your disposal to answer any questions that you may have. Our aim is to incite emotions in you at the summit, for you to experience beautiful memories and to have you come back and join us in Méribel next season.
We are delighted to welcome you and let you benefit from our experience and know-how. Our teams of enthusiasts are at your disposal to answer all your questions about your holidays in the mountains, in Méribel in the heart of the largest ski area in the world. Our wish is to make you live emotions at the top, to create you beautiful memories and to see you come back the next season.