Ski group lessons for adults are an ideal solution to make progress in a pleasant atmosphere and enjoy the emulation of the group.
Are you a beginner, doing snowplough on green slopes, having trouble achieving parallel turns on blue slopes? Are you going on blue and red slopes, but still have a few difficulties? Or are you an experienced skier, but you still want to improve your turns, and finally ski on moguls or off-piste? 
Here at Prosneige, two options are offered to you: private ski lessons that will directly help you towards your goals, as the instructor will focus on your technique and will prepare specific exercises, and group ski lessons, which represents the best price-quality ratio. Let us have a look at ski group lessons adults first. In these group lessons, you will have between 12 and 17 hours of lessons per week, either the morning (from 9am to 12am) or the afternoon (from 2:30pm to 4:30pm, or 5pm for February because of the changes in the schedule for Val Thorens' ski lifts). There are 4 to 10 people in each group lesson, all with the same level. In fact, several levels are available each week, and instructors will focus on harmonising the group they have, especially in the first two days. The goal is to optimise the rhythm, improve your technique, to adapt to every need the students may have, to guarantee a steady progression and to help everyone reach their objectives. A pleasant atmosphere is created ensuring everyone enjoys returning each day, feeling confident within the group and with the instructor.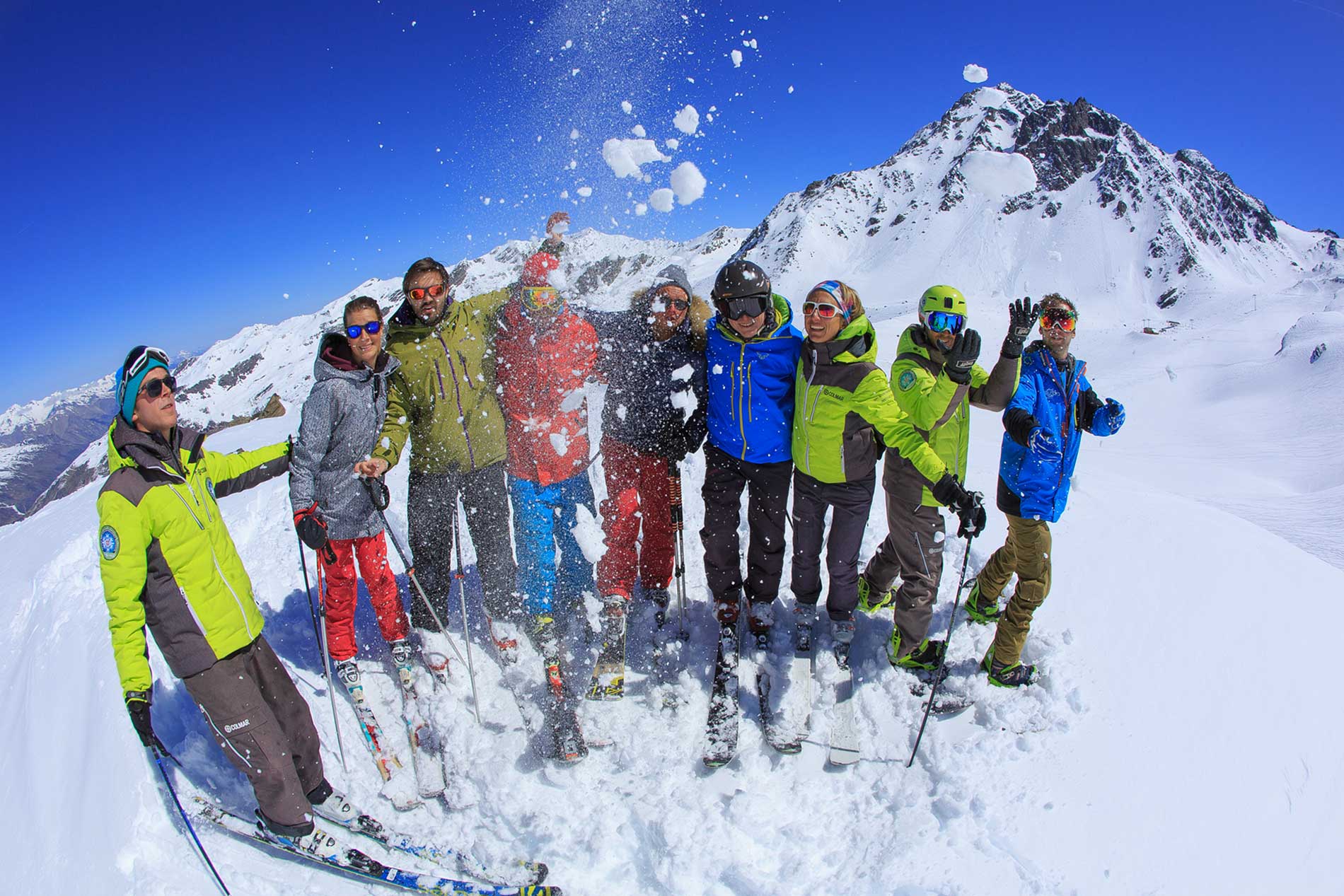 There are several levels available for ski group lessons adults, as said before. Here is the list – please note the difference between each of them to be sure to sign in to right level (however, if you signed in the wrong one, we will always make sure to modify the lessons as much as possible, the only risk is to lose time) : 
Beginner level

: You have

never skied before, or only a few hours on artificial slopes.

Your goal is to be able to confidently ski down a green slope in snowplough all on your own.

It is important to point out that you will not need a ski pass for the first day

– check with your instructor as to when you will need one as the week progresses.  

Level 1 also known as "Class 1"

:

You have one week experience

,

you turn in snowplough on green slopes,

and it is now time for you to learn side slipping on parallel skis and be confident on blue slopes.

Your goal is to have parallel skis as much as possible, especially when crossing slopes.
Level 2 also known as "Class 2"

:

You have between 2 and 5 weeks of experience, you are confident on blue slopes, but your parallel turns are not perfect yet.

Your instructor will help you find your balance by applying the right pressure on skis, to make your turns more natural and fluid. When this is done, what seemed to be a difficult slope will become easy.

Your goal is to ski down red slopes by the end of the week. 
Level 3 also known as "Class 3"

:

You have between 5 and 10 weeks of experience, you are confident with parallel skiing on red slopes

, and you can be considered as an advanced skier. The next "Expert level" is now close to you. To get there

you will focus on your carving technique

, embark on your first small off-piste runs, and the skiing / lesson rhythm will be more challenging.

You could benefit from investing in a "3 valleys" ski pass

because you may ski to some of the other resorts with your group. You could even, depending on the group, do a complete day in Courchevel by the end of the week.

Level 4 also known as "Class 4" or "Expert Class" and most of the time "Off-piste class"

: You have

more than 10 weeks experience, you are confident on all terrain

and with all snow conditions. During the first few days we will help you work again on the fundamentals by skiing intensely on harder slopes ; it will allow the instructor to complete a more thorough check if every participant has an equivalent level and technique that is good enough to go off-piste.

This type of lesson is more focused on off-piste

, and a great atmosphere is created rapidly between the participants. We always check that the conditions for off-piste skiing conditions are good, with minimal risks of avalanche.

When going off-piste both our instructors and the group are equipped with all the gear required (rucksack, shovel, transceivers, beacon…) to ensure everyone's safety.

You are welcome to bring your own equipment. This is also a great opportunity to learn how to use all the equipment and to become confident with your own equipment. 
If you are satisfied with the information given here you can book directly on our website. You will only have to provide participants' names, surnames, ages and levels for each person. If you still have some questions please do not hesitate to contact our main office by either calling us on  (+33)4.79.01.07.00 or emailing us at info@prosneige.fr. Our team will be able to give you advice and even book the lessons for you. 
THE RENTAL OF YOUR EQUIPMENT
If you continue on our website, after booking your lesson in Val Thorens, there will be several options given to you. The first one will be to rent ski equipment from one of our shops as part of the pack "lessons + equipment". This pack will save you money as you can obtain as much as 30%-40% off on the equipment. You will have three ranges of equipment : beginner (2 stars), intermediate (3 stars) and advanced (4 stars). You can choose the brand and the type of ski you want, but do not worry, you will always be able to change this on the day if you change your mind, whether you want to upgrade it or change the brand/type. Please take note that the discount is only available on our website before your arrival. Furthermore, if you provide us information on your height, weight and shoe size, then our rent teams will be able to prepare your equipment beforehand, for all your family. This will save you time on your arrival and let you focus more on other details of your vacation, or simply allow you to take time to relax. 
If you are a beginner and have selected this level for your lessons you will have the option to add a ski pass as well, which will come with a discount. However, they are only available for some ski lifts, that is why they are limited to specific levels. 
Once your booking is complete, you can pay on our secured page, which will confirm and secure your  place in our ski lessons. After the payment has been processed you will receive an automatic confirmation email with two documents attached : the first has all the details you will need for your booking, this includes the dates, levels, schedule and meeting-points. The second is the map to find us in the ski resort and the items you will need for your first lesson with us. 
All of our ski group lessons adults begin at our chalet, called "Les Planches", which has our kindergarten. Here you will find a ski storage, where adults can store their equipment every night. The storage allows you to come by foot each morning without stress, or by bus, depending on the location of your accommodation. There are a few different options so please either call or email the office team for further information. In this chalet there is also an information-point where you can book other services, such as meals for children, additional lessons, or activities for your children. Furthermore there is a snack-bar to have a coffee, hot chocolate, or small bite to eat. A room is also dedicated for the children, to welcome them on arrival each morning and to have snack break during their lessons. 
If you choose morning lessons they will normally begin at 9am, except for on Sunday (the first day) where the lesson will begin at 10am. This is to help ensure you have a relaxing start to your holiday, giving you time to collect your equipment and find the lesson starting point without the potential stress. We recommended for you to arrive 10 minutes before the start of the lesson to let the instructor introduce himself, present the plan for the week, and welcome every participant comfortably. Every day the morning lessons finish at midday except for on Friday, which will finish at 11:30am for the children's award ceremony and for you to also drink a toast with your instructor and fellow students from the week. 
If you choose afternoon lessons they will be from 2:30pm to 4:30pm Sunday to Friday (or 5pm, depending on the period and the ski lifts schedule in Val Thorens). It is recommended to arrive 10 minutes early everyday for the same reasons as said before.
The goal of the first day is to check if the group has a similar level and harmonize it if necessary. This time is not wasted because it will allow the rest of the week to be better organised and the group to have a steadier, better progression. 
Our team hopes that all the information provided will help you book your next lessons with Prosneige here in Val Thorens. 
We hope to see you very soon. All Prosneige teams.