Ski group lessons in Val Thorens allow your children to make rapid progress on skis in small groups of maximum 10 students.
Do you want your children to progress with their skiing? You have two choices : group lessons or private lessons. Let us first talk about children group lessons : it is the best price-quality ratio. These lessons will allow your children to ski half-days, either in the morning or the afternoon, with other children that have equivalent levels. 
FEW STEPS TO MAKE BOOKING YOUR CHILD INTO LESSONS EASY
First of all we need to book your child into a lesson that matches their ability. There are two possible options to do so:
You already know their ability thanks to former lessons

with Prosneige or other ski schools. In this case you can book directly on our website or by phone ; be sure to book the correct week to prevent any issues on your arrival. 

If you are not sure, you can call our office on (+33)04.79.01.07.00, and our team will help you find the right level and group for your children.

They will also provide you with all the information you may require – Ski resort arrival, collecting equipment, ski pass, schedule for the lessons, and any other useful information you may require for you to have an excellent holiday. 
Before booking, here is some useful information about our group lessons in Val Thorens. 
All lessons are limited to 10 children per group

for « White Bear, 1

st

ski, 2

nd

ski, 3

rd

ski, Bronze ski, Diamond ski, Bronze Prorider and Gold Prorider ». However, our group lessons « Snowbear and Brown bear »,

the ones in the kindergarten, are limited to 6 children per instructor.

Furthermore, we have a room dedicated to the children, ensuring a  pleasant space for them to be welcomed into and for their snack breaks. 

Our experience allows us to

guarantee that your child will have consistent progression.

We have several children ski lessons, and each of them represents different levels ; our experienced teams will always find a solution to adapt to every necessity, rhythm of learning, techniques, and children's needs. 

Finally, in order for you to make your decision confidently,

we keep an eye on the ability of each child, using small tests in the first two days of the week to confirm the level of your child. We do not do a final test at the end of the week.

Instead we complete continuous assessments;

we do not want your child to be stressed on their holiday!

Our aim is to keep the week fun and ensure the child continues to be motivated throughout their ski school lessons.

Every child receives a medal at the end of the week to congratulate their hard work. 
Now you should have all the relevant information to make your choice and book the correct lesson with Prosneige ski school. However, if you still have some questions, do not hesitate to email us at info@prosneige.fr or call us on (+33)04.79.01.07.00. We would be happy to answer your questions.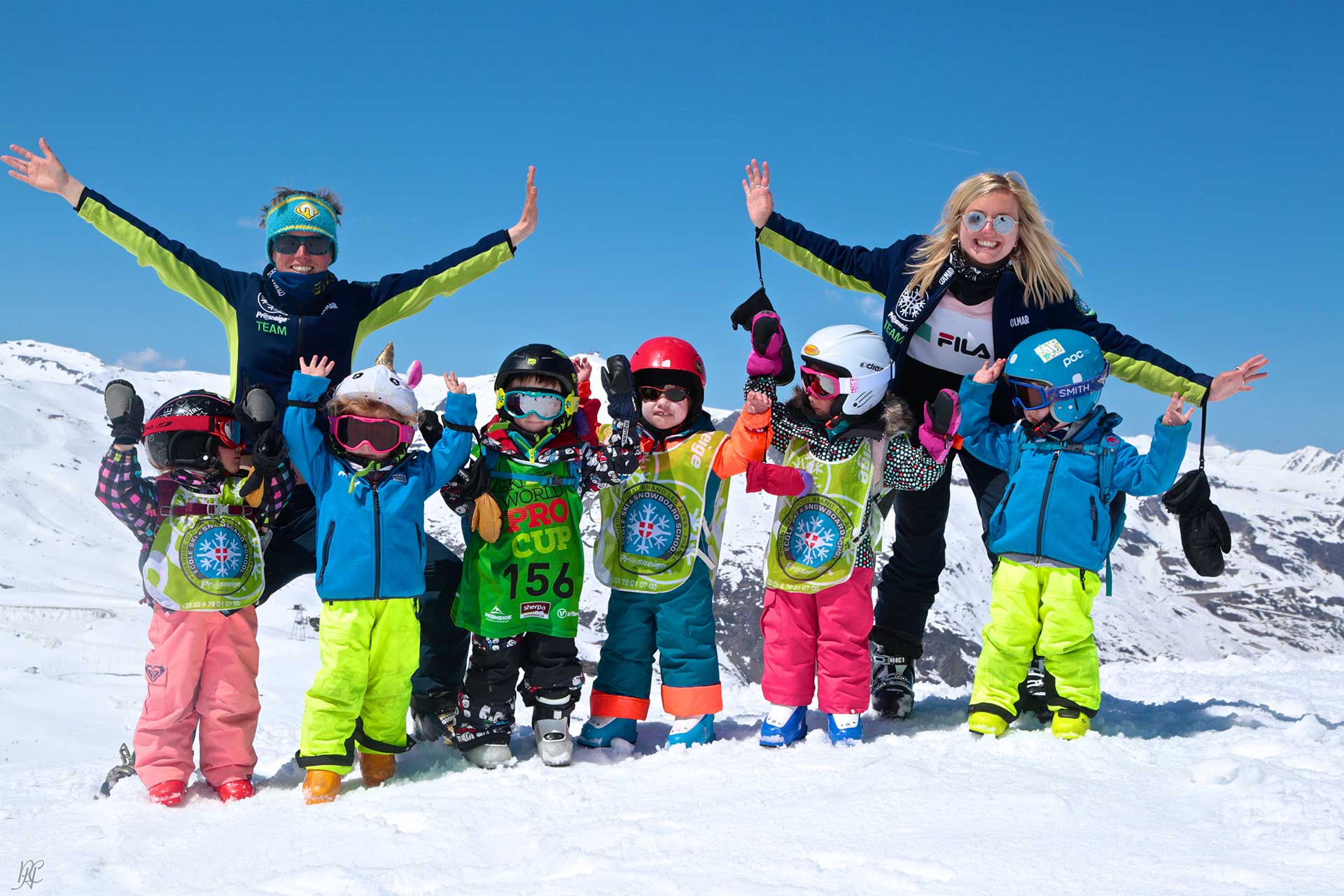 If you book directly on our website, or by email or phone, you will have several extra options to choose from, such as renting ski equipment for your children but also for all the family. In fact, we also own a few ski shops in Val Thorens where you can either buy or rent the equipment for all levels. If you rent and book lessons at the same time, you and your family will be given special prices on the rent (as much as 40% off depending on the period). 
If you want to gain time on the day of your arrival you can provide our team the height, weight, and shoe size for each member of the family and we will be able to prepare your equipment beforehand.
You will also be able to add lunch for your children, for a day or the entire week. If you book your child into full day lessons with lunch added you could have more time to ski for yourself, or to lunch on the slopes, even have a full day exploring the Three Valleys without the time pressure to return for the end of morning lessons. The schedule for the meals is midday to 2pm, from Sunday to Friday. After the meal, our supervisors will entertain the children, and even take them to the FUN PARK every Tuesday and Thursday to add diversity in the week.
It is possible to book ski passes for the week with us as well if your children have a level below 1st ski. This type of ski pass has advantageous prices that can be found only at Prosneige. However, they are only available for some ski lifts, that is why they are limited to specific levels. 
Finally, you can also sign your children in the IGLOO activity which takes place every Thursday from 6pm to 7:30pm. The supervisors of this activity will take the group to a special place to build an igloo. Headlamps and snow shovels are provided. Once the igloo has been built the group will spend some time there, drinking a warming hot chocolate before returning to their parents. It is recommended to give your warm clothing to help them against the cold. 
Once your booking is complete, you can pay on our secured page, which will confirm and secure their place in our ski lessons. After the payment has been processed you will receive an automatic confirmation email with two documents attached : the first has all the details you will need for your booking, this includes the dates, levels, schedule and meeting-points. The second is the map to find us in the ski resort and the items you will need for their first lesson with us. It is recommended to print it for the first day of lessons. The second is the map to find us easily in the ski resort the day of your arrival for your equipment rental or the lesson meeting point on Sunday (which will most likely be at the chalet called "Les Planches"). You will receive further information seven days before your arrival as well. 
You will be able to collect your equipment on Saturday if you arrive in resort with enough time, but do not worry if you are not in Val Thorens in time as we start the lessons at 10am on Sunday instead of the normal 9am. This allows everyone to settle in and arrive to the lessons on time without being rushed. We recommended to be at the meeting-point by 9:45 am to let the instructor introduce themselves and to present how the day will be organised. From Monday onwards the lessons will start at 9am. 
The goal during the first lesson is to check if every child is in the correct group. When there are several groups for the same level, the goal is to also harmonise these, regarding ages and nationalities for instance. We aim to create the best environment for the rest of the week. After this first day, you will receive a phone message to check if the day went well. We value knowing if everything went as you had planned. 
There could be other changes during the second lesson, but after one hour all levels are usually settled for the week, and the child will stay in the same group with the same instructor in order to let the children progress. 
We understand that it can take time to get your children to the lesson starting point from your accommodation but please be aware by Tuesday instructors are trying to start the lesson by 9am, to get as fast as possible to ski lifts and waste no time. We therefore ask you to arrive 5 minutes before the start of the lesson to not delay the group. However, if you are late, our teams will call back the instructor who will collect your children after finishing the slope the group is on. In the afternoon, the lessons are from 2:30pm to 4:30pm (or 5pm, depending on the period and the ski lifts schedule in Val Thorens). It is recommended to arrive by 2:25pm for theses lessons. 
At the end of every lesson the instructor will be at the meeting-point 5 minutes in advance, to talk to you, let you know how your child has progressed and explain any difficulties if there were any. However, if you are late, children will be waiting for you at the front desk with someone from the Prosneige team. The instructors have to go to their next lessons and will drop them there. 
On Friday the lessons will finish 30 minutes early for the award ceremony. The children will be given the famous medals with the ski level passport, signed and stamped. It is a perfect time to discuss the progression of the week and take cool pictures with the instructors! 
If you have Prosneige ski Equipment to return you are welcome to leave it at the Prosneige Chalet (lesson meeting point), which will hopefully make it easier for you. Do remember to bring a spare pair of shoes to walk back in though.
Here it is, every good thing has to end. But do not be sad, you will see us again soon, the same winter (for the luckiest) or the next season! Time flies… 
Our team hopes that all the information provided will help you book your next lessons with Prosneige here in Val Thorens. 
We hope to see you very soon. All Prosneige teams.