Snowboard group lessons adults in Méribel.
Those lessons are small groups of 6 people maximum with instructors who are passionate and specialised in the practice of snowboarding.
[homey-space height="50″]
YOU COME TO SNOWBOARD IN MÉRIBEL, IN THE HEART OF THE BIGGEST SKI AREA IN THE WORLD AND WANT TO TAKE GROUP LESSONS IN SNOWBOARDING FOR ADULTS. THIS IS A VERY GOOD SOLUTION. YOU WILL BE ABLE TO BENEFIT FROM THE EMULATION OF A SMALL GROUP, PROGRESS TECHNICALLY, DISCOVER THE SKI AREA AND ALL THIS FOR A REASONABLE BUDGET.
Snowboard group lessons for adults in Méribel are limited to 6 students. Small groups for a better progression, a more qualitative teaching, and more security. You will have a better relationship with your snowboard instructor. He will have more time to take care of you. 
We have a special program for beginners: we pamper them. A gentle encounter with this new element which is the snow. An adapted equipment, the chance to benefit from superb beginners' areas in Méribel, undoubtedly the most beautiful in the Alps, and all this in very small groups.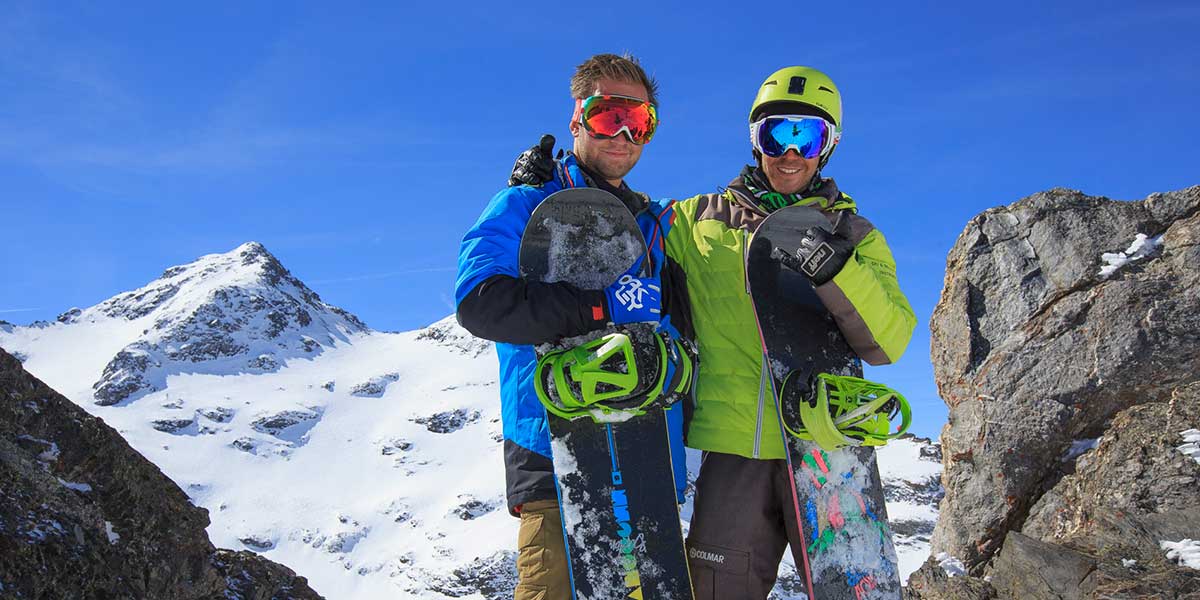 All our instructors are state qualified and continuously trained in group management and new developments in both technique and equipment. They all speak several languages, including English and French very well. You will therefore benefit from instruction in your own language during your snowboard lesson in Méribel. The instructor adapts to your wishes much more easily given the small group. The instructors are trained in pedagogy and know perfectly the different stages of learning.  A pedagogical part every day to work on the technique. Playful, progressive methods to meet your need for progression. Technical advice that will allow you to progress, to gain in ease and therefore in confidence. Snowboarding is a sport of gliding and sensation, relaxation is essential if you want to progress. Relaxation can only come with confidence and therefore with a minimum of technique. The right advice at the right time allows it. The technique is also worked on by mimicry and watching other students do the right movements also allows you to progress well. It is important to get the right advice and to progress at your own pace. Learning with an instructor whose job it is and who has the knowledge of learning allows you to progress more quickly and avoid the friction that we all know when we try to learn with someone close to us. You might as well avoid this stress and keep the good moments of sharing with the family.
We can always propose you to change group according to your progress during the week. A too fast group will not allow you to take the time to work and to set up your technique. You will go too fast for your level and risk to find yourself on the back of the snowboards, take defects and lose your confidence. You risk scaring yourself and not having fun anymore. In the same way, it would be silly to be in a group that is too small for you, which even though it may be fun, won't allow you to progress as fast as you should. You might get bored. We will therefore move you to the next level group. In addition to the technique, the instructor will use his knowledge of the ski area to take you to the best groomed and most enjoyable slopes to snowboard on depending on the time of the lesson, the snow conditions and the weather conditions. He will make you avoid queues in the ski lifts and will take you to the least frequented slopes. You will really optimize your 3 hours of lessons. And above all, it will take you to slopes of your level, which will not put you in danger, where you can express yourself and enjoy yourself. Enjoy skiing and take your family and friends along. He will also be able to give you his little tips, advice and share with you his knowledge of the mountains in general, his best addresses, his contacts… Trained by us in the evolution of the equipment, the instructors will also be able to advise you on your equipment and guide you if it is not suitable.
Snowboard group lessons adults start at 9am in the morning, to avoid the "traffic jams" of other schools which start at 9.15am. They start at 9am like children's classes, so if you have children in class, everyone starts and finishes at the same time. Starting at 9am allows you to avoid queues in the ski lifts on the snow front in the morning and thus optimize your 3 hours of lessons. That's why we ask you to respect all the students in the group by arriving a little before 9am and to really be able to leave at 9am. As we are nice people and we want to give you time to get organised on the first day, on Sunday morning, the lessons start at 10am. You can start your group course on Sunday or Monday. You can do 3, 5 or 6 days at your convenience. The 3 mornings, or 3 afternoons are only available outside school holidays. But it is compulsory to start on Sunday or Monday so as not to hinder the progress of the other students in the group during the week. The meeting point is at 9am on the snow front of Méribel, La Chaudanne. The place where all group snowboard lessons start in Méribel. We are in front of the kindergarten on the right before the white gondola of Rhodos when you arrive on the snow front from the center of Méribel, the shuttle bus stop, or the gondola of Brides-les-Bains. You will easily recognize us with our big green flames. The level of the course is written on it. The instructor in front of your flame is your instructor. The instructors are dressed in a green jacket and navy blue trousers. Don't be afraid to come and see us, we are all here to inform you.
Whatever your level, you will take the lifts right away. So you need a lift pass even if you are a beginner. You can, if you wish, take only a mini pass or 3 hours if you are a beginner. They are a little cheaper and will be enough for the first two sessions. But ask at the lift ticket office because there are very interesting prices for families. If you have a good level, we advise you to take a 3 Vallées pass. 3 hours are more than enough time to enjoy it. The instructor will obviously adapt to the skipasses you have in the group but it would be a shame to penalize the whole group because you don't have the right skipass. Once again, don't hesitate to send us an email or to call us, we will be able to inform you easily. We also advise you to take the carré neige insurance which is made for snowboarding and makes it much easier for you to be reimbursed and taken care of if you have an accident on the ski area during or after your snowboard lesson in Méribel. The ski pass in the left pocket, sun cream in the right pocket and you are ready for your snowboard lesson.
We also have a snowboard rental shop, you will be able to benefit from our equipment at very preferential rates. We will make sure that you have the equipment adapted to your level, equipment that will allow you to progress while keeping the confidence necessary for pleasure. You can have up to 50% discount on equipment. Ask us, we will inform you.
After your first lesson, you will receive an sms asking you to rate your experience on a scale of 0 to 10, 0 you are not at all satisfied, 10 you are totally satisfied. It is important for us to have your immediate feedback on your snowboard lesson in Méribel with us so that we can adjust it as quickly as possible and make you smile if you didn't have it. The slightest detail, even if it seems trivial to you, can change your experience on the snow. So don't hesitate. You will learn to snowboard or progress in a friendly atmosphere, with people of your level. Meetings, advices, fun, the group snowboard lessons in Méribel will answer your desires. You will be able to find the taste of the glide more quickly and enjoy snowboarding longer. No need to go back on the snow alone, being afraid… there, everything is gathered so that you find the snow quickly, that you can quickly enjoy it and have fun all along your stay in Méribel.
We are delighted to welcome you and let you benefit from our experience and know-how. Our teams of enthusiasts are at your disposal to answer all your questions about your holidays in the mountains, in Méribel in the heart of the largest ski area in the world. Our wish is to make you live emotions at the top, to create beautiful memories and to see you come back next season.