Snowboard group lessons in Les Menuires offer your children fast and steady progress in small groups.
YOU COME TO LES MENUIRES AND WISH TO BOOK SNOWBOARD GROUP LESSONS FOR YOUR CHILDREN? IT'S PERFECT, OUR SKI AND SNOWBOARD SCOOL PROSNEIGE HAS BEEN PRESENT IN THE TROIS VALLEES SINCE 1996 AND IS WAITING FOR YOU FROM 05 DECEMBER 2020 TO 23 APRIL 2021.
Les Menuires is a family ski resort located in the Tarentaise valley in Savoie. It is located between the ski resort of Saint Martin de Belleville and the ski resort of Val Thorens. Les Menuires is part of the largest ski area in the world: Les Trois Vallées. The Trois Vallées ski area is composed of 8 ski resorts: Les Menuires, Val Thorens, Méribel, Saint Martin de Belleville, Orelle, La Tania, Brides les bains and Courchevel and covers more than 600 kilometres of slopes.
Prosneige Les Menuires is a ski and snowboard school that has been active in the Trois Vallées for 25 years. This school offers group lessons for both children and adults in all disciplines in skiing and snowboarding and on different time slots especially in the morning and afternoon but also during lunchtime or even the whole day. In addition to group lessons, Prosneige Les Menuires also offers private lessons for adults and children.Private and group lessons allow you to tackle several disciplines: skiing, snowboarding, freestyle, freeride, telemark, handiskiing, etc. These group and private lessons can be given in 17 languages. At Prosneige Les Menuires, we have recruited ski and snowboard instructors who all speak French and English, but also Dutch, Italian, German, Czech, Russian, Hebrew, etc. Our ski instructors are easily recognizable by their blue and green outfits. In Les Menuires, our 25 instructors teach in group lessons with this outfit. It is easily identifiable for children in group lessons, so they never lose sight of their instructor!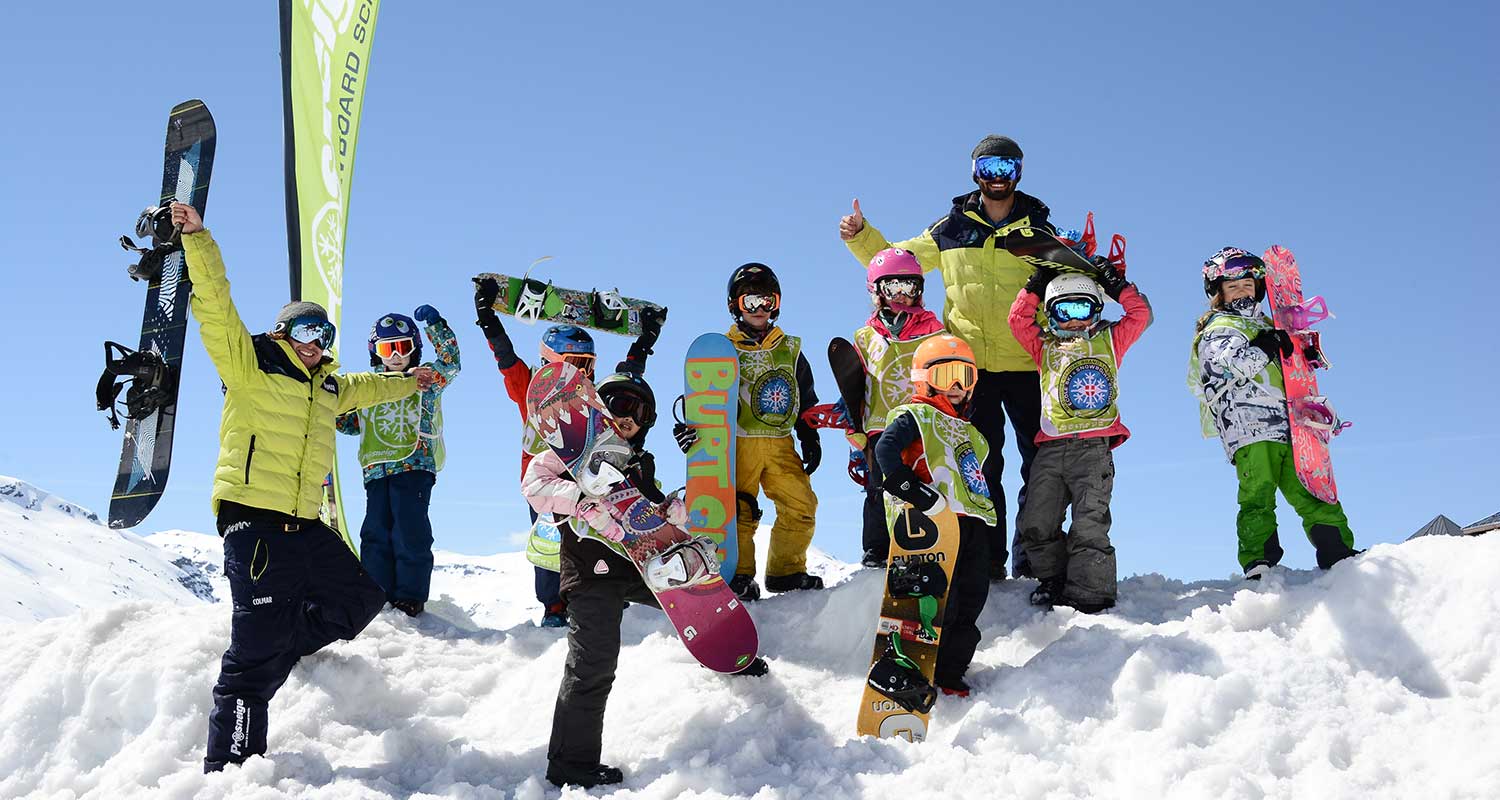 Now let's talk about our group lessons for kids in snowboarding. Snowboard group lessons for children are group lessons that take place every day from Sunday to Friday in half or full day. They can take place in the morning, afternoon or full day. It is possible to do 5 or 6 sessions over the week according to your preference. To take full advantage of the week, the vast majority of our participants enroll in our group classes from Sunday to Friday. The most popular group class is the 6 morning group class from Sunday to Friday from 9am to 12pm. In the mornings group classes last 3 hours and take place from 9am to 12pm. In the afternoons group lessons take place from 2.30pm to 4.30pm from December to the end of January and from 2.30pm to 5pm from the beginning of February to the end of April. They therefore last 2 hours at the beginning of winter and then 2h30 from February onwards.  The full day courses are the sequence of morning and afternoon classes. The advantage of snowboard group lessons for children in the morning is that the snow is of good quality, freshly groomed. It absorbs shocks better when falling. The children are in great shape after a good night's sleep and enjoy immaculate slopes.The afternoon offers the advantage of having more airy slopes, with fewer skiers. Even if the group lesson sessions are shorter in the afternoon, this is compensated by the short waiting time at the lifts. Afternoon group lessons are also cheaper. Snowboard group lessons for children at Prosneige Les Menuires are limited to a maximum of 6 participants per instructor. A small group size is the assurance of a quick cohesion, a good group spirit and rapid progress. Moreover, we always try to harmonise the group in terms of age so that the children can develop and progress with children who share the same interests with a pedagogy adapted to their age group. Snowboard group lessons for children range from the age of 5 to 13 years old, from mini-rider to expert snowboard level (5 levels in all). It is then possible to continue learning with our adult snowboard group lessons.
Snowboard group lessons for children offer instruction for all levels, from beginners experts who want to learn other disciplines such as the discovery of freestyle or freeride initiation for teenagers. The evaluation of the levels is done in continuous control, no pressure in our group lessons! Our snowboard instructors are attentive to your children and their progress throughout the week and it is therefore on all the sessions that they will validate the level acquired by your child. Our group lessons take place all week from Sunday to Friday, so progress is regular and guaranteed. In 5 or 6 sessions (half or full day) the children ensure rapid progress and validation of a level. At Prosneige Les Menuires, no tests or exams at the end of the week, but a continuous control which allows you to enjoy your group lesson serenely, fun above all! It is by taking pleasure that our students progress; the emulation of a small group, the relationship of trust with the instructor, the sequence of sessions throughout the week. At Prosneige Les Menuires, everything is done to ensure that your child's group lesson is a source of pleasure and therefore leads to progress! 
At the end of the week, a medal ceremony takes place and it's a real event. The children leave with their medals and their evaluation booklet. The instructor has validated a level and it is recorded in the Prosneige booklet! The validated level is of course recognised by all ski and snowboard schools. Furthermore, don't worry about your children understanding the instructions given by our snowboard instructors, they all speak French and English as well as other languages such as Dutch, Russian, Italian, German, Czech, Hebrew, etc. All children who participate in our group lessons wear a bib stamped Prosneige. This is primarily useful from a safety point of view. The children are more visible to the instructor who can therefore ensure that the whole group is present but also to the other skiers who are therefore more vigilant towards our students. It also allows the children to recognize each other and to identify themselves as a group. They appropriate their colour, their level. This helps to create a good group cohesion more quickly within the group lesson and therefore encourages progression. This bib is given to you on the first day of class and you keep it until the last day of class when the medals are awarded. It is the link between you and the school! You will find our telephone number on it so that you can easily contact us if you have any questions following your child's group lesson.
The snowboard instructors are also easily identifiable by the children as they all wear the same outfit, green and blue, which is very visible and easy to recognise. It's a real point of reference for the child and a ready-made contact for anyone looking for information about Prosneige. Our snowboard instructors all teach in group lessons and are therefore able to answer all your questions. Our snowboard instructors will be waiting for you at the start of each group lesson at the meeting point located on the Croisette aux Menuires opposite the ski school and the Prosneige shop, right in the centre of the resort. A big green Prosneige sign but also green banners to spot us very quickly.
Financially the group lessons allow you to have 5 or 6 sessions of lessons at a very affordable price. It is ideal if you are attentive to your budget or if you are at the head of a large tribe. Children's group lessons can also be accompanied by various options throughout the week, such as buying a lift pass, renting equipment in our Prosneige shops or the lunch club. By taking your children's group snowboard lessons at Prosneige Les Menuires you benefit from a preferential rate on your ski pass. You can choose a Les Menuires ski pass or choose a Trois Vallées ski pass allowing you to take advantage of the neighbouring resorts of Saint-Martin de Belleville and Val Thorens or to go to the valleys of Méribel and Courchevel. And to make it even easier, your children's ski passes are given to you on the first day of your child's group snowboarding lesson. In group lessons, the instructor adapts to the type of package of his students. For beginners, the Les Menuires ski pass is sufficient, from the golden snowboard, the Trois Vallées ski pass is appreciable but is not obligatory. It is possible to add an extension for one day only to enjoy the Trois Vallées area with all the participants of the group lesson. 
THE LITTLE EXTRAS OF GROUP LESSONS
Booking your group lesson for children gives you the right to extremely discounted rates on the rental of your snowboard equipment in our Prosneige shop. In order to ensure that our pupils benefit from equipment that is up to the standard of our instructors, Prosneige Les Menuires has decided to offer all our customers a preferential rate on equipment hire. Our students and their families can thus benefit from a school + hire pack allowing a reduction of up to 40% off the public price. Our Prosneige Les Menuires shop at the Croisette is located in the centre of the resort at the starting point of our group lessons. You can therefore pick up your equipment just before meeting your instructor at the starting point of the group lesson which is located at the same place. At Prosneige Les Menuires, we make your life easier. 
Finally it is possible to add the lunch club for all our students in group lessons for children snowboarding in Les Menuires. We take the children to the restaurant next to our school and shop Prosneige, on the snow front in the centre of Les Menuires. Everything is in the same place for your comfort to make your holiday as enjoyable as possible. Prosneige takes care of your children for 2h30 from 12h to 14h30 and takes them to a real restaurant where they can order a hot meal and rest. Twice a week the children will stretch out in the fun park in addition to their meal in the restaurant. This lunch club is of course accessible to all children in group snowboarding lessons, whether it is in the morning, the afternoon or the whole day.
To conclude, group snowboarding lessons for children at Prosneige Les Menuires are accessible to all, in all languages, right in the centre of the resort at La Croisette. In addition to the group lessons, you can add options such as equipment, ski pass or meals. A specialist booking centre in Les Menuires is available to answer all your questions about booking your group snowboard lessons for children in Les Menuires resort.